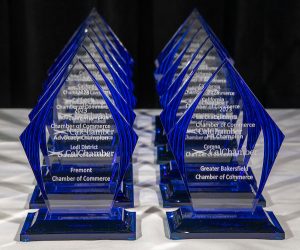 The California Chamber of Commerce has named 10 local chambers of commerce as recipients of the 2023 President's Circle Award.
The award, first presented in 2009, recognizes chambers for excellence in business advocacy and helping their members comply with California employment laws.
The President's Circle Award chambers were announced during the CalChamber Capitol Summit on May 17, along with recipients of the Advocacy Champion and HR Champion awards.
"Our top local chamber partners play leading roles as community problem solvers and the voice of business on public policy," said Nick Ortiz, CalChamber vice president of local chamber relations. "We commend them for all their hard work over the last year fighting on behalf of California business."
President's Circle
Three of the chambers have received the President's Circle Award all 15 years it has been presented.
The 2023 recipients of the President's Circle Award are as follows. An * marks the chambers that have received the award all 15 years:
Carlsbad Chamber: Bret Schanzenbach, president/CEO;
Greater Conejo Valley Chamber*: Danielle Borja, president/CEO;
Greater High Desert Chamber: Mark Creffield, president/CEO;
Lake Elsinore Valley Chamber: Kim Cousins, president/CEO;
Long Beach Area Chamber*: Jeremy Harris, president/CEO;
Greater Riverside Chambers*: Nick Adcock, president/CEO;
Santa Maria Valley Chamber: Glenn Morris, president/CEO;
Simi Valley Chamber: Kathi Van Etten, president/CEO;
Tulare Chamber: Donnette Silva Carter, CEO;
West Ventura County Business Alliance: Nancy Lindholm, president/CEO.
President's Circle Award recipients published vote records of their state legislators on key business issues, joined coalition efforts to let state elected officials know about community sentiment on issues of interest to members, voiced the local chamber's position at legislative policy committee hearings, and participated in the CalChamber compliance product resale program at an exemplary level.
Advocacy Champions
The following seven chambers were recognized for excellence in business advocacy. This is the first year the CalChamber has named Advocacy Champions:
Fremont Chamber;
Laguna Niguel Chamber;
Lodi District Chamber;
Murrieta/Wildomar Chamber;
Orange County Business Council;
Roseville Area Chamber;
Torrance Area Chamber.
HR Champions
The following 16 local chambers kept their members updated on California employment law by participating at a high level in the CalChamber compliance product resale program:
Greater Bakersfield Chamber;
Corona Chamber;
Fresno Chamber;
Gilroy Chamber;
Imperial Valley Regional Chamber;
Oakdale Chamber;
Palm Desert Area Chamber;
Paso Robles Chamber;
Porterville Chamber;
Redding Chamber;
Ridgecrest Chamber;
Rohnert Park Chamber;
Santa Fe Springs Chamber;
The Chamber of Commerce for Greater Brawley
Whittier Area Chamber;
Yuba-Sutter Chamber.