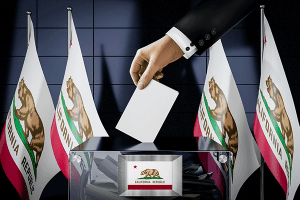 Newspapers across California are urging their readers to vote no on Proposition 30, a November ballot measure that proposes to raise the tax on personal income above $2 million by 1.75% to subsidize zero-emission vehicles and charging stations.
The newspapers cite concerns about California's repeated reliance on a volatile funding system that taxes high-income earners to fund state programs, among many other reasons to vote no on Prop 30 next month.
No on Prop. 30
 Proposition 30's income tax increase would raise about $3 billion to $4.5 billion a year (depending on the state of the economy), and end on January 1, 2043, or, beginning in 2030 following three consecutive years in which greenhouse gas emissions were at least 80% below 1990 levels.
California has the highest personal income tax rate in the country at 13.3%, while Alaska, Florida, Nevada, South Dakota, Texas, Washington and Wyoming do not impose any income tax. In 2019, the top 8% of income taxpayers paid 75% of the state's personal income tax (PIT) revenue. In the 2022 budget year, PIT revenue will account for nearly two-thirds of all state General Fund revenues.
The California Chamber of Commerce opposes Proposition 30 because layering more taxes on top of the current PIT rate of 13.3% will inevitably drive more high earners out of the state and decrease General Fund dollars.
"Given the state's current ability to spend on nearly any desired cause, tax increases are unnecessary, and efforts should be focused on how existing General Fund dollars can be spent on assisting Californians," CalChamber President and CEO Jennifer Barrera said.
Newspaper Excerpts
Read why California newspapers are urging readers to vote no on Prop. 30:
 Inland Valley Daily Bulletin, Los Angeles Daily Breeze, Los Angeles Daily News, The Orange County Register, Pasadena Star-News, Long Beach Press-Telegram, Redlands Daily Facts, Riverside Press-Enterprise, San Bernardino Sun, San Gabriel Valley Tribune, Whittier Daily News:
"The state's general fund budget in 2015-16 was $115 billion. This year, the general fund budget is over $234 billion. The notion that a tax increase is needed to address air pollution and wildfire responses is, on its face, absurd."
"California already has the highest state income tax rate, at 13.3%, and voters have already raised taxes on the wealthiest residents to pay for education and mental health services. Proposition 30 would push the top-earner rate to 15.05%, which is much higher than other states, most of which have income tax rates in the single digits. The state's dependence on wealthy residents' income, which is often tied to investments and the stock market, creates tremendous instability in the budget. Revenues sharply rise and fall with Wall Street, leading to feast-or-famine cycles. It doesn't make sense to pin another priority on such a volatile funding stream."
The Sacramento Bee, The Modesto Bee
"California voters may be understandably amenable to heaping another tax on the wealthy to fund a good cause. But doing so as Proposition 30 suggests is not the right way to address the existential threat of climate change."
"Important decisions about the future should be made by lawmakers in Sacramento, in public hearings, with expert testimony and time to think through these changes holistically instead of in a simple up or down vote in a campaign almost solely funded by a single company. The San Diego Union-Tribune Editorial Board recommends a 'no' vote on Proposition 30."
"Voters should reject Prop. 30. It's a prime example of the pitfalls of budgeting by initiative. Once again, Californians are provided little independent policy analysis on which to base a multi-billion-dollar decision. Yet they're being asked to lock in spending on a program, this time for 20 years, without the ability to adjust for future needs."
"This measure would tax higher-income Californians to help subsidize zero-emission vehicles – but it is not the right way to hasten this shift. Spending yet more state tax revenues on subsidies for electric cars is yet another example of ballot-box budgeting without the means to make adjustments based on future needs or changing conditions."
The Santa Rosa Press-Democrat:
"Newsom bluntly described Proposition 30 as a 'cynical scheme' and 'fiscally irresponsible.' We agree. The Press Democrat recommends a no vote."