This article is part of a series of profiles of CalChamber member companies that are contributing to the state's economic strength and ability to stay competitive in a global economy. Visit California Works to learn more about this series and read past and future profiles.

Health Net was founded more than 40 years ago in California, remains headquartered in the state and maintains operations in all 58 counties. The company provides health plans for individuals, families, businesses of every size and people who qualify for Medi-Cal or Medicare, including offering several health plans through Covered California. Health Net also offers access to substance abuse programs, behavioral health services, employee assistance programs and more.
As the company has grown over the decades, Health Net has become one of the state's longest serving and most experienced Medi-Cal partners. Today, two-thirds of Health Net's members are Medi-Cal enrollees: low-income adults, seniors, pregnant women, children, people with disabilities and others. With decades of experience caring for California's most vulnerable residents, Health Net has worked hand in hand with the state to build Medi-Cal and serve those who depend on its health care safety net.
"Health Net's teams live in, and reflect, the diversity of the communities we serve," said Brian Ternan, president and CEO at Health Net. "Our employees are woven in the fabric of California, and partner closely with local clinics, community-based organizations and other providers to deliver culturally appropriate and locally driven programs. The Health Net team has the deep experience a company can only get from knowing the people it serves firsthand."
Committed to California
Health Net/Centene, a Fortune 30 company, recently located its West Coast hub to Sacramento, anchoring 3,500 high-quality jobs in the region. The focus at the new campus has been on hiring from within the community and employing a workforce that reflects the communities Health Net serves. As a result, the company's employee base is 70% women and 60% employees who identify as African American, Latino/Hispanic, Asian American or Native American. Also important is that nearly a third of Health Net's Sacramento-based employees have been with the company for 10 or more years.
Driving Health Equity
California's incredible diversity is reflected throughout the state. That's why the company has pioneered innovative approaches to health equity for more than a decade. It has built teams, models and innovative approaches that work to break down barriers, improve access and reduce health disparities.
As Health Net has shifted to focusing more on social drivers of health during the past five years, the company has contributed more than $100 million to more than 500 community-based initiatives. It continues to work closely in collaboration with its local partners to innovate new programs and models of care.
Focus on Quality and Innovation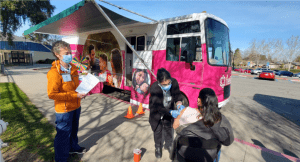 Quality care requires that Health Net and its partners consider the needs of their members holistically. Health Net's solutions, driven by innovation, help promote whole-person health. Alongside CalAIM —the California Advancing and Innovating Medi-Cal framework of the Department of Health Care Services — the Health Net model delivers more seamless, coordinated care for its members.
Health Net has developed, implemented and evolved this whole-person model over several years. It has found that leveraging data strategically, simplifying solutions and caring for patients through channels they trust are critical to driving improvements in quality care. Health Net has outlined these observations and best practices in a report, "Innovating Within Medi-Cal."
As part of this evolution, Health Net has contributed to the development of the state's new and groundbreaking CalAIM program. Health Net has led in CalAIM implementation across its statewide footprint. To help strengthen the system and drive equity, Health Net's experts shared early lessons learned with key stakeholders throughout the health care industry.
This deep experience, expertise and evolution has made a real difference for Californians. Health Net has received a variety of awards and accolades for driving health equity, implementing culturally-centered care and delivering world-class customer service to support its members.
A View to the Future
A longtime CalChamber member, Health Net has been here for California for more than a generation and is ready for generations to come
For more information on Health Net's ongoing commitment to California's Medi-Cal community, visit here.
Health Net
President and CEO
: Brian Ternan
Members
: 3 million in 58 counties
Network providers
: 90,000
West Coast hub
: Sacramento, CA
Company business segments
:
Medi-Cal
Medicare
Commercial health coverage