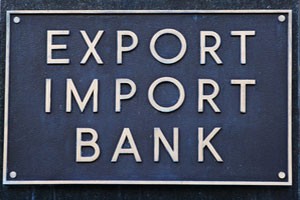 The Export-Import Bank of the United States will continue to operate with a quorum following the early February presidential appointment of James Cruse to serve as vice chairman of the bank's board of directors.
Cruse currently serves as the Ex-Im agency's senior vice president of policy analysis and international relations. President Joe Biden also extended the term of Judith Pryor, a 2019 Trump appointee.
These appointments mean the Ex-Im Bank Board will maintain a quorum, which is necessary to approve transactions worth more than $25 million.
From July 2015 to May 2019, Ex-Im went without a quorum as nominations were held in the U.S. Senate. The U.S. Ex-Im Bank lost $20 billion in export sales opportunities during the four years it wasn't fully operational.
During those four years, Ex-Im could not approve transactions worth more than $10 million, meaning numerous lost opportunities for U.S. businesses and their workers.
The bank's inability to approve transactions exceeding $10 million extended the profound impact of the quorum lapse to larger exporters, the thousands of smaller companies that supply them, and the hundreds of thousands of workers whose jobs depend on exports.
Record of Success
Ex-Im has a proven record of success and turns a profit for the U.S. taxpayer. Since 2009, Ex-Im has refunded $5 billion to the U.S. Treasury above all costs and loss reserves.
Small businesses account for 90% of Ex-Im's transactions; further, these small business transaction figures are in addition to the tens of thousands of small and medium-sized businesses that supply goods and services to large exporters.
Since 2014, Ex-Im Bank has assisted more than 600 California exporters, helping to support $10 billion in export value. Of the exporters, 500 were small businesses, including more than 100 minority-owned and over 85 women-owned enterprises. See the map at customermap.exim.gov/state_map.cfm?state=CA.
Broad Impact
The hundreds of workers at large businesses are not the only ones affected by U.S. export transactions; there are strong ripple effects on the many small and medium-sized enterprises throughout the larger companies' supply chains. The United States is home to some of the largest supply chains in the world. Sales and employees in these supply chains depend on exports of larger clients, financed by Ex-Im.
Effects on U.S. businesses and workers from a lack of domestic political support for Ex-Im can be exacerbated by the extraordinary steps other countries are taking to support their own exporters and national interests. Export credit agencies (ECAs) abroad are expanding product offerings allowing exporters to compete more aggressively, and more countries are opening new ECAs of their own.
With economic growth and job creation the top priorities for the United States, Ex-Im has an important role to play.
Trade offers the opportunity to expand the role of California's exports. As one of the top economies in the world with a gross state product of more than $3 trillion, California exports $173.3 billion to more than 225 foreign markets.
CalChamber Position
The California Chamber of Commerce, in keeping with long-standing policy, enthusiastically supports free trade worldwide, expansion of international trade and investment, fair and equitable market access for California products abroad and elimination of disincentives that impede the international competitiveness of California business.