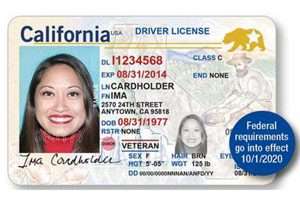 Executives and employees who frequent the skies for work are being encouraged by the California Department of Motor Vehicles to be REAL ID-ready by October 1, if they wish to continue using their California driver license to board domestic flights in the U.S.
The federal REAL ID Act places new rules on which forms of identification may be used to board flights within the U.S. and enter secure federal facilities, such as military bases and federal courthouses, starting October 1. A California-issued REAL ID driver license or identification card meets these new requirements and is marked with a gold bear and star.
Documents Needed
Applying for a REAL ID requires the following:
Proof of identity (birth certificate or U.S. passport);
Proof of Social Security number; and
Two documents to prove California residency (such as a cable or cell phone bill, bank statement or lease agreement).
If you have changed your name, a legal name change document, such as a marriage certificate or divorce decree, may also be required.
How to Apply
To apply for the REAL ID, customers should fill out the REAL ID online application, gather all necessary documentation and head to their local Department of Motor Vehicles office.
There is no need for an appointment to get a REAL ID. Customers should check business hours and wait times of their local office on the DMV website to help plan their visit. More than 60 DMV offices across the state are also open on Saturdays.
In an effort to make obtaining a REAL ID easier, the DMV offers a business-direct service called DMV2U available to some of California's largest employers.
After setting up a mini-office on site, DMV staff process applications and employees receive their new REAL IDs in the mail within a few weeks.
To date, the DMV has held eight pop-up events with more than 5,600 REAL ID applications processed—with more scheduled as the federal enforcement date approaches in October.
For more information about REAL ID, go to realid.dmv.ca.gov.