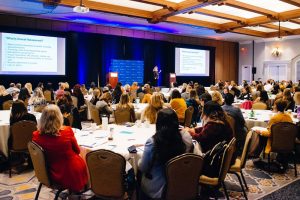 More than 200 human resources professionals attended the annual California Chamber of Commerce HR Symposium in Huntington Beach on Friday. The day-long event featured top experts and key insiders covering hot HR compliance topics ranging from hiring in a competitive market to emerging workplace issues and investigations related to the #MeToo movement.
Morning Sessions
CalChamber Executive Vice President and General Counsel Erika Frank kicked off the symposium with opening remarks, and Jennifer Shaw, founder of the Shaw Law Group, ran the first session of the day with "Emerging Workplace Issues in the Wake of #MeToo." The session covered workplace issues emerging out of the #MeToo movement and reviewed the steps employers can take to prevent those issues from happening.
The following session addressed workplace attire. "Who, What and Wear of Dress Codes in the Workplace," presented by Frank and Lisa V. Ryan, partner at Cook Brown LLP, discussed trends, court decisions and new laws impacting workplace dress and appearance.
CalChamber Executive Vice President Jennifer Barrera kicked off lunch with a legislative recap followed by Undersecretary of the California Labor and Workforce Development Agency Stewart Knox, who joined the stage to discuss programs and initiatives at the California Labor and Workplace Development Agency.
Afternoon Sessions
After lunch, Patricia A. Matias, shareholder with Ogletree Deakins, led a session on "Drugs in the Workplace—It's Not Just About Marijuana Anymore." In the session, Matias discussed the impact on job safety and performance from misuse of opioids and prescription medications. Attendees also learned helpful steps to maintain a drug-free workplace without encroaching on the rights of employees.
The last session of the symposium was "Effective Hiring Strategies in a Competitive Market." Scott Dicke, director of permanent services—VP, Robert Half Finance & Accounting; and Vinny Catalano, area senior vice president of employee benefits with Gallagher, talked about the current job seekers' market and the mystifying trend of "ghosting." They also shared strategies with attendees for attracting top candidates in a competitive market.
Credits
The CalChamber HR Symposium is approved for California recertification credits through the HR Certification Institute (HRCI), Professional Development Credits (PDCs) for the Society of Human Resource Management (SHRM), and Minimum Continuing Legal Education (MCLE) credits.