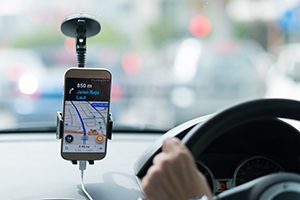 Last week, an op-ed appeared in the San Francisco Chronicle discussing the fact that executives from Uber and Lyft have come together to address the ongoing issue of worker classification for rideshare drivers.
This issue of reclassifying workers who drive for rideshare companies is at the forefront of the current debate over worker flexibility at the State Capitol.  Importantly, as the discussion continues, the primary focus should be on the quality of work for drivers and preserving the flexibility that attracted so many of them to drive for rideshare companies in the first place. As such, it is time for California lawmakers to end the notion of attempting to make these drivers "employees" because doing so would require major changes on the drivers' part.
As the op-ed authored by Lyft and Uber states, "reclassification [of drivers] misses two important points: First, most drivers prefer freedom and flexibility to the forced schedules and rigid hourly shifts of traditional employment; and second, many drivers are supplementing income from other work."
Indeed, the hallmark of driving for a rideshare company like Uber or Lyft is the independent nature of the job. Drivers have the unique flexibility of being their own boss and can make their own choices about if, when and where to work. This independence would simply cease to exist if drivers were reclassified as employees.
In addition, as independent workers, rideshare drivers can supplement their income by driving with Uber or Lyft to earn extra money alongside their day job whenever they want. If the Legislature were to consider rideshare drivers as employees under California law, many of the individuals who currently drive for these companies would not be able to continue working even as part-time employees, leaving an immense gap in the transportation millions of California consumers rely on every day.
This issue affects more than just Uber and Lyft. Postmates is another platform that offers drivers independent work through its app. The food delivery business says it has enabled members of its fleet to supplement their incomes by more than half a billion dollars to date. Moreover, as it told Vanity Fair in 2017, the company has "stimulated growth for local economies by linking our network of customers and couriers to the brick-and-mortar merchants in their own communities."
With millions of dollars on the line, it is crucial for lawmakers to consider what rideshare and delivery drivers want. According to May 2017 data released in 2018 by the Bureau of Labor Statistics Economic News Release, 79 percent of independent contractors prefer their work arrangement over traditional employment.
To reclassify drivers as employees would not only be against the wishes of the majority; it also would force companies like Uber, Lyft and Postmates to impose more control over employees to stay in compliance with California labor laws. This would undercut the innovation of a business model that has powered economic growth for the state.
Uber and Lyft's fight to protect their drivers' status as independent contractors is about maintaining a model that works for both the drivers and consumers. Rideshare companies would be very different services with employee drivers. Wait times would certainly be longer and service would likely be limited.
The op-ed discusses multiple solutions that would go a long way toward providing drivers with additional protections without having to reclassify them as employees. Uber and Lyft executives argued for a new legal framework that would maintain flexibility while offering new benefits. In addition, Postmates executives have also expressed alignment with this historic proposal for delivery-based app workers.
"The status quo can and should be improved," the executives said in the op-ed. "Current employment laws, however, do not allow companies like ours to offer certain benefits without blurring the boundaries of employment and triggering a wave of litigation in which nobody wins."
Change is certainly needed to protect new types of employment in California.
One of the first steps Uber and Lyft executives identify in the legal dispute over driver protection is fixing the law in California. "Amending existing law to allow for a system of worker-determined benefits — from paid time off to retirement planning to lifelong learning — could deliver a measure of security that independent workers currently lack," the executives said.
Maximizing the ridesharing experience for both drivers and customers should be top of mind for California's policymakers. Employment laws should not limit how people make a living; instead, the laws should reflect the types of jobs that are fueling California's booming economy while providing appropriate protections against fraud and abuse.
The final days of the legislative session offer an opportunity for lawmakers to do something that is both innovative and pro-worker. It is time to protect a model that is benefiting hundreds of thousands of California rideshare workers every day.
Staff Contact: Jennifer Barrera