The California Chamber of Commerce honored business executives from Corona and Canoga Park yesterday with its 2019 Small Business Advocate of the Year Award, recognizing them for outstanding advocacy on behalf of small businesses.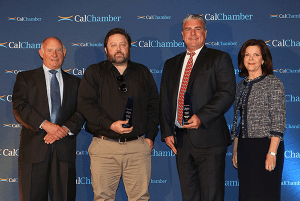 The CalChamber announced the awards in Sacramento before more than 200 attendees at the CalChamber Capitol Summit.
This year's Small Business Advocate of the Year Award recipients are:
Christopher Miller, President and Owner, Thomas Miller Mortuary & Crematory, Corona; and
Bryan Olson, Co-Founder, 8one8 Brewing, LLC, Canoga Park.
Christopher Miller
An advocate on behalf of employers in the Corona community for more than a decade, Miller has traveled to Sacramento and Washington, D.C. to advocate for employers numerous times. He is the owner of the oldest continuously operating business in Corona.
Last year, he represented small business on issues that included protections for independent contractors, and eliminating potential additional tax increases on small and medium-sized employers.
Anthony Edwards, chair of the Corona Chamber Legislative Action Committee, attributed much of the Corona Chamber's advocacy success last year to Miller.
"In part because of [Chris Miller's] leadership, the Corona Chamber Legislative Action Program posted better than an 80% 'win' percentage on legislation they took an advocacy position on in 2018," Edwards said.
Miller also helped lead the Corona Chamber's "Corona 2020" plan, a public-private partnership effort with the City of Corona that has attracted 1,700 jobs and 20 new physician practices to the city. Since the partnership was launched in December 2017, the Corona Chamber reports, Corona residents have saved more than 310,000 of accumulated hours in traffic thanks to jobs being brought closer to home. The elimination of that traffic has translated into almost $7 million saved for Corona employers and commuters, the Corona Chamber estimates.
Miller's leadership on the Corona Chamber Board of Directors helped the Corona 2020 plan operate successfully, Bobby Spiegel, president and CEO of the Corona Chamber, said in a nomination letter to the CalChamber.
"Corona 2020…would never have operated as successfully as it did without Chris Miller advocating to city staff and leaders, as well as chamber leaders, for its adoption and implementation," Spiegel said.
Bryan Olson
When Bryan Olson and his business partner were launching their craft brewing company, 8one8 Brewing, they found that the industry was riddled with old and outdated laws and regulations that impeded their efforts to open the business.
One costly factor in particular was that many government agencies have one-size-fits-all classifications for breweries regardless of their scale of production. Large industrial breweries that produce more than 6 million barrels of beer per year are treated the same as microbreweries that produce less than 15,000 barrels a year. The City of Los Angeles was one of the municipalities that did not distinguish between large and small breweries, making the wastewater assessment charges unfair and a hurdle for small businesses.
Olson worked closely with the Greater San Fernando Valley Chamber and the Department of Sanitation to find a sensible fee structure that reflected the actual costs associated with inspecting microbreweries, resulting in a new fee structure, which went into effect in July 2018. Between the significantly reduced wastewater inspection fee and Olson's success in lobbying the South Coast Air Quality Management District for an exemption for breweries producing less than 100,000 gallons of beer, Olson has helped an entire industry grow in the City of Los Angeles.
"Beer has taken Bryan on a journey that has made a positive impact on not only his industry, but all small businesses in the San Fernando Valley (and the City of Los Angeles)," said Nancy Hoffman Vanyek, CEO of the Greater San Fernando Valley Chamber, in nominating Olson for the Small Business Advocate of the Year Award. "His advocacy on behalf of independent breweries; his never-ending energy; and his 'can-do' attitude has made him a name to be recognized and respected."