The California Chamber of Commerce yesterday hosted a small meeting of business representatives, federal trade officials and state legislative liaisons to discuss the current international business landscape, export obstacles, market access, and other issues of interest with Ian Steff, deputy assistant secretary for manufacturing, U.S. Department of Commerce. Together with the CalChamber Council for International Trade, the Northern California District Export Council (DEC) co-hosted the event.  The District Export Councils ( five in California and 60 nationwide with a total of 1500 members) contribute leadership and international trade expertise to complement the U.S. Commercial Service's export promotion efforts.
Simultaneously this week, Northern California is hosting the 10th Americas Competitiveness Exchange (ACE) with about 75 foreign government and business leaders looking at a variety of sites related to innovation and entrepreneurship. Participants include CalChamber Board member Mark Jansen of Blue Diamond and the Turlock Manufacturing Plant.
Steff  currently serves as acting assistant secretary for global markets and director general of the U.S. and Foreign Commercial Service.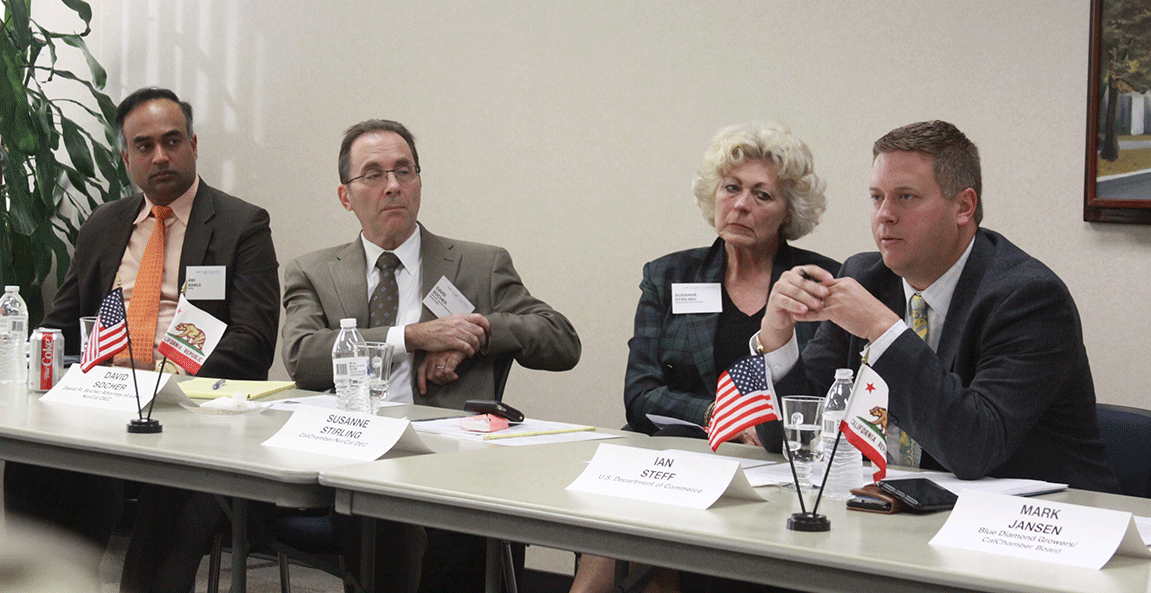 In that capacity, he oversees approximately 1,400 trade and investment professionals based in more than 100 U.S. cities and 70 markets around the world and is responsible for executing the Trump administration's plans to foster growth in U.S. jobs, exports, and investments.
Meeting attendees discussed ongoing negotiations for various free trade agreements, the recently completed United States-Mexico-Canada Agreement (USMCA), the U.S relationship with China, tariffs, U.S. involvement and dealings with the World Trade Organization and the BUILD Act—which will streamline and strengthen U.S. development finance tools by establishing a full-service U.S. International Development Finance Corporation (USIDFC). 
Ian Steff
Steff was appointed to his current role in June 2017. He is performing the non-exclusive functions and duties of the assistant secretary for global markets and director general of the U.S. and Foreign Commercial Service at the request of Commerce Secretary Wilbur Ross.
Steff manages a $300 million budget and a broad portfolio of International Trade Administration initiatives aimed at increasing the competitiveness of U.S. manufacturers and service providers.
Before joining the U.S. Department of Commerce, Steff served as Indiana's first chief innovation officer under then-Governor Mike Pence and subsequently Governor  Eric Holcomb. Steff was executive vice president for the Indiana Economic Development Corporation and the state's senior adviser for science, technology, and advanced manufacturing.
He also served on the board of the Battery Innovation Center, the engineering dean's Advisory Council at Purdue University, and the Vice Chancellor for Research Advisory Board at Indiana University-Purdue University Indianapolois (IUPUI) . Steff also served on the Board of the Institute for Advanced Composites Manufacturing Innovation.
Before his roles in Indiana, Steff worked for nearly a decade at the Semiconductor Industry Association (SIA), where he served as vice president of global policy and technology partnerships. He was executive chairman the board of the U.S. Information Technology Office in Beijing. He also was a member of the executive committee of the International Technology Roadmap for Semiconductors and the advisory board of the School of Microelectronics at Rochester Institute of Technology.
Steff started his professional career as a member of the Ways and Means trade staff in the U.S. House of Representatives under Chairman Thomas and Subcommittee Chairmen Shaw and Crane.
Steff graduated magna cum laude from American University with a B.A. in international studies. He completed graduate work at the National Defense University in Washington, D.C., and received a M.A. in international science and technology policy from George Washington University.
 Staff Contact: Susanne T. Stirling