California's merchandise export trade largely shrugged off the current turmoil over trade policies and kept growing in April, according to a Beacon Economics analysis of U.S. trade statistics newly released by the U.S. Census Bureau.
Foreign shipments by California businesses totaled $14.98 billion for the month, a nominal 6.5% gain over the $14.07 billion recorded one year earlier.
The state's exports of manufactured goods in April were up 5.9% to $9.66 billion from $9.12 billion in April 2017. Exports of nonmanufactured goods (chiefly agricultural products and raw materials) surged 13.6% to $1.92 billion from $1.69 billion. Re-exports, meanwhile, grew by 4.3% to $3.4 billion from $3.26 billion. California accounted for 10.9% of the nation's overall merchandise export trade in April.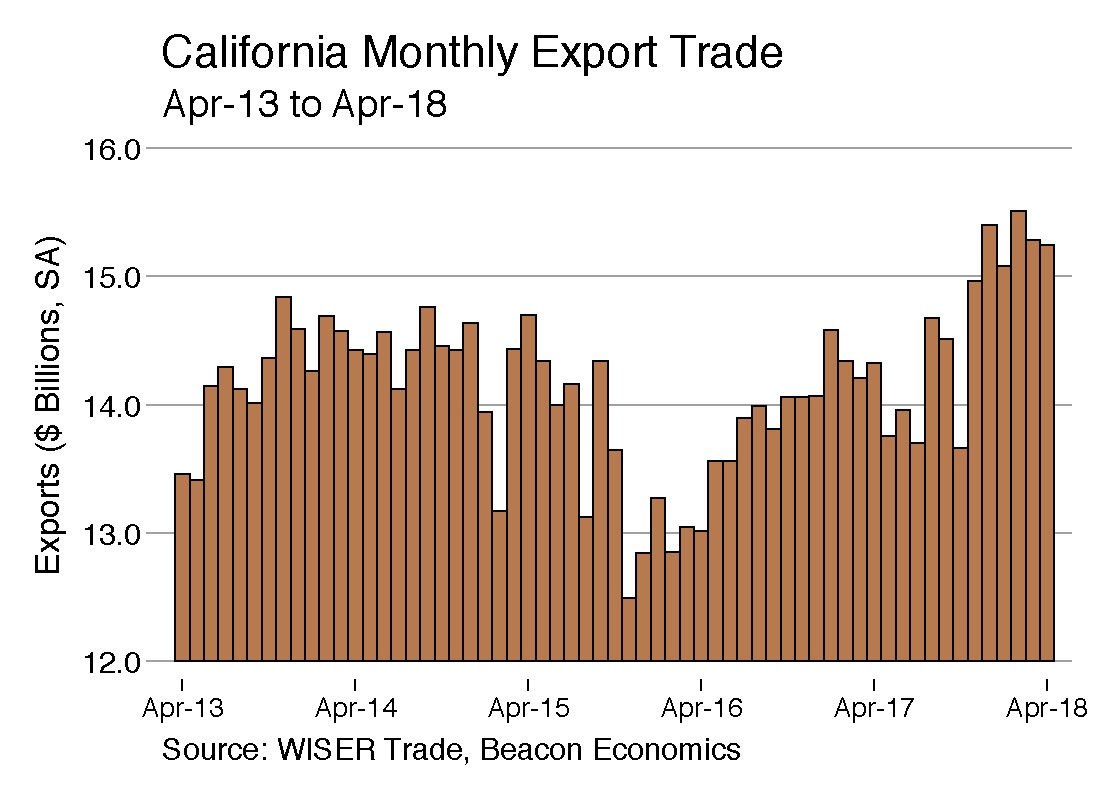 California Import Growth Slows
The Census Bureau reports that California was the state-of-destination for 18.6% of all U.S. merchandise imports in April, with a value of $35.36 billion, 1.9% higher than the $34.71 billion in imported goods in April 2017. Manufactured imports totaled $31.16 billion, up 0.4% from $31.03 billion. Nonmanufactured imports were valued at $4.2 billion, 14.1% higher than the $3.68 billion recorded one year earlier.
Closer Look
As always, Beacon Economics cautions against reading too much into month-to-month fluctuations in state export statistics, especially when focusing on specific commodities or destinations. Significant variations can occur as the result of unusual developments or exceptional one-off trades and may not be indicative of underlying trends. For that reason, Beacon Economics compares the latest three months for which data are available (i.e., February–April) with the corresponding period in the preceding year.
Leading Export Commodities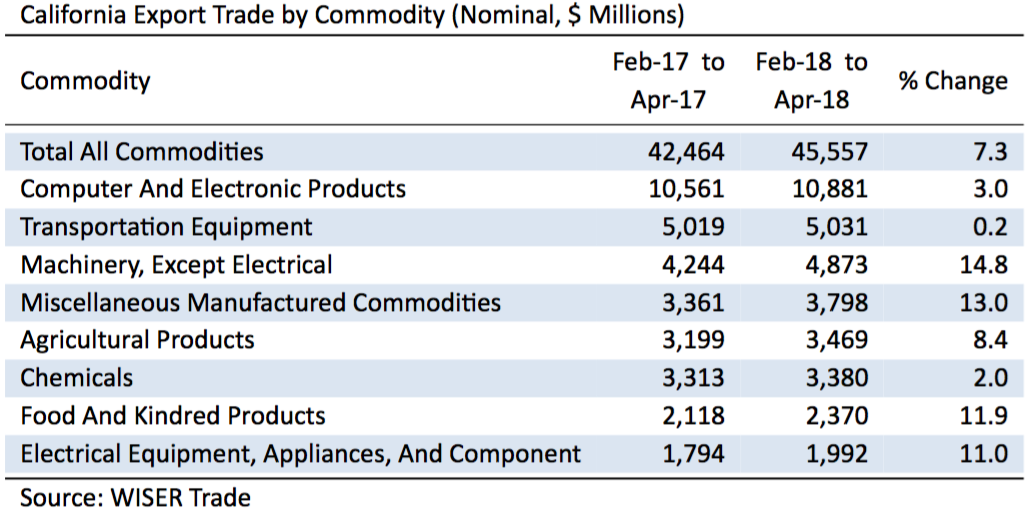 California's merchandise exports during the first quarter of the year totaled $45.56 billion, a nominal gain of 7.3% from the $42.46 billion during the same period in the previous year. Of the 13 categories of California exports that normally see shipments valued at more than $1 billion in the latest three-month period, all but one reported increases.
On the plus side, shipments of Computer & Electronic Products (computers and peripherals; communication, audio and video equipment; navigational controls; and electro-medical instruments) moved up by 3% to $10.88 billion from $10.56 billion. The state's exports of Transportation Equipment (automobiles, trucks, trains, boats, airplanes, and their parts) edged up by 0.2% to $5.03 billion from $5.02 billion.
Exports of Non-Electrical Machinery (machinery for industrial, agricultural and construction uses as well as ventilation, heating, and air conditioning equipment) improved by 14.8% to $4.87 billion from $4.24 billion. Shipments of Miscellaneous Manufactured Commodities (a catchall category of merchandise ranging from medical equipment to sporting goods) increased by 13% to $3.8 billion from $3.36 billion.
Chemical exports (including pesticides and fertilizers; pharmaceutical products; paints and adhesives; soap and cleaning products; and raw plastics, resins, and rubber) gained 2% to $3.38 billion from $3.32 billion.
Agricultural exports rose 8.4% to $3.47 billion from $3.2 billion. Shipments abroad of Food & Kindred goods grew 11.9% to $2.37 billion from $2.12 billion. Exports of Electrical Equipment and Appliances increased 11.0% to $1.99 billion from $1.79 billion. Exports of Petroleum and Coal Products leaped 42.3% to $1.56 billion from $1.02 billion. Waste & Scrap exports roared ahead by 42.7% to $1.35 billion from $946 million. Exports of Fabricated Metal Products remained essentially unchanged at $1.07 billion. Shipments of Used or Second-hand Merchandise jumped by 30.5% to $1.04 billion from $798 million.
On the minus side, exports of Primary Metal Manufacturing products tumbled 37% to $1.06 million from $1.67 billion.
Destinations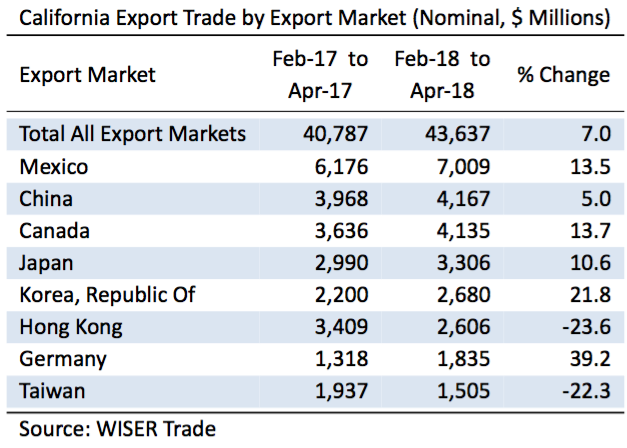 Mexico stayed atop the list of California's most important export destinations during the year's first quarter. Shipments south of the border grew by a robust 19.8% to $7.47 billion from $6.23 billion. China took second place among the state's largest export markets, with shipments increasing 11.8% to $4.52 billion from $4.04 billion. Canada came in third even though California's exports north of the border grew by 10% to $4.27 billion from $3.88 billion. In fourth place was Japan, which imported $3.39 billion worth of California goods, a decline of 0.6% from $3.41 billion during the same period one year earlier. Exports to South Korea rose 16.4% to $2.87 billion from $2.46 billion. Hong Kong saw its California imports plummet by 29.3% to $2.48 billion from $3.51 billion one year ago.
Despite impressive growth in exports to China and South Korea, the state's overall export trade with the economies of East Asia crawled ahead by just 0.8% to $16.78 billion from $16.64 billion. Meanwhile, California's exports to the European Union were ahead by only 1.5% to $8.09 billion from $7.97 billion.
Underscoring the economic significance of the North American Free Trade Agreement, Mexico and Canada together accounted for 25.8% of California's merchandise export trade in the latest three-month period, up from 23.7% in the same period one year ago. Exports to the two neighbors soared in value by a remarkable 16.1% in the latest three-month period over the same months last year.
Mode of Transport
The latest three-month period saw 47% of the state's $45.56 billion merchandise export trade depart by air, while waterborne transport carried 30.6% of the outbound trade. The balance of the state's exports moved overland.
Outlook
The outlook for California in the near term is generally positive as underlying economic conditions remain disposed toward export growth. That said, major forecasting agencies have recently been revising global and national forecasts downward compared to earlier in the year. One impediment is a dollar that has rallied since mid-April, gaining less than 5% against a basket of currencies of major trading partners. The most recent indications for growth in the Eurozone are dimming, in part because of slowing output and in part because Italy's new government includes avowed euro-skeptics. Debt issues also are re-emerging as a constraint on economic expansion across a range of developing nations.
For Beacon experts, what clouds the picture most is the unprecedented unpredictability of trade policy in the United States and abroad. President Donald Trump has opted to use tariffs on imported goods as a cudgel to compel the nation's trading partners to abandon policies he regards as unfairly restrictive on U.S. exports. As a result, the United States is now engaged in increasingly nasty disputes with not only just about every important trading partner, but also with its most vital military allies.
In one of the latest developments, Mexico last week imposed new tariffs on U.S. products ranging from steel to pork and bourbon, retaliating against import duties on metals imposed by the Trump administration. Mexico's retaliatory list also included 20% to 25% duties on types of cheeses and bourbon. Last year, California accounted for 27% of U.S. cheese exports to Mexico.
Staff Contact: Susanne T. Stirling