California Chamber of Commerce President and CEO Allan Zaremberg joined Secretary of State Alex Padilla at a CalChamber news conference on May 8 to unveil a new online business filing and search portal that will streamline the process for starting a new business in California.
"Small businesses drive our economy and the people who want to be entrepreneurs—who have ideas, who may have funding or are looking for funding — want to get up and running in California," said Zaremberg.  "Now, when people call CalChamber asking for help with getting their business going, we have a great resource to offer."
"The days of only being able to form an LLC in-person at the Secretary of State's office, or by mail are gone with our new, easy online filing option," said Secretary Padilla. "Now, a business can submit LLC formation documents, submit LLC Statements of Information, or file a trademark or service mark application — all online from the convenience of their laptop, tablet or smartphone."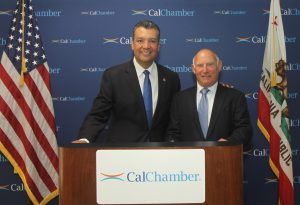 Secretary Padilla also announced the creation of Eureka, a new artificial intelligence search assistant, known in the information technology world as a "chatbot," to help customers easily navigate business resources on the Secretary of State website.
Over the last five years, LLCs have been the fastest-growing company entity type being registered in California, with nearly 120,000 LLC Formation filings in the 2016–17 fiscal year alone, according to the Secretary of State. The new LLC Formation tool was designed and implemented in collaboration with the staff of the Secretary of State and the ThinkSmart LLC Platform.
Developed in partnership with Microsoft (a CalChamber member), the Eureka chatbot answers frequently asked business entity and trademark questions. Customers can ask a question such as "How do I get a copy of a filed document?" and Eureka will link them to the California Business Search website where they can look up their business record and access documents for free. Eureka responds best to short questions or keywords.
For more information, visit the bizfile California website.