Since its release last year, more than 400,000 entrepreneurs throughout the state have utilized bizfile California's online business filing and search services, according to government data released this month. The California Secretary of State
[...]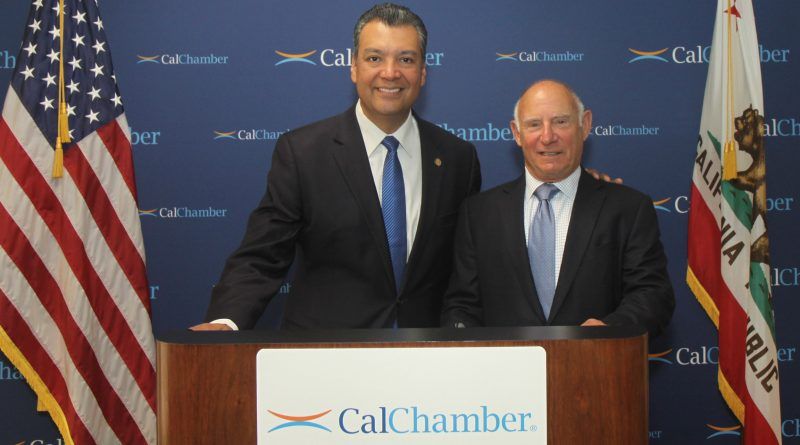 California Chamber of Commerce President and CEO Allan Zaremberg joined Secretary of State Alex Padilla at a CalChamber news conference on May 8 to unveil a new online business filing and search portal that
[...]
By Jennifer Barrera in The San Diego Union-Tribune One of the things keeping state legislators busy in Sacramento right now is a shortsighted attempt to impose on California small businesses a new, one-size-fits-all mandated leave
[...]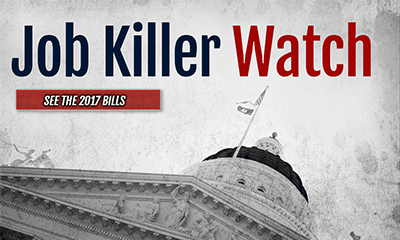 The California Chamber of Commerce has identified a new job killer bill that mandates state-only labeling requirements for sugar-sweetened drinks. SB 300 (Monning; D-Carmel) establishes the Sugar-Sweetened Beverages Health Warning Act, which would prohibit
[...]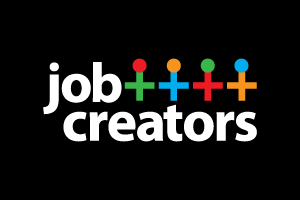 A California Chamber of Commerce-supported job creator bill providing small businesses with the tools and resources needed to comply with California's regulations will be heard in an Assembly policy committee today. AB 912 (Obernolte;
[...]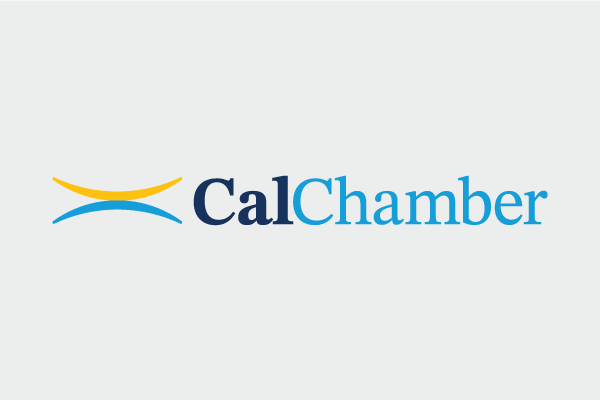 Eleven California Chamber of Commerce member companies in the Sacramento region were recognized as some of the best places to work for in 2016. The 2016 "Best Places to Work" list, based on employee
[...]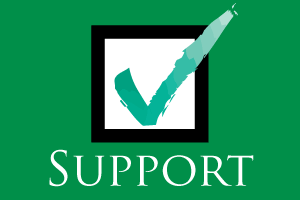 Governor Edmund Brown Jr. has signed a California Chamber of Commerce-supported bill that will help businesses assess whether commercial rental property is compliant with disability access laws. AB 2093 (Steinorth; R-Rancho Cucamonga) ensures that owners and
[...]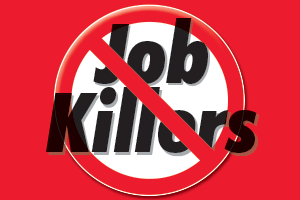 As the 2016 legislative session came to a close late Wednesday, 19 of 24 identified job killer bills had been effectively stopped through efforts of the California Chamber of Commerce, local chambers and the
[...]
The Assembly yesterday passed a bill that could drive up costs of commodities to consumers by removing the existing overtime exemption allowed for agricultural employers. AB 1066 (Gonzalez; D-San Diego) would establish new overtime
[...]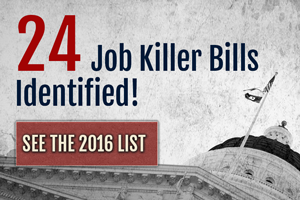 The California Chamber of Commerce is urging small business owners to contact their legislators and the Governor to express strong opposition to SB 654 (Jackson; D-Santa Barbara). The bill, identified as a job killer,
[...]
The California Chamber of Commerce and the Linked Learning Alliance have launched a California network of employer associations committed to advancing youth opportunities and reducing youth unemployment. The lead organizations, Linked Learning Alliance and
[...]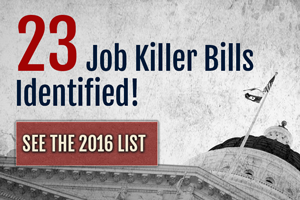 The Assembly Judiciary Committee yesterday delayed voting on a job killer bill that if passed, will expose businesses to costly litigation when goods are "substantially similar," yet priced differently. The bill, SB 899 (Hueso;
[...]
A June 2 webinar will help businesses learn more about a new loan program to assist California small businesses with financing the costs to alter or retrofit existing small business facilities to comply with
[...]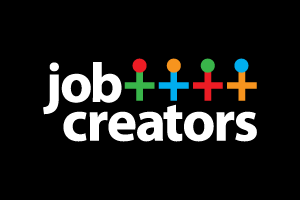 The California Chamber of Commerce has identified a new job creator bill, bringing the current list to 13 bills. The latest bill will be considered by the Senate Business, Professions and Economic Development Committee
[...]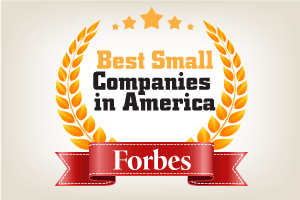 Three California Chamber of Commerce member companies have been selected by Forbes magazine as among "The Best Small Companies in America" in 2016. The small companies on this list, which include CalChamber members Integrated
[...]
(Cross posted in Fox and Hounds Daily) A workplace is most successful when an employer will want to do what it takes to keep a worker happy and productive. This includes accommodating his or
[...]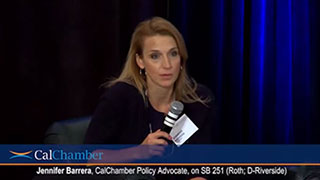 CalChamber Policy Advocate Jennifer Barrera discusses how SB 251 will help small businesses and limit frivolous ADA lawsuits.​
[...]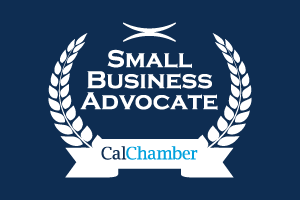 ​Contact: Christine Haddon SACRAMENTO, CA — The California Chamber of Commerce honored business owners from Lodi and Torrance today with its "2015 Small Business Advocate of the Year" award, recognizing them for outstanding advocacy
[...]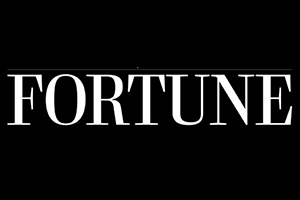 Seven California Chamber of Commerce member companies have been ranked among the "50 Best Small and Medium-Size Companies to Work For" by Fortune magazine. Small Companies Small companies were defined by Fortune as those
[...]