Governor Edmund G. Brown Jr. and California Chamber of Commerce Board Chair Michael W. Murphy shared their perspectives on the state's accomplishments and challenges at the 91st Annual Sacramento Host Breakfast yesterday.
The annual gathering, which was attended by more than 1,200 civic and business leaders from throughout the state, also featured Sacramento Mayor Kevin Johnson as a guest speaker.
Governor Brown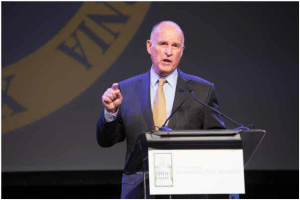 Governor Brown concentrated much of his speech on the state's economy, and its boom and bust cycle. While the state budget is balanced, it relies on capital gains, which are volatile and not reliable. The business cycle zig zags, he said, with recessions following recoveries—up and down it goes. Since World War II, California has experienced 10 recoveries, with the longest lasting 10 years. California is currently midway past its seventh year of recovery, he said in his remarks, which means the state is heading for a downward cycle again.
On top of an erratic revenue system, California has many obligations to the federal government, such as Medi-Cal, that limit how much the state can cut from certain programs in needy times. The state also has many fixed costs, Brown added, such as prisons, the California Highway Patrol and the Department of Fish and Game Commission. Even though the state is in a recovery, it should not embark on funding new programs, which can be hard to remove, he emphasized. The need will be there each year, and without a rainy day fund, the programs will have to be cut once the budget runs into deficits, he said. Ultimately, the state is doing better.
"So far so good. We've got several billion in the rainy day fund. We're carefully balanced in the budget. We were much worse than that," Brown said.
Brown highlighted areas where the state has made advancements, such as in education and crime. California is now directing more money for education in areas objectively identified to have greater need. Increased authority has been passed to local schools to give more autonomy to teachers, principals and local school districts. More authority also has been granted to local courts and law enforcement authorities to realign a number of crimes.
The Governor also touched on the need for infrastructure investment, which he called "building for the future." Several billion dollars are needed for road repair and other projects, he said. The main infrastructure projects Brown pointed to, however, were high speed rail and the Delta tunnels.
Many problems surround the Delta tunnels, including old dirt levees that are a hundred years old and will fail, he explained. And while many people assume the water in the Delta is consumed by Southern California residents, Brown pointed out that 80% of Livermore residents and 40% of Santa Clara residents depend on the Delta's water supply.
"What happens if their water is cut off with 24 hours notice?" he asked. "That's not going to be good for investment. So this, and another thing: you can't do without it. A lot of people don't want it…but everything I can tell, it's really important."
Michael W. Murphy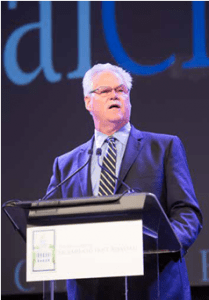 Murphy, president and CEO of Sharp HealthCare, said that in preparing his remarks, he looked back on articles written about California—some of which were written by "glass half full people, [and] some written by glass half empty people."
It should be recognized, he said, that the state's economy is still outperforming other states, and that state job growth has surpassed the rest of the country. Nevertheless, he emphasized, challenges remain and it must be acknowledged that "California's performance has been extremely uneven."
Murphy pointed to the strong economy of cities and towns along the coast, which benefit from tourism, and the information technology, biotech and life sciences industries that call those areas home, and juxtaposed it with the areas of California that have not fared as well. The state's agricultural industry had to contend with drought, and weak global growth and a strong dollar. Unlike metropolitan areas, inland areas have had slower growth.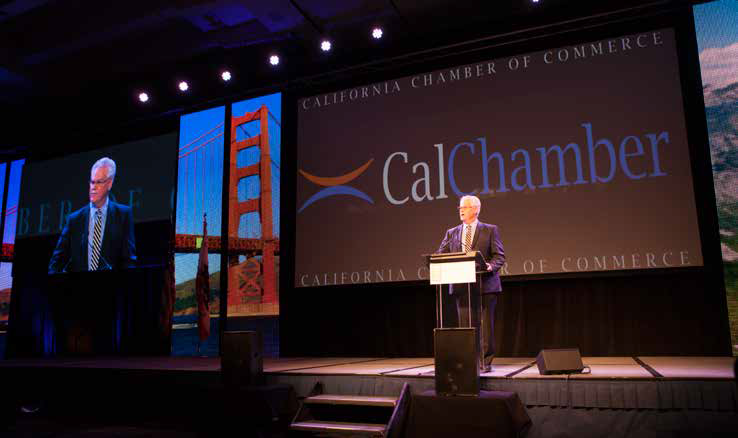 The health care sector, like other sectors, Murphy said, is experiencing positive advances, but is also facing significant challenges. California is leading the way in biotech, pharmacy and genomics advancements, and in the last two years, nearly 3 million previously uninsured residents have gained Medi-Cal coverage. Still, there are significant unfunded pension retiree health obligations that need to be addressed, and health care costs to government and individuals are "bending very little."
To continue the state's accomplishments and address its challenges, Murphy told attendees, engaged leadership, shared goals and values, ingenuity, and a long-term view will be required. Real progress has to be made on health care, housing, transportation and international trade.
He stressed, however, that it all has to be balanced with the overall cost of doing businesses in California in order to attract and retain the businesses that will ignite the economy.
Kevin Johnson
The morning's final guest speaker was Sacramento's mayor. Johnson thanked the leaders present at the breakfast, the Host Committee and the CalChamber, remarking that in his more than seven years as mayor, he has learned that "we cannot begin to solve the toughest challenges, like education and housing and unemployment, without the support of the corporate community."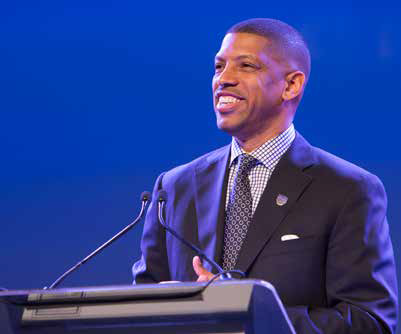 In his remarks, Johnson shared the innovations that have taken place in California's capital city within the last decade. The city has over relied on government jobs and the real estate industry, but now, Johnson said, it has to be a hub for innovation, entrepreneurship and technology.
What city officials want, he said, is for Sacramento to be one of the easiest places to do business in California.
A significant accomplishment in Sacramento has been keeping the Kings national basketball team in the city, and revitalizing the downtown area to include a state-of-the-art arena. This revitalization will extend to the rail yards nearby and the city's riverfront, Johnson said.
One of the biggest challenges, however, is bringing an innovation mindset to communities that are most in need, not just in Sacramento, "but any community up and down the state," he said. The mayor pointed to disadvantaged communities in Sacramento, such as Oak Park and Del Paso Heights, that need investment in education, development and entrepreneurship. He highlighted the potential of these communities and minority communities as economic opportunities by drawing on the experience of Starbucks in the primarily minority community of Ladera Heights in Southern California.
Opening a Starbucks coffee shop in Ladera Heights was an idea Magic Johnson pitched to Starbucks CEO Howard Schultz, Johnson shared. Although skeptical at first, Schultz agreed to open the coffee shop if Magic Johnson split the costs.
Not only did they make back their investment in six months—when the typical return on investment for a Starbucks store is two years—but the store became the fastest-growing, most successful location in the country. The moral of the story, Johnson said, is that the soil is just as rich in poor communities as it is in more affluent ones.
"If we don't take a chance, and we don't include the least among us, we're never going to reach our ultimate potential as a community," he said.