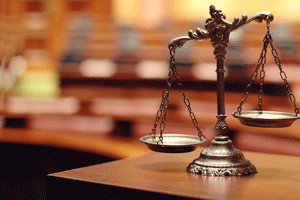 California's lawsuit climate is among the worst in the country at number 47 out of 50, tying its all-time low ranking in 2012, according to a recent national survey.
In fact, both Los Angeles and San Francisco made the list of cities or counties with the least fair and reasonable litigation environment, according to the U.S. Chamber Institute for Legal Reform (ILR).
California is in the bottom five of eight of the 10 elements evaluated in the survey, sitting at the absolute bottom in treatment of class action suits and mass consolidation suits, and damages.
According to the 2015 Lawsuit Climate Survey: Ranking the States, 75% of senior company attorneys surveyed say a state's lawsuit environment is likely to have an impact on important business decisions at their company, including where to locate or expand. That is an 18% increase from eight years ago, and an all-time high.
California's lawsuit climate ranked beneath neighboring states Arizona, Nevada and Oregon, which ranked 25th, 35th and 32nd, respectively.
Since 2008, California's state court system has been in a perpetual budget crisis, resulting in the closure of at least 52 courthouses and more than 200 courtrooms, as well as reduced services.
Additionally, California has loose rules to bring class action lawsuits, allows wage-and-hour lawsuits over inadvertent record keeping violations, and requires inflated mandatory damages awards.
Potential Contributors to California's Consistently Low Ranking
California has a population exceeding 38 million people and the world's eighth largest economy. The state's size and the wealth generated make it an attractive place for plaintiffs' attorneys to establish offices and file lawsuits.
California has become "ground zero" for lawsuit abuse in several areas: Americans with Disabilities Act (ADA) "shakedown" lawsuits, Proposition 65 "shakedown" lawsuits, consumer protection law abuse, and Telephone Consumer Protection Act (TCPA) litigation, according to the survey.
Host to Many of Nation's Largest Awards
One reason California has attracted so much litigation is because its courts often have awarded significantly greater damage amounts compared with other states, the survey found. Harris survey respondents viewed California as the worst state for damage awards. Recent examples of headline-grabbing awards, which have raised fairness concerns, include:
• In 2014, a Santa Clara County trial court judge ordered several companies to pay $1.15 billion to address health risks posed by the presence of lead paint in California homes. This lawsuit alleged that the presence of lead paint, years after sale, constituted a "public nuisance" requiring abatement.
• In 2014, a federal jury in San Diego awarded more than $185 million against an automotive parts store in a suit alleging workplace discrimination. Nearly the entire verdict—$185 million—comprised punitive damages against the store.
• In 2014, a jury in San Jose awarded $111 million against a mobile home trailer park for failing to adequately maintain the trailer park.
• In 2013, a federal jury in Sacramento awarded $167 million against a hospital in a wrongful termination action involving a physician's assistant. The verdict included $125 million in punitive damages.
State Judiciary in Financial Crisis
The state judiciary estimates that the closures and service reductions resulting from its continuing budget crisis have deprived more than two million Californians of access to justice.
Over the past several years, the state judiciary's budget has been cut by more than $1 billion.
The Governor's 2015–16 budget provides a slight increase in the judiciary's budget compared with the 2014–15 fiscal year, but the judiciary is only now closing in on the $3.7 billion budget it enjoyed nearly a decade ago.
California Supreme Court Chief Justice Tani Cantil-Sakauye has complained that the state's recent budgets represent only a fraction of the money needed for trial courts "just to tread water" after years of courthouse closures, layoffs, and other cutbacks. She has said the budgets are "not enough to provide timely, meaningful justice to the public."
The severe budget cuts experienced since 2008 have had other lasting impacts beyond court closures and reduced hours of operation. Nearly 4,000 court staff members have lost their jobs. At least 50 judgeships authorized in 2007 remain unfilled and unfunded. Courts have cut mediation services and the use of court reporters in civil cases. There are longer lines and longer distances for litigants to travel between courts.
See the entire 50-state list and read a full copy of the 2015 Lawsuit Climate Survey online at: www.instituteforlegalreform.com/states.