Longstanding historical, cultural and commercial ties between Mexico an​d California were in the spotlight yesterday at the luncheon hosted by the California Chamber of Commerce for the Mexico Secretary of Foreign Affairs with California's Governor and First Lady as special guests.
"Mexico and California have been joined from the beginning," commented Governor Edmund G. Brown Jr., offering a brief history of California-Mexico relations in remarks preceding those of Mexico Secretary of Foreign Affairs Dr. José Antonio Meade Kuribreña.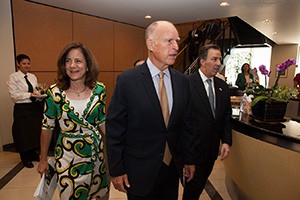 Mexico Today
Dr. Meade reinforced the Governor's observation in summarizing for approximately 120 attendees at the international luncheon forum what Governor Brown, First Lady and Special Counsel Anne Gust Brown and delegates on the upcoming gubernatorial trade mission​ will find upon their arrival in Mexico:
​​A democracy with strong institutions, including 80 years of orderly transitions;
The second largest economy in Latin America;A stable economy with sound public finances;One of the most open economies in the world;
A country with young and talented people, graduating more than 100,000 engineers a year;
The fifth largest percentage of high tech exports in the G20 major economies.
​Bilateral trade between the United States and Mexico is "amongst the most integrated in all the world," Dr. Meade commented, "and Mexico is the first trading partner to 22 states, including California."
The California-Mexico border—145 miles with seven crossing points—"is arguably the busiest land border crossing in all the world," Dr. Meade said. He called for more partnerships such as the proposal to connect the San Diego and Tijuana International Airports so that Tijuana can help with the overflow from San Diego. "We should be recognizing that our border is a source of competitiveness and our border is part of the way of life of the region," he said.
Accompanying Dr. Meade to yesterday's luncheon were Mexico's Ambassador to the United States Eduardo Medina Mora Icaza; Undersecretary for Foreign Affairs in North America Sergio M. Acocer Martinez de Castro; and Consul General of Mexico in Sacramento Ambassador Carlos González Gutiérrez.
Mexico Mission Blog​
The Governor's Trade and Investment Mission to Mexico is set for July 27–30, 2014. For regular updates, please follow the CalChamber California-Mexico Mission blog.
Staff Contact: Susanne Stirling​​​​​​​​​​​​​​​​​​​​​​​​​​​​​