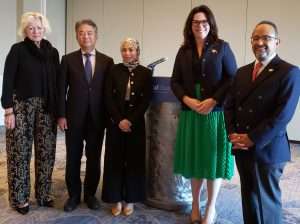 Representatives from three of the 21 member economies of the Asia-Pacific Economic Cooperation (APEC) described for a California Chamber of Commerce audience on September 8 what's at stake for their economies when APEC leaders meet in San Francisco the week of November 12.
The consular corps panel members were:
Anil Fahriza Adenan, Consul General of Malaysia;
Carlos González Gutiérrez, Consul General of Mexico; and
Kenko Sone, Consul General of Japan.
The theme of this year's summit focuses on creating economic opportunity for all through trade and investment, innovation, sustainable and inclusive growth.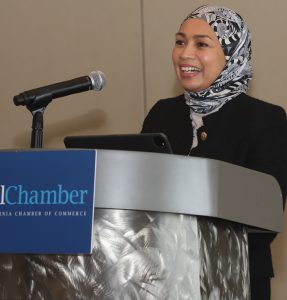 Malaysia
Consul General Adenan commented that the theme of the summit is timely and important as all the APEC economies are facing challenges of climate change, supply chain disruptions, connectivity, inclusive growth, agricultural issues, and recovery from the COVID-19 pandemic.
The United States is Malaysia's third largest trading partner and California is an important part of that relationship. A growing middle class in Malaysia has been a factor in an increased demand for U.S. and California goods.
Malaysia, a founding member of the Association of Southeast Asian Nations (ASEAN), is a gateway to the markets in the region. Collectively, ASEAN is projected to be the fourth largest economy by 2050.
The seven-year industrial policy launched by Malaysia's prime minister in late August aims to transform the country into a high-income, innovation driven economy and leading industrial nation in the region.
The policy will support investing in research and development, developing skills and talents promoting innovation, and attracting foreign investment.
Malaysia sees APEC as an essential platform for promoting economic growth and prosperity. The country is taking actions to make itself a regional hub for producing and exporting renewable energy, investing heavily in solar and wind power projects.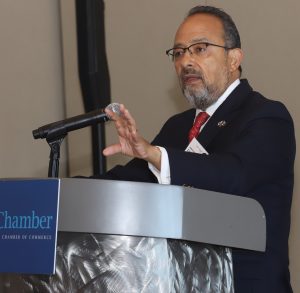 Mexico
Reminding listeners that California is Mexico's No. 1 trading partner, Ambassador González said the APEC Leaders Summit is an opportunity to reinforce Mexico's position as a strong trade and investment partner along with the Asia-Pacific countries.
He commented that although there is not yet a trade agreement between Malaysia and Mexico, both are members of the original Trans-Pacific Partnership, and Mexico trades more with Malaysia than any Latin American country, the United Kingdom and France.
Of the 20 priorities identified for the APEC Leaders Summit, he said, three are most relevant to U.S./California-Mexico relations:
Enhancing infrastructure and transportation;
Noncommercial border crossings; and
Strengthening supply chains.
Reducing waiting times at ports of entry between the United States and Mexico will save costs on both sides of the border, as well as reduce emissions, the Ambassador commented.
He cited the importance of trusted traveler programs for facilitating cross-border crossings.
A key to strengthening supply chains, the Ambassador said, is protecting and investing in the relationship between Southern California and Baja California. The auto market already is important to the prosperity of the relationship. Becoming more important are the medical supply and services industries.
Japan
Consul General Sone commented that a significant portion of his diplomatic career has involved dealing with APEC, first as an observer and then a meeting participant (for example, he was in charge of the APEC Osaka Summit in 1995).
The APEC vision is to achieve a free, dynamic, resilient and peaceful Asia-Pacific community by 2040. Three pillars to reach that goal involve working on trade and investment, the digital economy and promoting innovation, and working for strong, balanced, secure, sustainable and inclusive growth.
Japan has been promoting the idea of "digital data free flow with trust," Consul General Sone said.
Innovations being pursued by startups in Japan, he said, include operations focusing on liberalizing the environment of goods, as well as operations promoting hydrogen technologies in the United States. Many Japanese companies also are working on solar power projects.
APEC
Formed in 1989, APEC serves as a multilateral forum in which Asian and Pacific economies can solve economic problems and cooperate in developing key economic sectors. The APEC economies are Australia, Brunei Darussalam, Canada, Chile, People's Republic of China, Hong Kong, Indonesia, Japan, Republic of Korea, Malaysia, Mexico, New Zealand, Papua New Guinea, Peru, Republic of the Philippines, Russia, Singapore, Chinese Taipei, Thailand, United States and Vietnam.
The 21 APEC economies represent approximately 60% of world gross domestic product (GDP), nearly 50% of world trade and 40% of the global population
Staff Contact: Susanne T. Stirling