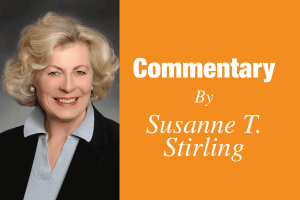 Finally … and just in time for Labor Day … dockworkers on the U.S. West Coast voted on Thursday, August 31 to ratify a tentative contract agreement with port employers. The business community welcomes the new six-year contract, which covers workers at all 29 West Coast ports and is retroactive from July 1, 2022, expiring on July 1, 2028.
The agreement from June 15 — following assistance from Acting U.S. Secretary of Labor Julie Su — is between port employers represented by the Pacific Maritime Association (PMA) and the International Longshore and Warehouse Union (ILWU). It ends more than a year of uncertainty that has had a major impact on the U.S. container shipping market as the two sides failed to reach an agreement after the previous contract expired. The June contract has already been approved by PMA members.
Negotiations for a collective bargaining agreement began in May 2022 at the height of the pandemic-driven shipping boom. The California Chamber of Commerce urged a timely and satisfactory resolution that advanced the needs of both the workers and ports as imperative to avoiding further backups, delays and higher costs. Cargo volumes have retreated to more normal levels from the COVID-era height, but still remain above pre-pandemic volumes in 2019.
Here in California, more than 40% of the nation's imports and 30% of the nation's exports come through the state's major ports at Los Angeles, Long Beach and Oakland, along with California small port systems up and down the coast. For the global supply chain, which relies on a just-in-time delivery model, there was a strong correlation between the port delays and the wait times and shortages that consumers were experiencing in their day-to-day lives, affecting the ability of the world's economies to avoid price shocks and increasing the cost of living in California.
The ILWU indicates the new agreement protects jobs, maintains health benefits, and improves wages, pensions, and safety protections for approximately 20,000 workers. The ports indicate the contract ensures stability and success for the future in keeping the nation's cargo and the nation's economy moving.
"The negotiations for this contract were protracted and challenging," said ILWU International President Willie Adams. "I am grateful to our rank and file for their strength, to our Negotiating Committee for their vision and tenacity, and to those that supported giving the ILWU and PMA the space that we needed to get to this result."
"This contract provides an important framework for the hard work ahead to overcome new competitive challenges and to continue to position the West Coast ports as destinations of choice for shippers worldwide," said PMA President and CEO Jim McKenna. "From San Diego to Bellingham, these ports have long been the primary gateways for cargo coming into and leaving the United States, and our interests are aligned in ensuring they can effectively, and efficiently, handle the capacity growth that drives economies and jobs."
California is the fifth largest economy in the world with a gross state product of $3.7 trillion. International trade and investment are major parts of our economic engine that broadly benefit businesses, communities, consumers and state government. The strength of our trade and investment ties is also one of the state's key competitive advantages. California's economy is diverse, and the state's prosperity is tied to exports and imports of both goods and services by California-based companies, to exports and imports through California's transportation gateways, and to the movement of human and capital resources.
Although trade is a nationally determined policy issue, its impact on California is immense, as we export to 227 foreign markets. Trade offers the opportunity to expand the role of California's exports. In its broadest terms, trade can literally feed the world and raise the living standards of those around us.
Even before the negotiations, uncertainty was affecting port operations. Some cargo owners, wary of further disruption, shifted their volumes to the East and Gulf coasts to avoid or mitigate potential problems. These adjustments continue to influence both volume and market share.
To ensure U.S. ports are in a position to compete globally, targeted investment and support for modernizing and automating infrastructure with skilled workers prepared for these advanced jobs are still of critical importance. The CalChamber recognizes the crucial role port workers have played in supporting supply chain and logistic needs during the most challenging of times; however, in light of the highly competitive international shipping sector, we must continue to address systemic operational challenges by enabling transparency and data sharing in the future.
The CalChamber is pleased our state can move forward with a new contract between the dockworkers and port employers, thereby supporting continued economic growth and mitigating potential disruptions. These efforts will benefit California importers and exporters, the millions of workers they employ, and the millions of consumers they serve. There is nothing like certainty to safeguard our shared economic gains.
Susanne T. Stirling is vice president of international affairs for the California Chamber of Commerce.