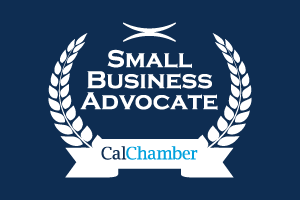 Business owners from Chino and Corona were acknowledged last week by the California Chamber of Commerce for outstanding advocacy on behalf of small businesses.
The CalChamber announced the awards on May 17 in Sacramento at the Capitol Summit, attended by about 200 business leaders from throughout the state.
CalChamber Chair Gregory S. Bielli and CalChamber President and CEO Jennifer Barrera presented this year's awards to:
Palbinder Badesha, owner of Express Employment Professionals, an employment agency in Corona with six employees; and
Jeff Vaka, owner of Ultimate Source and All-Marketing, a logistics business in Chino with four employees.
Palbinder Badesha
Badesha chaired the Corona Chamber Board of Directors in 2022. A native of Great Britain, Badesha came to the United States at the end of 2002. She turned quickly to the Corona Chamber as she worked to establish her franchise of Express Employment Professionals during the Great Recession.
Badesha worked with leaders from both sides of the aisle to help encourage state-assisted development of job training programs at her local community college in neighboring Norco, the entire Riverside Community College District and the University of California, Riverside.
As a result of these programs, numerous veterans have received career building work opportunities. Moreover, the U.S. Navy has been encouraged to maintain high tech investments at the Corona Norco Naval Surface Weapons Center, which is responsible for more than $100 million a year in local economic activity.
Seeing the need to bring employers and job seekers together, Badesha chaired a job fair for the community through the Corona Chamber in July 2022. The job fair attracted more than 50 participants and hundreds of applicants with a few companies hiring on the spot. One corporation hired more than 100 people from the job fair. The success of the 2022 job fair led to a repeat performance and employer spaces for the May 20, 2023 job fair were sold out.
As a business advocate, Badesha has appeared before her city council and county board of supervisors, and embarked on numerous trips to Sacramento and the nation's capital.
In February 2023, Badesha led a group of fellow franchise owners to Washington D.C. to meet with congressional representatives.
A letter supporting Badesha's nomination for the Small Business Advocate of the Year Award was co-signed by three Corona Chamber leaders — Dean Seif, 2023 board chair; Jeff Miller, legislative chair and retired member of the California State Assembly; and Bobby Spiegel, president/CEO.
Noting that Badesha is a "steady attendee" at city council and school board meetings, the Corona Chamber leaders wrote: "Her keen sense of communications works well with our elected officials throughout the state."
Jeff Vaka
Vaka, a member of the Chino Valley Chamber Board of Directors, helped kick off the Chino Valley Chamber's legislative advocacy program as the community emerged from the COVID pandemic.
In nominating Vaka for the Small Business Advocate of the Year Award, Chino Valley Chamber President Zeb Welborn described Vaka as an "invaluable asset" to the chamber and a "passionate advocate for small businesses in our community."
Vaka worked closely with the chamber to identify legislation that could affect businesses and to rally support for the chamber's Appetite for Advocacy program.
Following is a sampling of the state, local and federal issues on which the Chino Valley Chamber weighed in, with Vaka's guidance:
A California Chamber of Commerce-led coalition push for state agencies to extend the time for taking comments on a map of fire hazard zones in the state. The updated fire hazard severity zone designations affect approximately 31 million acres of California and determine, among other things, planning decisions, building code applications and the availability and cost of residential home insurance for millions of Californians.
Support for the city of Chino request for federal funds to replace the Chino Creek Bridge, which is located in a floodplain and doesn't have the capacity to accommodate a 100-year storm. The bridge is subject to flooding when precipitation is heavy. An all-weather crossing will allow uninterrupted movement of people, goods and services.
Opposition to a proposed rule of the Federal Trade Commission (FTC) to impose a nationwide ban on almost all noncompete clauses. The Chino Valley Chamber and other groups across the country pointed out that the FTC lacks constitutional or statutory authority to issue such a rule and its attempt to do so improperly usurps the role of Congress.