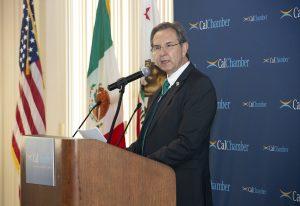 In celebration of the bicentennial anniversary of diplomatic relations between Mexico and the U.S. this year, Mexico's Ambassador to the U.S. Esteban Moctezuma highlighted our countries' past trade relationships and stressed the importance of our continuing trade partnership at the 14th Annual Mexico Advocacy Day luncheon yesterday.
The luncheon is hosted each year by the California Chamber of Commerce in conjunction with the Consulate General of Mexico in Sacramento. Yesterday's event drew nearly 100 attendees, and was attended by several California legislators, including Senator Marie Alvarado-Gil; Senator John Laird; Senator Roger Niello; Assemblymember David Alvarez; Assemblymember Laurie Davies; Assemblymember Liz Ortega; Assemblymember Blanca Rubio; Assemblymember Tri Ta; Assemblymember Avelino Valencia; and Assemblymember Carlos Villapudua.
Also in attendance were Consul General of the Republic of Kazakhstan and Vice Dean of the San Francisco Consular Corps Azamat Abdraimov; Consul General of Japan Yasushi Naguchi; and Board of Equalization Chairman Antonio Vazquez. CalChamber Board Members Rick Fowler, COO of Kronick Moskovitz Tiedemann & Girard, and Margaret Wong, president and CEO of McWong International, also attended the luncheon.
More Than Neighbors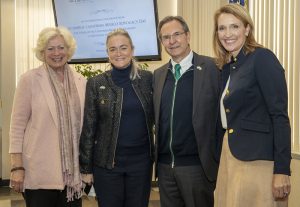 After an introduction by Ambassador Liliana Ferrer, Consul General of Mexico in Sacramento, Ambassador Moctezuma touched on some of the lessons we should remember when thinking about the 200 years of diplomatic relationships between the United States and Mexico.
One lesson, he said, is perspective. Next January marks the 30th anniversary of the North American Free Trade Agreement (NAFTA), and it evolved the countries' relationship from being just neighbors to becoming strategic trade partners.
Prior to the NAFTA, trade between Mexico and the U.S. came in at about $300 billion. Today, the figure has grown to $1.3 trillion. In February, Mexico became the United States' top trading partner for the second consecutive month this year.
"To put this in perspective…trade between Mexico and the United States was greater than between the United States and Japan, Germany, South Korea and the United Kingdom combined," Moctezuma said.
NAFTA "fundamentally reshaped the economic relations of North America," but it did not happen organically. Rather, it came about thanks to the decades of hard work of government, private sector organizations and communities in the three countries.
Present, Future Lessons
Another lesson Moctezuma spoke about was having a renewed approach toward the present. The COVID-19 pandemic showed the magnitude of the highly integrated economic ties between our countries' industries and supply chains, manufacturing critical goods such as medicines, medical protective equipment, automobile production and agriculture, among others.
Additionally, the invasion of Ukraine made North America the world's breadbasket and it is a "wake up call that allows us to take a closer look at the strength and depth of our interdependence," he said.
The United States and Mexico share more than just goods—the countries also share growing social, cultural and humanistic values. Moctezuma also pointed out that the countries share family ties, with 8 million people of Mexican origin living in the United States, and nearly 2 million Americans living in Mexico.
Moctezuma also spoke about the interdependence between our economies, highlighting the fact that California's trade with Mexico supports more than 600,000 jobs and more than 13,000 jobs are sustained by Mexican companies in the state. Our factories are so intertwined that some goods manufactured in Mexico for export into the U.S. are made with parts manufactured in the U.S.
The final lesson Moctezuma shared with luncheon attendees was that there is a "need for a constructive roadmap for the future that we must imagine together."
California is uniquely positioned to work with Mexico to "consolidate a humanistic and competitive North American vision," he said. This humanitarian region could show the world how "two nations can work together and build together a better future."
Our countries, he said, are closer and more integrated than ever, and our relationship directly affects the daily lives of both Americans and Mexicans. This is why it's important that we "find ways to understand and communicate the benefits of the North American relationship to our people and to explain how our future will be much better by working together and understanding ourselves as a unit," he said.
Mexico-California Trade


Mexico continues to be California's No. 1 export market, purchasing 16.5% of all
California exports. California exports to Mexico amounted to $30.77 billion in 2022, an
increase of 13.1% from 2021.
Computers and electronic products remained California's largest exports, accounting for 16.3% of all California exports to Mexico. Imports from Mexico into California totaled $60.47 billion in 2022. Mexico is the 16th largest source of foreign direct investment (FDI) through foreign-owned enterprises (FOEs) in California. In 2021, Mexican FOEs in California provided 9,875 jobs through 401 firms amounting to $1.089 billion in wages.
Staff Contact: Susanne Stirling