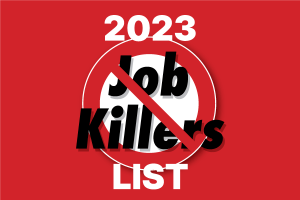 The California Chamber of Commerce today announced on Tuesday, February 14, 2023, that SBX1 2 (Skinner; D-Berkeley) has been placed on the 2023 Job Killer List.
SBX1 2 proposes to cap oil refiner profits and financially penalize oil companies when the state determines these companies are making too much money. The bill is effectively a tax on the manufacture of products critical to the daily lives of Californians and employers in the state and would not provide any relief at the pump. SBX1 2 would exacerbate California's affordability crisis, making the state an even more expensive place for everyone – businesses and residents alike.
"The predictable consequence of taxing the production of California oil and gas will be less production, higher prices and eventually more expensive imports," said Brady Van Engelen in a letter sent to Senator Nancy Skinner, author of SBX1 2.  "The policy this bill sets in motion would discourage employers in industries far beyond the energy sector from expanding or maintaining operations in California.  It establishes a playbook for state government to arbitrarily determine what a 'reasonable' profit is.  That is appropriately the role of the market in competitive industries, not government."
"At a time when we may be at risk of an economic contraction, we should collectively be identifying solutions that can reduce costs and bring more jobs to the State, which ultimately increases revenue," said Van Engelen. "Unfortunately, this measure will do the exact opposite and likely deter job growth in a sector that historically has competitive high-paying wages."
CalChamber's letter points out that similar proposals have been tried and failed in every instance – both at the state and federal level.  The efforts were repealed in all cases for failing to generate additional revenue and doing nothing to impact the price of gasoline.
A full copy of the letter can be found here.