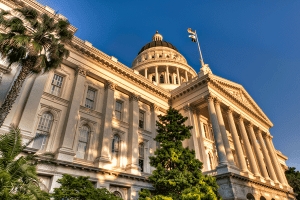 Governor Gavin Newsom took action on the bills remaining on his desk Friday, ultimately vetoing six CalChamber-opposed bills and signing six CalChamber-supported bills into law.
Among the support bills he signed is legislation that will provide financial assistance to small businesses to ensure facilities are accessible, and a bill that will help small business owners have an equitable chance for being considered in State contracts.
Vetoed Opposed Bills
The Governor has vetoed the following CalChamber-opposed bills:
AB 1262 (Cunningham; R-San Luis Obispo): Would have established significant prohibitions on the use of information from smart speakers, including sharing, selling, or using that information for advertising. Would have created an opt-in requirement for smart speakers and placed limitations on how voice data can be used by manufacturers,
all while requiring smart speakers to continue functioning, subject to significant liability.
AB 1880 (Arambula; D-Fresno): Would have increased health care costs for employers by requiring prior authorization and step therapy denial appeals be reviewed by clinical peers in addition to expensive new reporting requirements for health plans and insurers.
AB 2247 (Bloom; D-Santa Monica): Would have created an expensive and premature new PFAS database that duplicated Federal oversight by the U.S. Environmental Protection Agency and significantly burdened California businesses unnecessarily.
SB 346 (Wieckowski; D-Fremont): Would have outright prohibited any images or video recordings collected through the operation of an in-vehicle camera from being used for any advertising purpose or being sold to third parties for any purpose.  Further, would have established overly restrictive prohibitions against sharing data that would significantly hinder the ability of automakers and technology providers to provide safety technology. Confusingly, the bill would have prohibited automakers from denying any consumer the goods, services or benefits of the vehicle technology, while simultaneously prohibiting automakers from updating or repairing inoperable or flawed technology or software (i.e., denying the benefit of the technology) unless the consumer opts-in. Ultimately, would have undermined and complicated compliance with the Consumer Privacy Rights Act as well.
SB 1018 (Pan; D-Sacramento): Would have required social media platforms to disclose statistics regarding the extent to which items of content that the platform determined violated its policies were recommended or amplified by its algorithms, not only after a violation of their terms of service was identified, but before. The bill stated that this does not require the dissemination of confidential business information or trade secrets. Any violation is subject to enforcement by the Attorney General, city attorneys and district attorneys (as well as city prosecutors with the consent of the district attorney) for civil penalties of up to $100,000 for each violation.
SB 1364 (Durazo; D-Los Angeles): Would have discouraged small businesses and other vendors from contracting with the University of California to the detriment of students, faculty, and the local community, especially as it relates to the UC hospitals that provide vital healthcare services.
Signed Supported Bills
The Governor has signed the following CalChamber-supported bills: