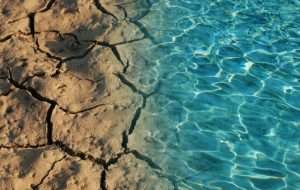 Governor Gavin Newsom yesterday announced a four-point strategy to increase California's water supplies and help the state adapt to the extreme weather patterns anticipated by climate experts.
California Chamber of Commerce President and CEO Jennifer Barrera praised the water strategy, saying it aligns closely with recommendations the CalChamber submitted to the Governor that identified ways the state could secure new water sources.
"Water is the lifeblood of the California economy and the Governor's plan addresses critical issues that will improve reliability, mitigate future droughts and accommodate California's continued growth and economic success," Barrera said. "We look forward to further review of the plan and working alongside the administration to ensure that this important, ambitious but achievable water strategy is implemented in a way that benefits all sectors of California's economy."
Water Supply Strategy
It is estimated that hotter and drier weather conditions spurred by climate change could reduce California's water supply by up to 10% by the year 2040. California and the American West's warming climate means that the greater share of the rain and snowfall received will be absorbed by dry soils, consumed by thirsty plants, and evaporated into the air.
The ongoing drought conditions and warming climate is why the CalChamber urged the Newsom administration to look beyond water conservation and recycling, and develop new water storage and supply projects.
In announcing his water supply plan, Governor Newsom echoed these concerns, saying, "So much of the water conversation here in this state has been about conservation, has been about a scarcity mindset, but that's a relatively small component of the overall strategy we are introducing here today. What we are focusing on is creating more supply. We are focused on creating more water."
In "California's Water Supply Strategy, Adapting to a Hotter, Drier Future," the administration calls for investing in new sources of water supply, accelerating projects and modernizing how the state manages water through new technology. Some of these actions include:
Creating storage space for up to 4 million acre-feet of water, allowing the state to capitalize on big storms when they do occur and store water for dry periods. This includes working with local proponents to obtain permits and support completion of the seven Proposition 1-supported storage projects, such as the Sites Reservoir Project and the Pacheco Reservoir Expansion Project;
Making new water available for use by desalinating ocean water and salty water in groundwater basins, diversifying supplies and making the most of high flows during storm events;
Rehabilitating dams to regain storage capacity. As of May, 112 California dams are rated "less than satisfactory" by state dam inspectors, and the reservoirs behind 41 of those dams cannot be filled beyond a certain level in order to protect public safety, resulting in a loss of storage of about 350,000 acre-feet per year; and
Recycling and reusing at least 800,000 acre-feet of wastewater per year by 2030, enabling better and safer use of wastewater currently discharged to the ocean.
Regulatory Structures Must Be Modernized
In the water supply strategy, the Newsom administration points out that in order to deliver the pace and scale of projects necessary to meet California's water crisis, the state's regulatory structures must be modernized so that "state agencies can assess, permit, fund and implement projects at the pace this climate emergency warrants."
Specifically, the Governor will work with the Legislature to establish:
A more expeditious process for completing, reviewing and finalizing California Environmental Quality Act (CEQA) reviews and Water Code proceedings for critical water infrastructure projects to build drought and flood resilience.
A voluntary permitting process for water infrastructure projects administered by the Governor's Office of Planning and Research (OPR). State agencies would retain authority to review, identify, and address environmental impacts, but the OPR would expedite the collective permitting process. This proposed process would not be an option for water projects already under environmental review. The administration would work with the Legislature to determine eligibility criteria for this voluntary process.
A streamlined regulatory process to allow for temporary permitting for groundwater recharge projects to take advantage of high winter flows. The state would also create a more consistent, economical, and clear approach for allocating the use of high flows for groundwater recharge.
To read the "California's Water Supply Strategy: Adapting to a Hotter, Drier Future," click here.