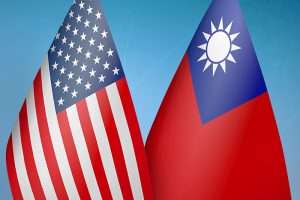 This week, representatives of the United States and Taiwan met for the first time on the newly agreed upon trade framework meant to strengthen ties as a counter to China's influence in the Indo-Pacific region.
Dubbed the U.S.-Taiwan Initiative on 21st Century Trade, the framework was announced by the Biden administration at the beginning of June as a supplement to the Indo-Pacific Economic Framework (IPEF) , which includes 13 countries in the region, but not Taiwan.
Trade talks at the inaugural June 27 meeting with Taiwan in Washington D.C. were led by Deputy U.S. Trade Representative Sarah Bianchi, who met with Taiwan's top trade negotiator. Discussions covered many of the same areas as the IPEF, including digital trade, expanding agriculture trade, aligning technological standards, and responding to non-market economies in the region, like China.
The negotiations are expected to take two different tracks with the U.S. Trade Representative leading the way on trade issues and the U.S. Department of Commerce heading discussions on technology and investment, including securing semiconductor supply chains. The global shortage of semiconductors has shed increased light on the strategic importance of Taiwan as it is home to major global microchip manufacturers.
Much like the IPEF, the U.S.-Taiwan Initiative on 21st Century Trade will not include market access provisions, so the Biden administration will not need to seek congressional approval for any agreements. The meetings took place under the auspices of the American Institute in Taiwan (AIT) and the Taipei Economic and Cultural Representative Office in the U.S. (TECRO).
U.S.-Taiwan Trade
Taiwan is the 11th largest importer of U.S. goods. In 2021, the United States imported $77.13 billion in goods from Taiwan and exported $36.94 billion in goods to Taiwan. Top export categories included computer and electronic products, non-electrical machinery, oil and gas, and chemicals.
The United States is Taiwan's second largest trading partner and a key choice for Taiwanese investors.
California-Taiwan Trade
California exported more than $8.94 billion worth of goods to Taiwan in 2021. Top categories included computer and electronic products, transportation equipment, waste and scrap, and chemicals.
California has the second highest amount of exports to Taiwan within the U.S. and Taiwan is the sixth largest importer of California goods and services, the fourth largest in Asia.​
Foreign Direct Investment with Taiwan
U.S. foreign direct investment (FDI) in Taiwan was $31.54 billion in 2020, while Taiwanese FDI into the United States was $19.68 billion in the same year.
In 2020, Taiwan was the ninth fastest growing source of FDI into the United States. Taiwanese FDI in the United States supported 21,000 jobs through workers employed by U.S. affiliates of majority Taiwan-owned firms and $178 million in research and development in 2019. Taiwan also contributed $1.5 billion to expanding U.S. exports. The top industry sectors for Taiwanese FDI were semiconductors, communications, business machines, software and information technology (IT) services, electronic components, and transportation. (Select USA)
Taiwan supports an estimated 323,456 jobs in the United States through trade and investment from Taiwanese companies and exports of U.S. goods and services to Taiwan. Almost 90,000 of these jobs are in California.
In California, Taiwan is the 11th largest source of FDI through foreign-owned enterprises (FOEs). In 2020, Taiwanese FOEs in California provided 17,493 jobs through 409 firms amounting to $1.55 billion in wages. The top jobs by sector are wholesale trade, manufacturing, professional/business services, transportation/warehousing/utilities, and other services (World Trade Center Los Angeles FDI Report, June 2021).
CalChamber Position
The California Chamber of Commerce supports expansion of international trade and investment, fair and equitable market access for California products abroad, and elimination of disincentives that impede the international competitiveness of California business.
The Indo-Pacific region represents nearly half of the Earth's population, one-third of global gross domestic product (GDP) and roughly 50% of international trade. The large and growing markets of the Indo-Pacific already are key destinations for U.S. manufactured goods, agricultural products, and services suppliers.
Following the U.S. withdrawal from the Trans-Pacific Partnership, a highlighted Indo-Pacific relationship is welcomed, as this is a key area in geopolitical, strategic, and commercial terms. Taiwan, particularly, is of strategic importance and more engagement with the economy is critical to counter China's influence in the region.