On Monday, March 21 the California Chamber of Commerce hosted a reception for the Japanese Ambassador to the United States.
Ambassador Koji Tomita was accompanied by a delegation including Hiroshi Kawamura, Consul General of Japan in San Francisco, and representatives from the business community together with California state government officials.
The Ambassador was escorted to the CalChamber offices by the Lieutenant Governor of California, Ambassador Eleni Kounalakis, and Dee Dee Myers, Director of the Governor's Office of Business and Economic Development (GO-Biz), following the signing of a Memorandum of Cooperation (MOC) on climate change and energy earlier in the day.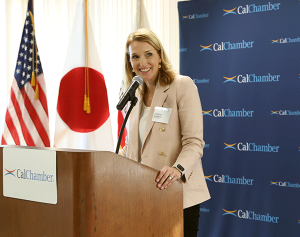 CalChamber President and CEO Jennifer Barrera welcomed the guests to the reception celebrating California's relationship with our partner and ally, Japan.
California has a long history of friendship with Japan, the state's No. 1 source of foreign direct investment and fourth largest export market.
The reception was the first in-person gathering at the CalChamber offices since the COVID-19 shutdown two years ago.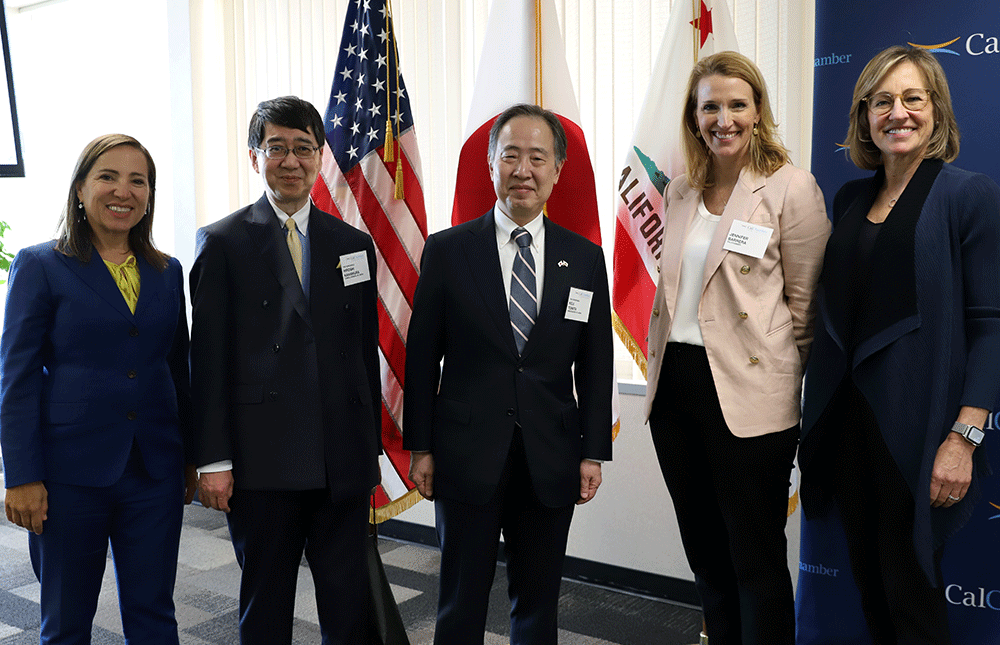 Memorandum of Cooperation
The Memorandum of Cooperation (MOC) signed by Governor Gavin Newsom and Ambassador Tomita before the reception covered climate change, trade and investment, renewable energy, energy storage, business exchange, zero-emission vehicles, high-speed rail and other passenger rail services, public transportation, and water conservation and management.
This year's MOC built on the 2014 version covering the same topics and signed by Governor Edmund G. Brown Jr. and Ambassador Kenichiro Sasae.
Ambassador Tomita Remarks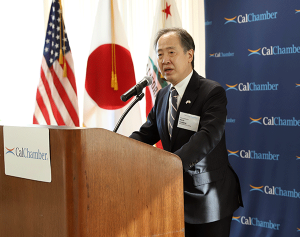 At the CalChamber reception, Ambassador Tomita opened by declaring that U.S.-Japan relations could be summed up in just three words: "never been better."
He went on to explain that Japan wants to invest more in science, technology, and innovation to strengthen their competitiveness and resilience and one way to do that is by protecting supply chains and addressing issues like climate change. Japan is aiming to engage broader nations so they can build a community of nations with shared values.
In 2021, Ambassador Tomita visited the Port of Los Angeles with Japan's Consul General Akira Muto of Los Angeles, and exchanged opinions with Japanese companies with strong hydrogen technologies and he observed the efforts of Japanese companies in this area.
Ambassador Tomita told the reception audience that for future advances, it is important that there be success stories like that of the carbon-neutral operations being conducted at the Port of Los Angeles with the Japanese companies in the region.
California has been at the forefront of bilateral efforts because of the solid foundation of business and economic interchanges between the two economies.
California is the only state with two Japanese consulates, which demonstrates the importance that Japan attaches to California.
Trade Overview
U.S. Trade Facts
Japan is the United States' fourth largest export partner. The U.S. is a large supplier of chemicals, transportation equipment, and computer and electronic products to Japan. Japan is also one of the largest U.S. foreign markets for agricultural products.
U.S. exports to Japan were $74.97 billion in 2021, an increase from $63.75 billion in 2020. Chemicals, oil and gas, computers and electronic products, transportation equipment, and agricultural products made up the top imports in 2021. U.S. imports from Japan to the United States were $135.13 billion, with transportation equipment accounting for 35.5% of the total. Non-electrical machinery, chemicals, computer and electronic products, and other electrical equipment made up the other top import categories.
California Trade Facts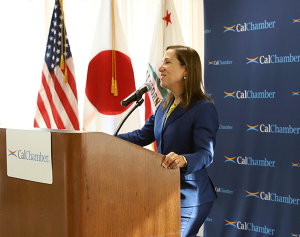 California continues to be a top exporting state to Japan, accounting for more than 15.8% of total U.S. exports. Japan has remained California's fourth largest export market since 2010, after Mexico, Canada and China. California exports to Japan, the world's third largest economy, totaled $11.869 billion in 2021. Computers and electronic products accounted for 16% of total exports. Other top exports include transportation equipment, non-electrical machinery, chemicals, and processed foods.
Imports into California from Japan were $22.39 billion in 2021, with transportation equipment accounting for more than a fifth of total imports. California is currently the top importing state in the United States for products from Japan.
Foreign Direct Investment in U.S., California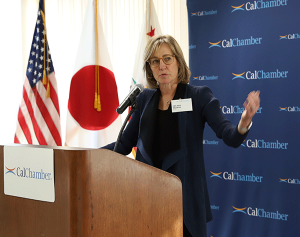 According to the most recent figures, U.S. direct investment to Japan totaled $131.64 billion in 2020, largely in financial, software and internet services (Bureau of Economic Analysis). Foreign direct investment (FDI) from Japan into the United States was $679 billion in 2020, making it the largest source of FDI in the United States that year. In 2019, Japanese FDI in the United States supported 973,800 jobs and contributed $12.9 billion to research and development, as well as another $82.3 billion to expanding U.S. exports. The top industry sectors for Japanese FDI are auto components, industrial equipment, plastics, automotive OEM, software and information technology services, and metals. (Select USA)
In California, Japan is the largest source of FDI through foreign-owned enterprises (FOEs). Japanese FOEs in California in 2020 provided 115,420 jobs through 3,672 firms amounting to $10.6 billion in wages, down from 121,223 jobs through 3,880 firms amounting to $10.988 billion in wages in 2019. The top jobs by sector are manufacturing, wholesale trade, retail trade, financial activities, and professional/business services. (World Trade Center Los Angeles FDI Report, June 2021).
Staff Contact: Susanne T. Stirling