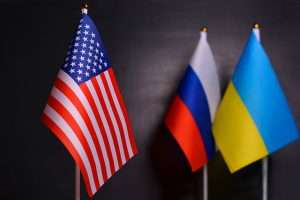 Russia's invasion of Ukraine will have an impact on the world economy that is still not fully recovered from the pandemic. However, it is too early to tell the full impact just-imposed sanctions will have on the world market, the global supply chain or California specifically.
Oil prices went past $100 a barrel for the first time since 2014. Further important to the worldwide supply chain, both Russia and Ukraine are rich in resources, minerals and metals—in addition to be being top exporters of grain/wheat and sunflower oil. Ukraine, the fourth largest exporter of agricultural products in the world, often is referred to as Europe's breadbasket.
Here in California, Russia is our 36th export destination and Ukraine is our 49th export destination out of 226 export markets. In 2021, California exported $175.12 billion with $472 million in goods to Russia and $252 million in goods to Ukraine.
However, the tragic threat to democracy and violation of international law is felt worldwide and most certainly to the roughly 112,000 people of Ukrainian descent who call California home.
Russia & Ukraine
Russia has a population of 146.15 million and a GDP of $1.65 trillion in 2021, Russia saw a 4.7% annual change in real GDP growth. Russia also has an average annual inflation rate of 4.8%.
Ukraine has a population of approximately 41.29 million and is the second largest country in Europe by land mass. In 2021, Ukraine's GDP was $181.04 billion, with real GDP growth at 3.5% and an annual average inflation of 7.1%.
Both Russia (since 2012) and Ukraine (since 2008) are members of the Geneva-based World Trade Organization. Russia is the world's 16th largest exporter and Ukraine is the 48th largest exporter in the world according to the World Trade Organization.
In Washington DC, the Biden Administration via the Departments of Treasury and Commerce announced on February 24, 2022 both financial sanctions and export controls to Russia on software and equipment considered critical to the defense, aerospace and maritime industries – geared to impose severe costs on Russia's economy.
Russia Trade and Investment
With U.S.
Russia was the United States' 39th largest export partner, with the U.S. exporting $6.388 billion to Russia in 2021, $1.84 billion being transportation equipment. This was followed by non-electrical machinery, computers and electronic products, and chemicals.
The US imported $29.69 billion from Russia in 2021, with $12.79 billion being petroleum and coal products. Primary metal manufacturing contributed $6.57 billion, oil and gas contributed $4.7 billion, while chemicals made up $2.3 billion.
With California
Of the $472 million in goods California exported to Russia in 2021, $162 million was attributed to computer and electronic products, $64 million was attributed to miscellaneous manufactured commodities, $61 million in chemicals, and $47 million in non-electrical machinery.
In the same year, California imported $2.1 billion from Russia, up significantly from $918 million in 2020. Oil and gas, and petroleum and coal products, each had the largest change from the previous year. Oil and gas imports totaled $938 million in 2021, a 467% increase from $167 million the year prior. Petroleum and coal products totaled $746 million in 2021, a 102.7% increase from $368 million the year prior.
Foreign Direct Investment
In 2020, total foreign direct investment (FDI) by Russia into the U.S. reached $3.52 billion, while total U.S. direct investment into Russia reached $12.538 billion. According to the most recent figures, Russian FDI in the United States supported between 5,000 and 10,000 jobs in 2018.
The top industry sectors for Russian FDI are: software and IT services, financial services, metals, coal oil and natural gas, chemicals, and business services.
Ukraine Trade and Investment
With U.S.
Two-way trade in goods between the United States and Ukraine was approximately $4.418 billion in 2021, up from $3.1 billion in 2020. Ukraine is the United States' 59th largest export destination with more than $2.5 billion in exports.
Top exports from the United States to Ukraine include used merchandise ($763 million), minerals and ores ($480 million), transportation equipment ($345 million), and non-electrical machinery ($243 million).
Imports from the Ukraine to the United States totaled $1.88 billion in 2021. The top imports were primary metal manufacturing ($1.11 billion), processed foods ($139 million), and minerals and ores ($78 million).
With California
California is among the top 10 state exporters to Ukraine, with $252 million in exports in 2021. Used or secondhand merchandise accounted for $114 million of exports (Ukraine is a top importer of used clothing), followed by transportation equipment at $45 million, agricultural products at $44 million.
California imported $81 million from Ukraine in 2021, which included $40 million in processed food, followed by agricultural products and electrical equipment.
Foreign Direct Investment
FDI from the U.S. into the Ukraine totaled $761 million in 2020. In the same year, FDI from the Ukraine into the U.S. totaled $2 million.
For more information, see www.CalChamber.com/Russia and www.CalChamber.com/Ukraine.
Staff Contact: Susanne T. Stirling