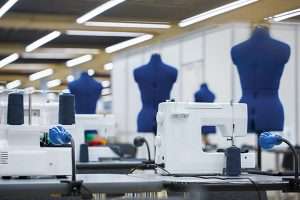 What's more frustrating than government inefficiency?
It's when that inefficiency results in even higher costs for taxpayers.
The most notorious recent example of this is the state's Employment Development Department, which got fleeced during the pandemic for tens of billions of dollars by criminals defrauding the unemployment payments system. Adding injury to insult: California employers will be on the hook for billions in higher taxes as a direct result of this fraud.
Now, if the California Legislature has its way, more employers will pay the price for more government inefficiency.
Nobody in California wants black market garment shops that duck regulation, avoid taxes and abuse their workers – least of all legitimate garment manufacturers that are a storied part of our culture and a vital rung for economic opportunity.
That's why the garment industry has welcomed extra attention by state labor enforcers to ensure that the bad actors are put out of business, and new businesses are educated on how to comply with health and safety laws.
Employers pay for this enforcement, and garment manufacturers operate within a web of laws ensuring garment workers are treated fairly and have recourse when they are victimized. After all, no law-abiding garment business should have to compete against an employer who shirks regulation and shortchanges their employees.
Unfortunately, the state has not kept up its end of the law enforcement bargain.
The Labor Agency reports that for the past six years the garment industry has been the subject of no more than 3% of all labor enforcement inspections. The Labor Commissioner herself recommended beefing up enforcement staff to go after bad actors and educating workers about their rights under California law. The Legislature provided no new staff for the Labor Commissioner.
Rather than doubling down on state enforcement targeting the underground economy, the Legislature devised an unprecedented approach to outsource labor enforcement and punishment to private attorneys. Legislation awaiting action by Governor Newsom, SB 62 by Senator Maria Elena Durazo, targets the entire stream of fashion commerce for collective punishment, creating a new cause for private litigation against manufacturers, retailers and brands within the fashion sector. Manufacturers are already liable for wages unpaid by their own contractors. This legislation would in addition make manufacturers liable to pay the wages of a subcontractor's employees – even if that subcontractor performed most of its work for other contractors.
Even further afield, the bill would make retailers liable for unpaid wages of garment contractors. It doesn't take an in depth analysis to figure out no retailer would want to take on liability for business practices they have no control over. It'll be a lot easier for a retailer or brand to find a manufacturer located elsewhere, say, Arizona or Bangladesh, who won't present these liability issues.
The losers in this transaction will be the law-abiding California garment manufacturers and their workers, as they see contracts flee to other states or offshore. The only winners will be the lawyers and advocates that will run another California-bred industry out of state.
Written by Ashley Hoffman, CalChamber policy advocate; Lonnie Kane, president of LA-based brand Karen Kane; and Scott Wilson, owner of UStrive Manufacturing, LA-based garment manufacturer