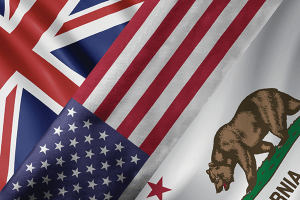 Technology, agriculture and the California and British economies were among the topics discussed when the California Chamber of Commerce hosted a small luncheon for Britain's trade secretary on July 14.
The Sacramento stop by the Right Honorable Elizabeth Truss, member of Parliament, was part of a five-day visit to the United States.
The CalChamber luncheon included Secretary Truss; the Honorable Joe White, British Tech Envoy and Consul General in San Francisco; and James Crean, Head of Trade Policy at the British Consulate General San Francisco.
Susanne Stirling, CalChamber vice president for international affairs, welcomed the British guests together with CalChamber Board member Rick Fowler, chief operating officer at Kronick Moskovitz Tiedemann & Girard.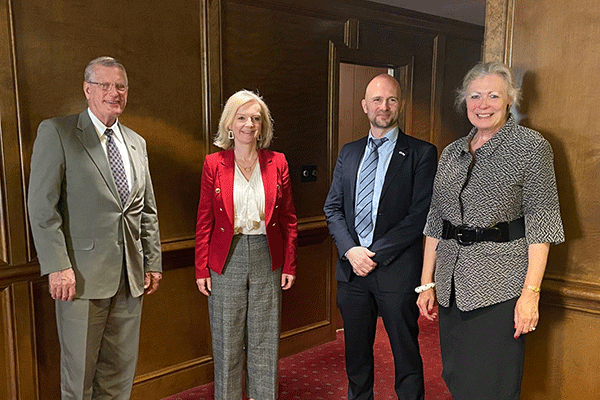 Topics of conversation at lunch focused on technology, agriculture, the California and United Kingdom economies, and the possibility of a U.S.-U.K. Free Trade Agreement (FTA). The CalChamber was pleased to indicate support for a potential U.S.-U.K. FTA, and how much the California trade and investment relationship with the U.K. is valued.
While in Sacramento, the Secretary also met with representatives of California Governor Gavin Newsom.
Secretary's Visit
Secretary Truss' first stop in the United States was in Washington, D.C., where she met with U.S. Trade Representative Ambassador Katherine Tai for talks on bilateral trade issues, including the United States' ongoing Section 232 tariffs on British steel and aluminum.
During a stop in the San Francisco Bay Area, the Secretary met with Silicon Valley companies to forge new ties with the tech community and interest in them in Britain's planned Global Investment Summit, set to take place at Windsor Castle in October.
"With U.K.-U.S. trade supporting over a million jobs in both countries, there is clear reason to work together to deepen our trade and investment ties and build back better," said Truss in a statement released by her department.
Secretary's Background
The Right Honorable Elizabeth Truss was appointed U.K. Secretary of State for International Trade and President of the Board of Trade on July 24, 2019. She was appointed Minister for Women and Equalities on September 10, 2019.
A member of the U.K. Conservative Party, she has served as Member of Parliament for South West Norfolk since her election in 2010. She was appointed Parliamentary Under Secretary of State for Education and Childcare in September 2012 and served as the Secretary of State for Environment, Food and Rural Affairs from July 2014 until July 2016.
Secretary Truss was Lord Chancellor and Secretary of State for Justice from July 2016 until June 2017 and Chief Secretary to the Treasury from June 2017 until July 2019.
Before being elected to Parliament, Secretary Truss was deputy director at Reform, a private think tank. She also worked in the energy and telecommunications industry for 10 years as a commercial manager and economics director, and is a qualified management accountant.
U.S.-U.K. Trade Statistics
Two-way trade between the United States and the United Kingdom was $109.2 billion in 2020. The United Kingdom was the fifth largest importer of U.S. goods with a total value of $59 billion.
Top U.S. exports to the United Kingdom were primary metal manufacturing (27.1%), followed by transportation equipment, chemicals, and oil and gas. The United States imported $50.2 billion from the United Kingdom in 2020. Transportation equipment accounted for 22.5% of the total, followed by chemicals, non-electrical machinery, and reimports. (U.S. Department of Commerce)
The United Kingdom is California's 11th largest export destination, with more than $4.9 billion in exports. Transportation equipment accounted for 22.9% of exports — more than $1.13 billion. Computer and electronic products brought in $1.12 billion (22.8%), while both chemicals and second-hand merchandise accounted for 12.1% and 7.9%, respectively.
In 2020, imports into California from the United Kingdom were $3.7 billion, a decrease from $6.25 billion in 2019. Top import categories were transportation equipment, which made up 36.8% of the total, followed by computer/electronic products, non-electrical machinery, and chemicals.
U.S.-U.K. Investment Statistics
According to the U.S. Department of Commerce, the U.S.-U.K. investment relationship is the largest in the world, valued at nearly $1.3 trillion and creating more than 2 million jobs, about 1 million in each country.
U.K. foreign direct investment (FDI) into the United States in 2019 totaled $446.17 billion, while FDI from the United States into the United Kingdom totaled $851.4 billion. (U.S. Department of Commerce, Bureau of Economic Analysis)
The United Kingdom was the fourth largest source of FDI in the United States in 2019. U.K. FDI in the United States contributed $6.7 billion to research and development and an additional $47.7 billion to expanding U.S. exports. In 2018, there were 1,271,100 U.S. workers who were employed by the U.S. affiliates of majority U.K.-owned firms. The top industry sectors for British FDI in the United States are: business services, software and information technology services, financial services, communications, industrial equipment, and transportation. (Select USA)
In California, the second largest source of FDI through foreign-owned enterprises (FOEs) is the United Kingdom. In 2020, British FOEs in California provided more than 100,231 jobs through 2,380 firms amounting to $8.88 billion in wages, a decrease from 2019 when British FOEs provided more than 111,430 jobs through 2,433 firms amounting to $9.44 billion in wages. The top jobs by sector are: professional/business services, manufacturing, retail trade, transportation/warehousing/utilities, and leisure and hospitality. (World Trade Center Los Angeles FDI Report, June 2021)
Staff Contact: Susanne T. Stirling