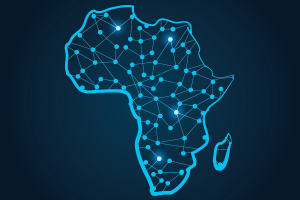 After five years of negotiations on cutting cross-border tariffs, trade and investment opportunities in Africa are in the spotlight as the African nations prepare the implementation of their free trade area.
The California Chamber of Commerce is a longtime supporter of stable and sustainable economic growth and development in sub-Saharan Africa.
African Continental Free Trade Area
The African Continental Free Trade Area (AfCFTA), which originally was to be implemented on July 1, 2020, took effect this month and could be the world's biggest free-trade zone by area when its treaty becomes fully operationally by 2030. The bloc has a potential market of 1.2 billion people and a combined gross domestic product of $2.5 trillion.
It is the culmination of many negotiations held since 2015 among the leaders of 54 African nations.
AfCFTA Secretary-General Wamkele Mene had postponed the final steps toward the bloc due to COVID-19, but the agreement taking effect this month means that intra-Africa trade will be key to the post-pandemic economic recovery.
The Secretary-General is hoping to create centers of manufacturing excellence across the continent as an opportunity for investors.
The trade area will begin by cutting tariffs for goods traded within the bloc and then eventually expand into other areas. Intra-African trade is currently only a small portion of all African trade.
Intra-African trade fell to 14.5% of total African trade in 2019, from 15% the year before. The free trade pact could bolster the proportion to 22%, and commerce within the continent could rise to more than $231 billion even if all other conditions remain unchanged, the African Export-Import Bank (Afreximbank )said in a report published on December 15, 2020. Internal shipments accounted for 52% of total trade in Asia and 72% in Europe, according to Afreximbank data.
The accord seeks to lower or eliminate cross-border tariffs on most goods, facilitate the movement of capital and people, promote investment and pave the way for a continent-wide customs union.
All but one of the 55 nations recognized by the African Union have signed to join the area and many have ratified the accord. Eritrea, which has a largely closed economy, is the sole holdout.
From January 1, 2021, Djibouti, Ethiopia, Kenya, Rwanda and Uganda all began reducing their tariffs—starting with a linear reduction on 90% of tariff lines—leading to the elimination of tariffs on intra-regional imports over five years (10 years for countries classified by the United Nations as "least developed countries").
The formation of the trading bloc could cushion the region against continuing coronavirus-related uncertainties and escalating trade tensions, as well as lessen its exposure to adverse terms of trade and price cycles for commodities, Afreximbank said.
AGOA
With the possible phasing out of the African Growth and Opportunity Act (AGOA) in 2025 when it is currently set to expire, Kenya had already entered into negotiations with the aim of establishing a free trade agreement with the United States under the Trump administration. Negotiations are expected to continue under the Biden administration.
AGOA gives 39 sub-Saharan African countries duty-free access to the U.S. market for thousands of goods. The AGOA embodies a trade and investment-centered approach to development. Enactment of the AGOA has stimulated the growth of the African private sector and provided incentives for further reform.
The AGOA is aimed at transforming the relationship between the United States and sub-Saharan Africa away from aid dependence to enhanced commerce by providing commercial incentives to encourage bilateral trade. Since its inception in 2000, AGOA has helped increase U.S. two-way trade with sub-Saharan Africa.
U.S.-Kenya Agreement
On March 17, 2020, in accordance with the procedures laid out in the Trade Promotion Authority (TPA), the Trump administration notified Congress of the intent to enter into negotiations for a trade agreement with the Republic of Kenya.
A trade agreement between the United States and Kenya would be the first between the U.S. and a sub-Saharan African country. A U.S.-Kenya trade agreement would also complement Africa's regional integration efforts, which include the landmark AfCFTA.
From its location on the eastern coast of Africa, Kenya serves as a gateway to the region and a major commercial hub that can provide opportunities for U.S. consumers, businesses, farmers, ranchers and workers.
Kenya currently receives benefits under the AGOA with the objective of expanding U.S. trade and investment with sub-Saharan Africa, to stimulate economic growth, to encourage economic integration, and to facilitate sub-Saharan Africa's integration into the global economy.
A trade deal with Kenya can serve as a template that could be replicated with other countries on the continent.
U.S.-Kenya Trade
Total U.S.-Kenya two-way trade currently reaches about $1 billion annually. In 2019, the United States exported $391 million worth of goods to Kenya. Chemicals made up the largest percentage of the total at 21.5%. This was followed by transportation equipment at 17%, agricultural products (9.8%) and computer and electronic products (9.7%).
Imports from Kenya into the United States totaled $667 million in 2019. Apparel manufacturing products made up the largest percentage at 68% of the total. The next largest imports were agricultural products (14.3%), minerals and ores (7.9%), and food manufactures (2.9%) (International Trade Administration).
U.S. foreign direct investment (stock) in Kenya stood at $405 million in 2017 (U.S. Trade Representative).
California-Kenya Trade
California is the second largest exporting state to Kenya. In 2019, California exported $38.3 million worth of goods to Kenya. Chemicals made up the largest portion at 21.2% of the total and $8.075 million. This was followed by computer and electronic products with 19.8% and transportation equipment at 17.8%. Special classification provisions also made up 14% of total goods exported.
In 2019, California imported $87.5 million worth of goods from Kenya, 63.4% of which was made up of apparel manufacturing products. This was followed by agricultural products at 27.9%, food manufactures at 4.9%, and reimports at 0.9%. In 2019, California also was the second largest state importing Kenyan goods (International Trade Administration).
U.S.-Africa Policy Tools
U.S. policy tools and initiatives related to Africa include the following:
Power Africa, which has a goal to add more than 30,000 megawatts of cleaner, more efficient electricity generation capacity and 60 million new home and business connections through private-public partnerships.
Millennium Challenge Corporation (MCC), which provides large grants (in the hundreds of millions of dollars) to promote economic growth, reduce poverty and strengthen institutions. MCC is embarking on regional projects involving two or more countries.
The recently launched U.S. International Development Finance Corporation (DFC), which replaced the Overseas Private Investment Corp. and has an expanded mandate and greater resources.
Prosper Africa, currently designed to be a one-stop shop to facilitate increased trade and investment between U.S. and African businesses.
Agenda 2063
All the initiatives above dovetail with Agenda 2063, Africa's blueprint and master plan for transforming itself into the global powerhouse of the future.
Agenda 2063 has been described as "a concrete manifestation of the pan-African drive for unity, self-determination, freedom, progress and collective prosperity pursued under Pan-Africanism and African Renaissance."
In affirming their commitment to Agenda 2063, African leaders called for refocusing and reprioritizing Africa's agenda from the struggle against apartheid and the attainment of political independence for the continent, to inclusive social and economic development, continental and regional integration, democratic governance, and peace and security, among other issues aimed at repositioning Africa to becoming a dominant player in the global arena.
CalChamber Position
The CalChamber believes that it is in the mutual economic interests of the United States and sub-Saharan Africa to promote stable and sustainable economic growth and development in sub-Saharan Africa, and that this growth depends in large measure upon developing a receptive environment for trade and investment.
The CalChamber is supportive of the United States seeking to facilitate market-led economic growth in, and thereby the social and economic development of, the countries of sub-Saharan Africa.
In particular, the CalChamber is supportive of the United States seeking to assist sub-Saharan African countries and the private sector in those countries to achieve economic self-reliance.
Staff Contact: Susanne T. Stirling