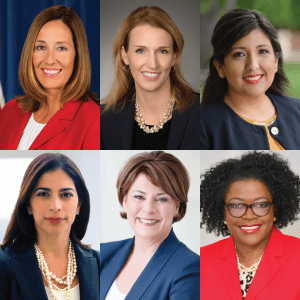 Five of the state's top women leaders, representing the private sector and state government, recently joined the California Chamber of Commerce in a panel webinar to recount their personal journeys to success and share strategies to help women on their paths to leadership and entrepreneurship.
The October 30 webinar, "Women in Leadership: Pathways to Success," was moderated by CalChamber Executive Vice President Jennifer Barrera, who oversees the development and implementation of policy and strategy, and represents the CalChamber on legal reform issues. Joining her on the panel were:
State Senator Melissa Hurtado, Senate District 14;
Assemblymember Jacqui Irwin, 44th Assembly District;
Sandra Floyd, president and CEO of OUTSOURCE Consulting Services;
Maryam Brown, president of Southern Gas Company; and
Donna Lucas, CEO and president of Lucas Public Affairs.
A recording of the webinar is available at www.calchamber.com/webinars/20201030-women-in-leadership.
CalChamber podcasts, webinars, blogs, and other training materials on diversity and inclusion are available for free at http://www.calchamber.com/diversity.
Journeys to Success
To kick off the webinar, each panelist shared the journeys they took to be where they are now.
Always looking for ways to help disadvantaged communities and create economic opportunities for struggling families, Senator Melissa Hurtado realized that she couldn't generate change if she was on the "outside." So she ran for city council. Once on the city council, she realized that her community also needed investment, leading her to run for the State Senate.
Along the way, friends motivated her and gave her the confidence to pursue her goals. Getting to where she is now took "a little bit of luck," but it also took not letting others tell her it couldn't be done, she says.
Originally from Tennessee, Sandra Floyd began a career at Pacific Bell, where she met a mentor who helped her succeed at the company. Floyd retired early from Pacific Bell and later opened a successful bridal shop, but six years later realized that dealing with brides was getting to be too much. She decided entering the world of human resources was better suited to her skills and interests, and founded OUTSOURCE Consulting Services. Along the way, she has met many mentors who have encouraged her to serve on boards and take on positions of leadership.
The daughter of parents who met at the state Capitol, Donna Lucas grew up in a political family but decided to turn to a career in music publishing and in the 1980s was working for Ozzy Osbourne. Her life turned to public policy after she fell victim to a crime and she became passionate about California's gubernatorial race. A mentor connected her with George Deukmejian's campaign for governor, and after Deukmejian won the governorship, Lucas began her career as press secretary.
In the 1990s, Lucas became an entrepreneur, buying a statewide public affairs firm and later selling it to a global communications firm. Going down a "fascinating road" of working in public policy and politics, Lucas is now CEO of Lucas Public Affairs, a renowned public relations firm that focuses on the intersection of politics, policy and communications and works with government, mission-driven nonprofits and corporations.
Through her journey, Lucas credits the numerous mentors she has had for instilling confidence in her and pushing her to further her career. And times have changed. She notes that when she was working for Governor Deukmejian, there were virtually no women in senior positions. Twenty years later when she began working in Governor Arnold Schwarzenegger's administration, about 60% of senior positions were held by women.
Although the equity is improving, it's still vitally important to help others along the way, especially women and people of color, she says.
Barrera agrees, adding that it's important "to find that mentor who is really going to be your champion along the way."
Assemblymember Jacqui Irwin recalled how she had to lobby her San Fernando Valley high school assistant principal to grant female students their own swim team. Although the high school should have had a girls' swim team under Title IX, it took Assemblymember Irwin six months of lobbying to get the swim team approved. When the team was finally formed, they placed No. 2 in Los Angeles Unified. The experience taught her many valuable lessons.
"….one of the biggest lessons that I learned was that if you don't keep pushing forward, they will push you back," she says.
It also taught her that persistence pays off. After graduating from college and becoming an engineer, she also learned that it's important for women to take on difficult subjects like science and math in order to help build self-confidence. She points out that in the last decade or so, the work culture has changed, but there used to be a problem with tokenism and a mentality that there could be only one woman in leadership. The competitiveness it created held women back from supporting each other.
But mentors don't necessarily have to be female, Assemblymember Irwin says. After starting a family, Assemblymember Irwin became involved in local matters and was urged to run for city council by a male council member. After she served on the city council, a male colleague encouraged her to run for the state Legislature.
Overall, she says, her life journey has taught her that women who want positions of leadership need to be persistent, goal-oriented, cannot be afraid of failure, and need to identify people who can help them achieve their goals.
Maryam Brown grew up the daughter of immigrants and pursued a career in engineering and law, but it was being an engineer that opened her eyes and brought her to the energy field. As an intellectually curious person, it was hard for Brown to navigate through her career and figure out where she wanted to go. But in the end, she came to realize that she could not fight the river and urges others to let their rivers take them to their destiny. Looking back at her experiences, she says that her career has been a "series of purposeful, but not necessarily prescribed, steps."
Like the other women on the panel, Brown has seen the importance of mentors throughout her life, being prepared, and betting on herself to vie for positions of leadership. Most important, Brown has learned throughout her career that different leaders are needed for different times, and that leaders must adapt in order to meet the needs of a particular situation.
Skills, Knowing It All
Asked about what skills a good leader should have, Floyd pointed out that a good leader should have tenacity to adapt to the environment, be authentic and be willing to listen to others.
Assemblymember Irwin added that leaders should set the example they want others to follow. A good leader, she says, should also be self-confident enough to surround themselves with people who are smarter than they are.
Good communication skills also are important, Lucas says. A leader doesn't always have to know what they are doing, but a leader must be willing to listen and learn from others.
Mentorships, Securing Opportunities
How, Barrera asks, do women take advantage of opportunities?
The golden rule, Brown answers, is "be ready." Do your homework, she stresses, and think about who your audience is on the other side of the table.
Lucas agrees. Always prepare—being prepared, she says, is what makes all the difference when you are offered opportunities.
Lucas notes that the culture is shifting—three of her firm's major corporate clients have women leading the helm. Still, it is important that opportunities are created for women through conscious mentorships.
"I think we need to continue to help women come along," she says.
Organizations like SheShares help women coming into the professional world meet women leaders, and learn about the challenges and successes those leaders have had. Mentorship programs also can be started on a company level. Lucas' firm, for example, has a mentorship program that helps interested employees develop their careers. These programs are a great investment for companies, Lucas says, because "you're growing your biggest asset, which is your talent."
Life Balance, Parting Words of Advice
During the virtual panel, Barrera also posed questions asked by attendees. One person asked: How do you make sure you have time for everything?
"I have learned to delegate," Floyd answers. While she is always there if she is needed, she also lets her staff figure things out on their own.
"You have to let your employees make decisions, even if they're the wrong decisions," she says.
Brown answers that you can't have it all, all the time. It's important to set boundaries around the aspects of your life that need care and attention.
"Don't be so busy making a living that you forget to make a life," she says.
To wrap up the webinar, Barrera asked each panelist for their final words of advice.
Floyd advised viewers to never give up. If you have a passion for something, pursue it and stay focused on what you want to achieve, she says.
Brown reminded watchers to be willing to bet on themselves and value what they bring to the table.
"Don't let failure lead you to a lifetime of regret," Assemblymember Irwin said.
Lucas said to invest in oneself and to take the time to think about what you want to do.  Most important, people should try to pave the way for others, and reach behind them to pull others up with them.
Lastly, Senator Hurtado urged others to listen to their heart and not be afraid to follow it. They should look back on everything they've come across with positivity, as the experiences are going to propel them to move forward.