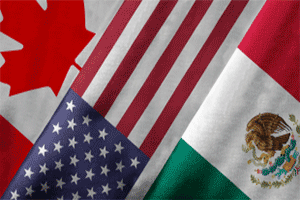 Trade among the United States, Canada and Mexico is being affected in ways as varied as the responses to the COVID-19 pandemic in the three North American countries and their state or provincial jurisdictions.
Canada
The U.S.-Canadian border closed for the first time on March 21. The mutual closure date has been extended until May 21. The border is open only for essential goods and travel. There have not been significant issues and supply chains are working with good cooperation.
In a recent webinar hosted by the Northern World Trade Center, Canadian Consul General Rana Sarkar gave an overview of Canada's response to COVID-19. Canada has a population of 38 million with 50,000 cases and a relatively low death rate. Provinces are in charge of related operations. A national program allows for individual income of $2,000 for four months with 8 million applicants. There also have been wage subsidies, bridge loans and targeted programs for students, seniors and small businesses.
Sean Crawford of Crane Worldwide Logistics indicated Canadian cross-border volumes are down, but positive news is prices are stable and fluid. Customs are doing excellent work. Ports remain fluid and Canadian Rail is functioning too—with some limited obstacles. Air Canada is still operating; however, only the three cites of Vancouver, Ontario and Toronto are operating for international air cargo.
Mexico
Minister Gerardo Lameda Díaz Pérez of the Trade Office from Mexico's Ministry of the Economy said the main priority is to protect the people of Mexico, but also to protect the economy. There is no specific time frame, but Mexico would Iike to avoid disruption.
Non-Essential vs. Essential Businesses
In Mexico, there has been a shutdown on non-essential trade which has been extended until May 30. During the webinar, Monica Lupo, director of Grupo Prodonsa, emphasized two pending issues with Mexico. One is the shutdown started later in Mexico, so North America is on different timetables. In addition, there is a misalignment of sectors.
Mexico's strict shelter-in-place order shutdown of almost all manufacturing in the country means potential significant production interruptions.
The problem for businesses on both sides of the border is that the United States and Mexico don't agree on the definition of an "essential" business or service. Talks are now in progress to align the sectors, with a need to have the same list of essential businesses on both sides of the border.
U.S. senators and business leaders are urging the Trump administration to press Mexico to change its definition of "essential businesses" to include industries that produce materials needed for food, medical and other critical goods important during the current crisis.
In a letter to Secretary of State Mike Pompeo, the senators—led by Senators Dianne Feinstein (D-Calif.) and John Cornyn (R-Texas)—joined U.S. manufacturers in their growing calls for Mexico to include supply chain needs in its guidance on what is an "essential" industry that can stay up and running. Mexico has shut down hundreds of factories that are tied to the production of critical goods, causing major supply chain disruptions.
"Both nations will only be able to reduce the economic impact of this global challenge through increased coordination, and ensuring functioning supply chains is a vital step in doing so," the senators wrote.
Mexican officials have agreed to allow automotive plants to reopen. Baja California has lifted closure orders on some factories.
Staff Contact: Susanne T. Stirling