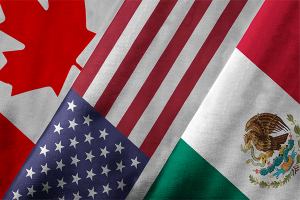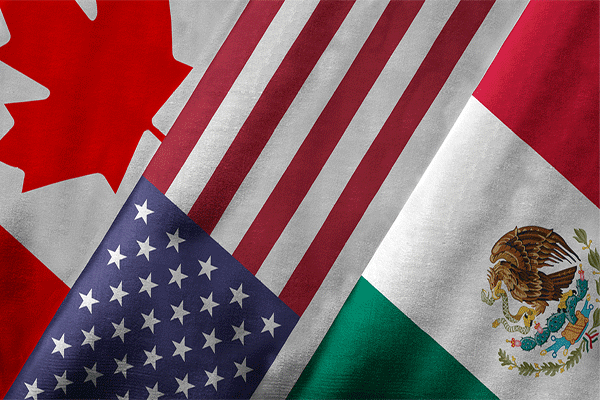 Representatives of the Canadian Consulate General from San Francisco and Los Angeles visited the California Chamber of Commerce yesterday in celebration of Canada Day in Sacramento, affirming that the updated United States-Mexico-Canada Agreement (USMCA) underscores a renewed understanding among the countries on the importance of mutual trading relationships.
Consul General of Canada, San Francisco, Rana Sarkar; Consul of Canada, San Francisco, Yves Beaulieu; and Consul of Canada, Los Angeles, Arwen Widmer Bobyk met with CalChamber President and CEO Allan Zaremberg and Vice President of International Affairs Susanne Stirling to discuss issues ranging from privacy, homelessness, energy, and the future of work to trade logistics and the Coronavirus.
Later in the evening, Sarkar hosted a Friends of Canada reception to celebrate the longstanding Canada-California relationship at the Leland Stanford Mansion.
On Tuesday, Sarkar wrote a commentary on the Future of Work, highlighting the ways in which Canada is approaching workforce development to ensure Canadians are prepared to take on the jobs of the future. Canada's approach, Sarkar said, includes three elements to upgrade the workforce for tomorrow: advance training, lifelong learning and modernized labor standards.
Sarkar's full commentary can be read at https://advocacy.calchamber.com/international/portals/canada/guest-commentary-canada-and-the-future-of-work/.
USMCA Update
Mexico and the United States have ratified the USMCA agreement, but the deal still needs to be ratified by Canada to take effect. In Canada, the original bill was introduced in Canadian Parliament in May 2019 and Canada is expected to move forward with the ratification process during spring 2020.
Trade/Export Statistics
The United States and Canada enjoy the largest bilateral trade and investment relationship in the world. In 2019, two way trade in goods between Canada and the United States topped $612 billion. Exports to Canada were $292 billion, making it the largest export destination for the U.S.
Canada has remained California's second largest export market since 2006, with a total value of over $16.6 billion in 2019 (9.6 percent of all California exports), as well as exporting $9.2 billion in services to Canada. California imports $26.8 billion from Canada.
Computers and electronic products remained California's largest exports, accounting for 28.6% of all California exports to Canada. Exports of agricultural products and transportation equipment from California to Canada totaled $2.47 billion and $1.7 billion, respectively. Food manufactures totaled $1.35 billion. California imports from Canada were composed of transportation equipment, food manufactures, chemicals, and reimports.
According to the Canadian government, nearly $2 billion worth of goods and services crosses the Canada-U.S. border daily, which is the equivalent of more than $1 million traded every minute. Two-way trade with Canada supports an estimated 1,166,100 jobs in California. Nearly 1.8 million people visit California from Canada, spending nearly $2 billion.
• Canada is the top export destination for 35 states.
• 41,200 Californians are employed by Canadian-owned businesses.
• More than 8 million U.S. jobs depend on trade and investment with Canada.
• Canada is the United States' largest and most secure supplier of energy: oil, natural gas, electricity and nuclear fuel.
• Approximately 400,000 people cross the Canada–U.S. border daily.
Staff Contact: Susanne T. Stirling