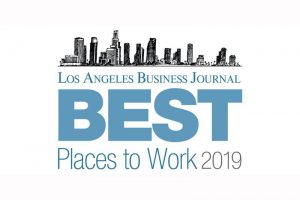 Twenty-seven California Chamber of Commerce member companies were recently highlighted by the Los Angeles Business Journal as some of the best companies to work for in Los Angeles.
The list, published annually for the past 13 years, commends businesses that conduct exceptional business and provide a workplace that prioritizes their employees' well-being.
The list was broken into three categories according to the size of the company: small companies with 25-49 employees, medium-sized companies with 50-249 employees and large companies with at least 250 employees.
The 27 CalChamber member companies that made the list are:
Small Companies
Adams Stirling Professional Law Corporation, a statewide law firm, ranked No. 20. The firm offers a generous benefits package to its employees, including paid Bar dues and in-house training.
Medium-Sized Companies
Hughes Marino, a commercial real estate firm, ranked No. 1. CEOs Shay and Jason Hughes strive to make the office another home for their staff, investing in their personal growth and development.
Bolton & Company, an insurance brokerage, ranked No. 4. Employee-owned, Bolton & Company grants employees the opportunity to have a direct hand in the success and direction of the business.
tk1sc, which placed at No. 7, ensures that its clients' buildings are safe and environmentally-friendly. Among tklsc's many perks are a competitive salary, full medical benefits and half days every Friday.
CNM LLP, a technical advisory firm, ranked No. 8. CNM employees are recipient to a compensation package that includes up to 12 weeks of paid maternity leave and 15-20 vacation days.
P2S Inc., an engineering and construction management firm, came in at No. 9. The company pours a generous amount of energy and funds into improving its employees through paid staff professional memberships and external training.
Raines Feldman LLP, a labor law firm, ranked No. 11. Its lawyers serve on the boards of nonprofit organizations, spend their free time volunteering and get involved in political campaigns.
Paramount Global, a packaging company, placed at No. 20. The goals of the company are to strengthen its employees' skills and always live up to its "RICE" values: Respect, Integrity, Communication and Excellence.
Evite, Inc., an online and social event planning service, nabbed the No. 27 spot. The company's management prioritizes the mental and physical health of its employees, making sure to recognize their success with bonuses and awards.
Los Angeles Federal Credit Union, a credit union, placed at No. 29. The company provides a generous benefits package for its employees, including health and life insurance, paid time off and a retirement plan.
Prodege, LLC, a media company consisting of loyalty-programs like SwagBucks and MyPoints, came in at No. 30. The company's many perks include a 401k, flexible vacation hours and membership to recreational clubs.
Windes, an accounting firm, ranked No. 31. The firm prides itself on investing in the professional development of its employees, giving them technical training, coaching and mentoring.
CoverHound, an online policy comparison provider, placed at No. 35. CoverHound employees are welcome to a broad range of perks: professional development opportunities, leadership coaching and employee wellness programs.
Large Companies
Constangy, Brooks, Smith & Prophete, LLP, a national labor and employment law firm, placed at No. 5. The firm is well known for its commitment to diversity, empowering its lawyers and sustaining a culture of respect.
W.E. O'Neil Construction Co., a construction company, ranked No. 8. The company strives to blend a culture of fun and hard work while supporting the professional and personal growth of its employees.
Onica Group LLC, a consulting service that assists companies in operating on the cloud, ranked No. 10. Onica employees find fulfilment in working on some of the industry's most demanding cloud-based projects.
Insperity, a human resources and administrative services provider, ranked No. 16. People who work at Insperity commend the company for its great work/life balance and incentives to continually improve.
Amobee, the world's leading independent platform that unites advertising channels, clocked in at No. 17. The company plans happy hours, beach days, themed events and other team bonding activities throughout the year.
Webcor Builders, a construction company, placed at No. 19. In addition to prioritizing safety, the company affords its employees benefits like medical, dental and vision coverage and a 401k plan.
PCL Construction, a group of independent construction companies, ranked No. 20. Employees reported that PCL Construction cultivates a workplace that fosters accountability, safety and camaraderie.
Alston & Bird, a leading international law firm, came in at No. 21. Alston & Bird puts on Staff Appreciation Week and hosts the annual ABBY Awards to honor attorneys and staff.
Aya Healthcare, an organization that helps travel nurses find jobs, placed at No. 22. It's not uncommon for employees to get promotions within the first year – or even, in some cases, after a few months.
Pardee Homes, a home-building company, ranked No. 25. The company has gained recognition for fortifying whole communities – not just houses – and helping strengthen educational and civic systems.
Swinerton, a construction company, placed at No. 27. Swinerton management grants some of the best benefits in its industry – a 401k match, top-notch healthcare and ESOP contributions.
Buchalter, A Professional Corporation, a law firm, placed at No. 28. The firm ensures that its attorneys and staff members feel valued with weekly breakfasts and monthly birthday and anniversary celebrations.
Charles Pankow Builders, Ltd., a construction company, came in at No. 32. The company supports creative expression and welcomes learning so that employees can sharpen their skills.
Brookfield Properties, a real estate manager, ranked No. 36. The company attributes its success to its people, who possess an enormous drive to prosper within a fast-paced environment.
To view the full list of the Los Angeles Business Journal's "Best Places to Work in Los Angeles in 2019," visit https://labusinessjournal.com/news/2019/aug/16/best-places-work-los-angeles-2019-look-winners/.