The United States-Mexico-Canada Agreement (USMCA) underscores a renewed understating among the USMCA parties on the importance of our mutual trading relationships, everyone agreed yesterday at an international luncheon at the California Chamber of Commerce to celebrate Canada Day in Sacramento.
With the support of the Consulates General of Canada of San Francisco and Los Angeles and the Consulate General of Mexico in Sacramento, experts convened at the CalChamber for a thorough update and discussion on the agreement with more than 100 attendees.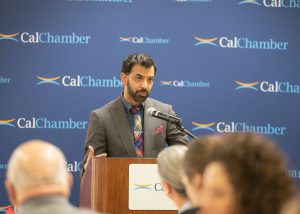 The Honorable Zaib Shaikh, the new Consul General of Canada in Los Angeles set the tone for the discussion saying that the USMCA is a narrative of "unity, friendship, partnership, between the three countries that make up not only North America, but are in fact listed as part of the USMCA…We have a moment in history, in time…to really show the world we are together and if you're together it really counts."
USMCA
 

Background

The California Chamber of Commerce actively supported the creation of the North American Free Trade Agreement (NAFTA) among the United States, Canada and Mexico, comprising 489.5 million people with combined annual trade with the United States being around $1.139 trillion in 2017. In 2017, goods exports topped $525.46 billion while goods imports totaled nearly $614.02 billion.

President Donald J. Trump announced his intent to renegotiate NAFTA in May 2017. The negotiations started shortly thereafter, going through many rounds. In August 2018, the U.S. and Mexico reached a preliminary agreement, while the U.S. continued separate negotiations with Canada. In October, Canada and the U.S. came to an agreement right before a self-imposed deadline, reassuring the deal would remain trilateral. The pact was rebranded the United States-Mexico-Canada Agreement (USMCA).

Stability and Creditability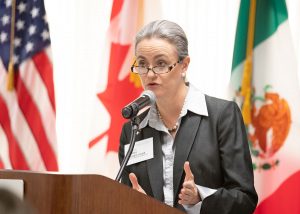 Consul General of Mexico in Sacramento, Ambassador Liliana Ferrer Silva told attendees that the USMCA provides stability and credibility for North American businesses and workers and will allow them to thrive and prosper.
"We are promoting, creating the best business environment possible for businesses to develop and grow in order to create and grow jobs," Ferrer said. "Trade is fundamental, we are integrated to the world's economy and Mexico has been able to grow in thanks to this integration."
Ferrer said that trade is one of the most important engines of growth and Mexico needs to improve the quality of growth by including additional business sectors, including more products, and this is "precisely what the USMCA will do," she said.
Mexico continues to be California's No. 1 export market, purchasing 15.5 percent of all California exports. California exports to Mexico amounted to $26.7 billion in 2017, a slight increase from 2016.
Mexico has remained the United States' second largest export market since 1995, with a total value of $242 billion in 2017.
"We are committed to a competitive North America and help attract foreign direct investment to be a part of their exporting platform," Ferrer told attendees about the prospecting of ratifying USMCA.
Building Things Together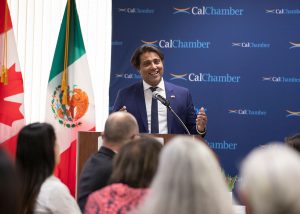 Consul General Rana Sarkar provided a status update and insights about the approval process of the USMCA from a Canadian perspective.
"The point is not just that we have a joint economy, it's not just that we sell to each other, but we build things together," Sarkar said.
The United States and Canada enjoy the largest bilateral trade and investment relationship in the world. In 2017, two way trade in goods between Canada and the United States topped $582 billion. Exports to Canada were $282.47 billion, making it the largest export destination for the U.S. According to the most recent figures, U.S. companies invested approximately $353 billion into Canada and foreign direct investment from Canada into the U.S. was nearly $453 billion in 2016. Canada has remained California's second largest export market since 2006, with a total value of over $16.7 billion in 2017 (9.7 percent of all California exports), as well as exporting $9.2 billion in services to Canada. California imports $28.7 billion from Canada.
The original NAFTA, which came into force in 1994, helped create an economically influential and competitive regional market of 480 million consumers and a combined gross domestic product (GDP) of $21 Trillion (US). Nine new chapters have been incorporated into the USMCA—covering modern-day trade challenges including digital trade, regulatory cooperation, and North American competitiveness.
These represent some much needed updates to the original agreement, Sarkar expressed.
 2018 Updates to the Agreement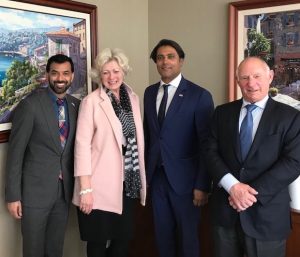 The USMCA deal improves access to Canada's dairy market for U.S. farmers, giving U.S. exporters an estimated additional 3.59% market share. It also provides for stronger intellectual property provisions, and tighter rules of origin for auto production, according to the Trump administration.
The Chapter 19 dispute-settlement mechanism remains untouched, as Canada fought for, although the investor-state dispute settlement will be phased out for Canada and restricted to four areas for Mexico.
Canada also agreed to raise the threshold for applying duties to cross-border purchases, which was a key demand from the United States. The new de minimis level will be C$150 ($117 USD) for customs duties, up from C$20 ($15 USD).
Steel and aluminum tariffs imposed earlier in 2018 will remain in effect and are being dealt with separately. However, an agreement in the new pact increases by 800,000 the number of passenger vehicles that come across the border from Canada without being subject to a likely 25% duty.
Benefits and Goals
CalChamber support for the USMCA is based on an assessment that it serves the employment, trading and environmental interests of California, the United States, Mexico and Canada, and is beneficial to the business community and society as a whole.
The objectives of the USMCA are to eliminate barriers to trade, promote conditions of fair competition, increase investment opportunities, provide adequate protection of intellectual property rights, establish effective procedures for implementing and applying the agreements and resolving disputes, and to further trilateral, regional and multilateral cooperation.
CalChamber Position
The CalChamber understands that the original NAFTA was negotiated more than 25 years ago, and, while our economy and businesses have changed considerably over that period, NAFTA has not. We agree with the premise that the United States should seek to support higher-paying jobs in the United States and to grow the U.S. economy by improving U.S. opportunities under the new USMCA.
The provisions of NAFTA with Mexico and Canada have been beneficial for U.S. industries, agricultural enterprises, farmers, ranchers, energy companies and automakers.
Mexico and Canada are California's largest and second largest export markets. A final approval of the new USMCA will benefit California's economy.
Staff Contact: Susanne T. Stirling