The California Chamber of Commerce joins the nation in mourning and remembering President George Herbert Walker Bush, who passed away on November 30 at the age of 94.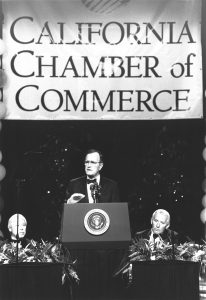 President Bush spoke at the CalChamber's Gala Centennial Dinner in Los Angeles on March 1, 1990 where he told attendees that California businesses can help bring the world "new and unprecedented prosperity."
About 1,200 people attended the dinner, which honored CalChamber's 100th anniversary and the growth of the state's business community.
Bush's speech foreshadowed some advanced policies. Noting that economic growth and tighter labor markets will require businesses to run to untapped sources of talent, Bush said flexible workplace policies will allow firms "to find and keep the best talents." He singled out telecommuting as an "exciting concept" that could reduce traffic congestion and pollution, as well as improve the quality of life.
Bush remarked that California has risen from what one observer called "a state of decadence" in 1890 to "a world-class economic superpower" in the 1990s.
President Bush's comments are as relevant as ever as California's ranks as one of the 10 largest economics in the world.
"Today you are called upon—and privileged as few have been before— to bring the world new and unprecedented prosperity," the President said. "Show the world that commerce has a conscience. That prosperity has a purpose. And that any definition of a successful life must include serving others."