California's merchandise export trade maintained a growth trajectory in August despite a fall-off in farm exports, according to a Beacon Economics analysis of U.S. trade statistics newly released by the U.S. Census Bureau.
Foreign shipments by California businesses totaled $15.18 billion for the month, a nominal 3.3% gain over the $14.69 billion recorded one year earlier.
Although exports of manufactured goods were up 4.6% to $9.99 billion from $9.55 billion in August 2017, exports of non-manufactured goods (chiefly agricultural products and raw materials) dropped by 6.3% to $1.54 billion from $1.64 billion. The value of re-exported goods rose by 4.4% to $3.65 billion from $3.50 billion.
The Golden State accounted for 10.9% of the nation's overall merchandise export trade in August, down from 11.4% last year.
California exports in the first eight months of 2018 amounted to $119.01 billion, 6% higher than the $112.26 billion at the same point last year.
California Imports
The Census Bureau reports that California was the state of destination for 16.9% of all U.S. merchandise imports in August, with a value of $37.71 billion, down 0.8% from the $38 billion in imported goods in August 2017. Manufactured imports totaled $33.10 billion, a decline of 3.8 % from the $34.41 billion recorded one year earlier. Non-manufactured imports in August were valued at $4.61 billion, 28.1% higher than the $3.60 billion reported in August 2017.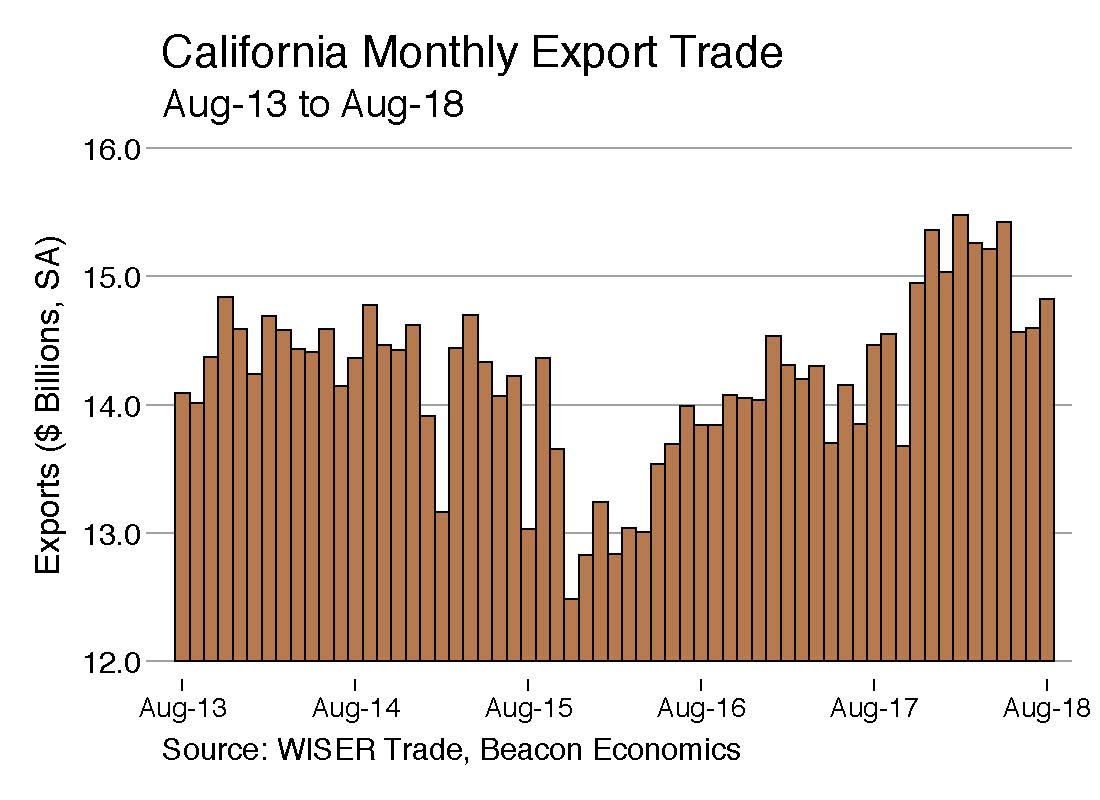 A Closer Look At The Numbers
As always, Beacon Economics cautions against reading too much into month-to-month fluctuations in state export statistics, especially when focusing on specific commodities or destinations. Significant variations can occur as the result of unusual developments or exceptional one-off trades and may not be indicative of underlying trends. For that reason, Beacon Economics compares the latest three months for which data are available (i.e., June–August) with the corresponding period in the preceding year.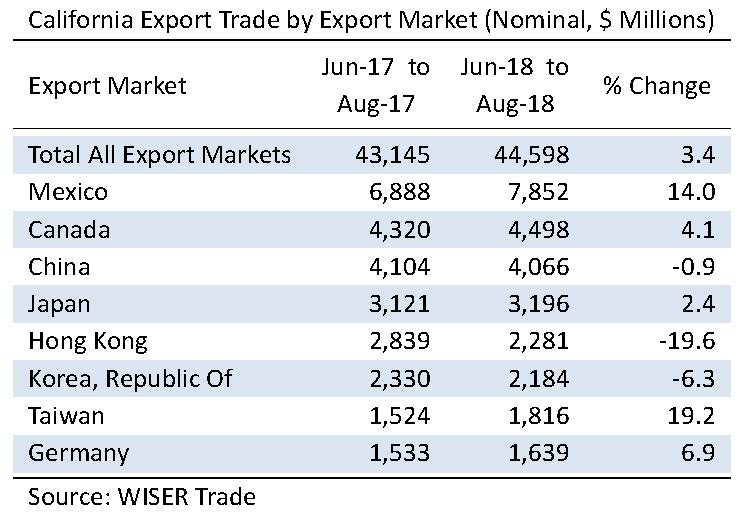 Leading Export Commodities
California's merchandise exports during June–August totaled $44.6 billion, a nominal gain of 3.4% from the $43.14 billion in the same three months one year earlier.
On the plus side, shipments of Computer & Electronic Products (computers and peripherals; communication, audio, and video equipment; navigational controls; and electro-medical instruments) inched up by 1.3% to $11.64 billion from $11.49 billion. The state's exports of Transportation Equipment (automobiles, trucks, trains, boats, airplanes, and their parts) remained essentially unchanged at $4.71 billion. Exports of Non-Electrical Machinery (machinery for industrial, agricultural, and construction uses as well as ventilation, heating, and air conditioning equipment) rose by 5.3% to $4.37 billion from $4.15 billion.
Shipments of Miscellaneous Manufactured Commodities (a catchall category of merchandise ranging from medical equipment to sporting goods) edged higher by 2.7% to $4.25 billion from $4.14 billion. Chemical exports (including pesticides and fertilizers; pharmaceutical products; paints and adhesives; soap and cleaning products; and raw plastics, resins, and rubber) gained 11.8% to $3.63 billion from $3.24 billion.
Shipments abroad of Food & Kindred goods edged ahead by 2.3% to $2.22 billion from $2.17 billion. Exports of Electrical Equipment and Appliances improved by 6.1% to $2.02 billion from $1.90 billion. Exports of Petroleum and Coal Products surged by 46.6% to $1.33 billion from $911 million. Waste & Scrap exports jumped 21.7% to $1.17 billion from $964 million. Exports of Fabricated Metal Products grew by 6.5% to $1.16 billion from $1.09 billion.
On the minus side, exports of agricultural commodities fell by 7.8% to $2.64 billion from $2.86 billion, as shipments of fruits, nuts, wines, and dairy products all faced higher tariffs abroad.
Export Destinations
Mexico retained its status as California's most important export destination during the latest three-month period. Shipments south of the border grew by 14% to $7.85 billion from $6.89 billion.
Canada claimed second place among the state's leading export markets by increasing its purchases of California products 4.1% to $4.50 billion from $4.32 billion.
China placed third with $4.07 billion in imports from California, down 0.9% from $4.10 billion.
Japan came fourth with imports of California goods totaling $3.20 billion, a gain of 2.4% from $3.12 billion during the same period one year earlier. Exports to fifth-place Hong Kong plummeted by 19.6% to $2.28 billion from $2.84 billion.
California exports to the East Asian economies slipped by 1.2% to $15.54 billion from $15.7 billion. Meanwhile, California's exports to the European Union increased by 3.8% to $8.11 billion from $7.81 billion.
California's stake in the future of the renegotiated North American Free Trade Agreement is clear in that Mexico and Canada together accounted for 25.1% of California's entire merchandise export trade in the latest three-month period. Exports to the two neighbors leapt in value by 10.2% to $12.35 billion from $11.21 billion.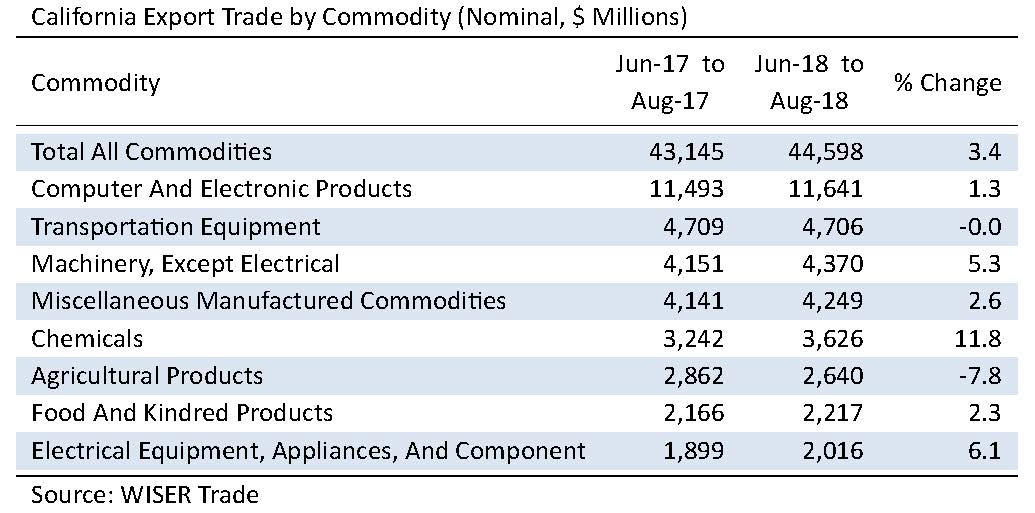 Mode of Transport
The latest three-month period saw 49.6% of the state's $44.60 billion merchandise export trade depart by air, while waterborne transport carried 25.7% of the outbound trade. The balance of the state's exports moved overland to Canada and Mexico.
The Outlook
Now that an agreement has apparently been reached in revising and updating the rules by which the United States, Canada, and Mexico trade with each other, experts at Beacon say they are "more sanguine" about export opportunities with these two nations that alone account for one-quarter of California's export trade.
Beacon economists are not nearly as optimistic about trade with China, which, until a few months ago, stood ready to nudge Canada aside as our second most important export market. Attitudes in both Washington and Beijing have hardened lately, Beacon states.
A concern affecting Beacon experts' longer-term trade assessment involves one of President Trump's oft-stated rationales for raising tariffs—that the higher cost of importing goods from abroad would force companies to locate some or all of their manufacturing operations in North America, preferably of course in the U.S. heartland.
For this strategy to work, however, the tariffs the President has imposed would have to be permanent. Otherwise, there would be no compelling reason for companies to invest millions or perhaps billions of dollars in new manufacturing facilities in America if there is any reason to suspect that the new tariffs—the chief incentive for moving operations to the United States—would be summarily removed in a future round of trade negotiations.
"Put differently," the Beacon report states, "while the Administration has pledged to reverse decades of job losses in manufacturing by 'bringing the jobs home,' the present tariff strategy may limit the options available to trade representatives."
Staff Contact: Susanne T. Stirling