U.S. and California politics and trade priorities, global connections and the importance of exports were the topics discussed by an international trade expert, a veteran political columnist and an economist at the recent international forum presented by the California Chamber of Commerce.
The May 23 forum, moderated by Susanne T. Stirling, CalChamber vice president of international affairs, brought together nearly 200 attendees, including representatives of the business community, CalChamber Board members, representatives of the California consular corps and foreign economic partners, plus representatives of state, local and federal governments.
U.S. Trade Issues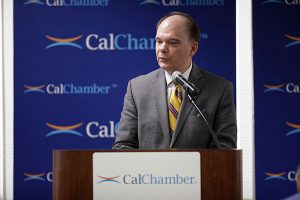 The Honorable Dale Tasharski, acting deputy director general of the U.S. Department of Commerce, spoke to forum attendees about U.S. trade issues from the viewpoint of the federal government. Minister-Counselor Tasharski directs the department's efforts to formulate trade policy and solve market access issues facing U.S. firms seeking to sustain and expand their business operations.
California has grown to become the world's fifth largest economy and California accounts for a significant slice of exports; in fact, California logged a 3% year-over-year growth in exports, Tasharski noted.
California accounts for 11% of all U.S. exports. "I'm not surprised," Tasharski said. "California has tremendous manufacturing and trade infrastructure and the state produces goods and services in demand all over the world."
Turning to the administration's trade priorities, Tasharski reiterated that President Donald Trump has said his administration is dedicated to reducing the U.S. trade deficit, which is why he's taking a firm stance in addressing unfair trade practices and foreign government export subsidies. The Commerce Department is committed to reinforcing and implementing President Trump's commercial agenda to support, defend and bolster the American economy.
"We know that when U.S. companies face fair competition with foreign companies, U.S. firms win," Tasharski said. "Our dedication to ensuring that U.S. companies compete on a level playing field is reflected in our goal of transforming American trade policy by ensuring fair and reciprocal trade."
In the spirit of World Trade Month, Tasharski took a few minutes to honor a local business, Harris & Bruno International of Roseville, with a U.S. Department of Commerce Export Achievement Certificate.
The Export Achievement Certificate was created to recognize small and medium-sized enterprises that have successfully entered the international marketplace for the first time or that have successfully entered a new market.
Earlier in the week, U.S. Secretary of Commerce Wilbur Ross honored 43 American companies, representing 18 U.S. states and Guam, with the 2018 President's "E" Award to kick off World Trade Week. The President's "E" Award is the highest recognition any person, firm, or organization can receive for making a significant contribution to increasing U.S. exports. Tasharski reported that California companies were well represented in this group.
International Overview of California
Longtime California newspaper columnist Dan Walters, now a journalist with CALmatters.org, provided attendees with an overview of what's happening in California politics.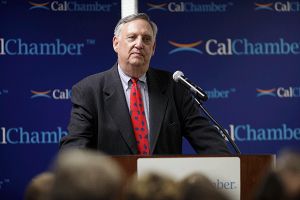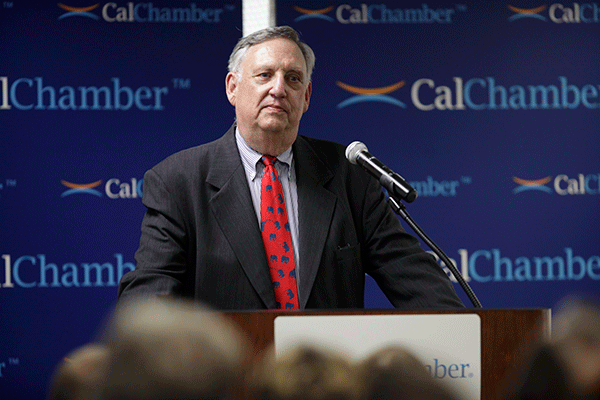 While California is enjoying a growing economy, now the fifth largest in the world, and record low unemployment, California has substantial issues, he pointed out.
"They stem in part from our success as a state," Walters said. "The fact that we've seen tremendous population growth… that success and the economic success of so many California industries…have fallout effects."
California is dealing with things like: uncertainty about water supply, homelessness, housing and education. "All of these issues eventually become political issues," Walters said.
This year is an election year in California, where the state will elect a new governor, may be electing a new U.S. Senator, electing other statewide constitutional officers, filling 100 legislative seats and the California congressional delegation will be up for election as well.
Walters tried explaining the "inexplicable," California's top two primary, which is "where a loser gets another chance to be a winner." This method of electing California's representatives creates all kinds of political dynamics unique to California, he said.
California is very involved in international trade, is more like a nation than a state, and state leaders have taken issue with the Trump administration, making trade policy and immigration both flash points between California and the Trump administration.
Unfortunately, Walters explained, this conflict between Trump and California has become so heated in the political arena that it is taking attention away from the more pressing state issues that have nothing to do with President Trump or any of those conflicts.
"We have essentially a bifurcated election," Walters summarized. "On one level it's about California issues, housing, education, water and all the California issues. On the other level, it's about the conflict between California and the Trump administration…It kind of sucks the oxygen out of the air and takes attention away from California situations that should be dealt with."
This all makes for an interesting primary election season—more interesting than most, Walters said. California is at the forefront of national politics, both because of these conflicts with the administration, and because the state has congressional seats in play, whose fate may in fact "decide the climate in Washington for the next two years."
International Economic Overview
Christopher Thornberg, founding partner of Beacon Economics, provided a fast-paced economic outlook focused on California and the global economy.
See Thornberg's slide presentation
"We've really lost track about what's really going on out there," Thornberg said. "Thirty years ago we agreed on the problems, we would debate the solutions. Today it's gotten so bad we can't even agree on what the problems are."
Starting with the big picture on the economy, Thornberg said the new economy is the same as the old economy:
2017 solid year for growth: looked a lot like 2013–2014;
2018 likely to be better: good momentum with fiscal stimulus even after a slow start;
Still a low chance of recession in the next 24 months.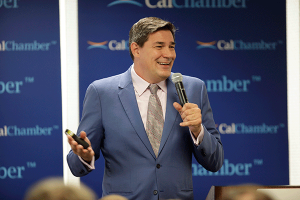 Politics is going in the wrong direction, he reported, because there is little effort to deal with underinvestment in infrastructure, rising wealth and income inequality, health care cost inflation, pension and entitlement issues. In addition, there is a great disconnect between economic realities and political discourse.
Turning to trade, Thornberg noted that exports have hit an all-time high, showing good solid numbers across the board.
"Trade trends overall have been a positive for the U.S economy, particularly on the export side," he said.
For U.S. exporters, "it's a wonderful time!" he remarked, and it's going to get better this year; the International Monetary Fund released a forecast projecting 3.9% growth this year. That's the best year since 2011, which was a recovery year after the great recession and will provide great opportunities for exporters, Thornberg said.
Speaking about the trade deficit with China, Thornberg said he is more sympathetic to the Trump administration's concerns.
Trade barriers, and what he would call imbalanced trade practices, don't have an impact on the trade deficits, but we know when two countries trade with each other, there are gains from trade. Thornberg presented the hypothetical of a pile of money on the table, and if someone isn't playing fair, they're taking more than their fair share of the pile of money on the table.
In other words, it's not that the U.S. doesn't benefit with trade from China, even under the current situation, where the Chinese have far more access to U.S. markets than the other way around…but we don't gain as much as we should or could because we don't have the same access to the Chinese economy.
"From that perspective, I absolutely have sympathy for this administration," Thornberg said. "When you measure it appropriately, China has the largest economy in the world, and it owes at some level, they should just start playing fair."
While discussing trade battles, Thornberg said that since California has such a large and diverse economy, the state is less exposed to trade battles than other parts of the United States.
"It's not actually as big an issue for us as it is in other places," he said. "A lot of the places with problems are places like Louisiana, Michigan, Washington. They have much more trade expiration than we [California] do."
But California has very real exposures as well, just not in ways that are measured in his graphs, Thornberg said.
A big issue for California is intellectual property, of which an enormous amount is produced in California. In addition, California is a conduit for both goods and services moving through into the United States.
In closing, Thornberg said the big picture is that it's going to be a good year, but there still is a great disconnect.
With several critical issues facing California in the medium term, Thornberg warned, "if you don't ask the right question, you're never going to get the right answer. The biggest problem we have in the United States isn't that we can't find the right answer; the right answers are easy. The problem is we can't ask the right questions."