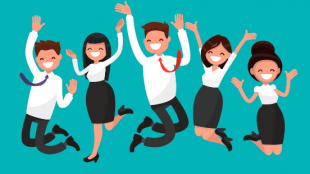 Thirty-two California Chamber of Commerce member companies were selected by Fortune as among the 100 best companies to work for in 2018.
This year, Fortune changed the methodology for determining the 100 Best Companies. The original formula measured trust, pride and camaraderie.
To give a more accurate reading of how each business uses its organizational culture as a key ingredient for success, the new formula measures value, innovation, financial growth, leadership effectiveness, maximizing human potential, and trust.
Featured Companies
Following are the 32 CalChamber member firms on Fortune's 100 Best Companies to Work For list.
• Boston Consulting Group (professional services, No. 4) focuses on work/life balance to "make employees happier, more complete humans." It has spent more than $100 million to make work schedules more predictable in a 24/7 industry.
• Genentech (biotechnology and pharmaceuticals, No. 8) This subsidiary of Roche is a diverse company that has 41% minority staff; women make of 46% of its frontline managerial ranks. According to an employee, "Genentech is the most inclusive company I have ever worked for."
• Hyatt (hospitality, No 9.) was praised by employees for encouraging transparency by using digital and in-person channels for communication. One employee said, "I feel this company and in particular, this hotel are led superbly from the top."
• Kimley-Horn and Associates (professional services, No. 10) Kimley-Horn benefits include 401(k) matches of 2-1, profit sharing and fully paid health care. The company encourages workers to create their own mini-practices to explore new markets and locations. "The opportunities are absolutely endless," said one employee.
• Deloitte (professional services, No. 11). Telecommuting, on-site/subsidized fitness, fully paid sabbaticals are just a few of the benefits offered. Work/life balance is important; "you decide how fast-paced/slow-paced you want to take it." The $300 million Deloitte University shows the company's commitment to developing employees.
• The Cheesecake Factory (hospitality, No. 27) Dedicated to investing in its employees, the company filled more than 40% of management positions from within. Telecommuting, fully paid sabbaticals, health insurance and sick days for part-timers. People say they have "lots of potential for growth here."
• KPMG (professional services, No. 29) While helping clients meet their business objectives, KPMG also focuses on keeping its employees united. The consulting firm created its own news site, KPMG Today, which produces live video communications and has drawn 2.7 million views since 2017.
• Nvidia (information technology, No. 30) The semiconductor and software company is all about family. It offers unlimited time off and 110 days of maternity leave. "I have always had the sense that management recognizes and is happy to accommodate my need to put my family first," said one employee.
• Orrick, Herrington & Sutcliffe (law firm, No. 31) The multinational law firm is a "collaborative place where entrepreneurism and innovation are valued." The "2% initiative askes partners to devote 2% of their time to devising ways to improve the workplace, and there is an annual $50,000 prize for the best office innovation idea."
• Hilton Worldwide (global hotel chain, No. 33) Diversity is the key for the global hotel chain where minorities make up 69% of the workforce. Hilton also "makes a point to partner with minority-owned businesses." Benefits such as telecommuting, fully paid sabbaticals, and college tuition reimbursement are added incentives.
• CarMax (used car retailer, No. 34) The company has committed itself to ensure employee morale is high. Managers who are "great at listening and incorporate feedback" are key. Training is "second to none." Benefits offered include unlimited sick days, telecommuting, job sharing, subsidized child care, compressed workweeks, on-site fitness/subsidized gym and college tuition reimbursement.
• Marriott International (multinational hotel chain, No. 35) After the merger with Starwood, Marriott is now the world's largest hotel company. The hotel chain has kept its culture and employees say that "at Marriott, we are family." More than 10,000 25-year veterans of the company get lifetime free stays at Marriott properties.
• Scripps Health (health care, No. 41) CEO Chris Van Gorder is "caring and approachable," and dedicates 96 hours to teaching at the Scripps Leadership Academy. The company says the well-being of the staff is "essential" to business decisions.
• CISCO (information technology, No. 48) "A genuine sense of family" is the culture at this information technology company. New parents receive up to 13 weeks of paid leave with more available unpaid. Employees also get a day off for their birthday as well as 5 paid days to volunteer.
• EY (professional services, No. 52) A "trailblazing" leave policy provides all parents 4 months of paid time off. "High-skilled" and "driven" staff are allowed flexible workdays if needed and have a newly relaxed dress code ("jeans are A-OK") that adds to the safe environment.
• PricewaterhouseCoopers (audit and consulting, No. 56) With offices in 157 countries, the company provides a program that allows staff to work overseas and assures they will have a job back home when they are ready. Tuition reimbursement and student loan debt repayment are among the benefits offered.
• Perkins Coie (law firm, No. 58) Attorneys call the culture "open," "friendly," "diverse," and "team-oriented." A 37.5-hour workweek with flexible hours makes this firm an exception to what Fortune calls grueling hours in "Big Law."
• American Fidelity Assurance (financial services and insurance, No. 59) At the supplemental benefits provider, there is "a team whose sole purpose is to solicit employees' business ideas, suggestions and pitches—and then put them into action."
• Accenture (professional services, No. 60) Employees appreciate the "agile" and "inspiring" teams and also say that when it comes to inclusion, Accenture "really means it." Telecommuting and flexible schedules are popular perks.
• Crowe Horwath (accounting and consulting, No. 62) 90% of the staff at this accounting and consulting firm works remotely at least some of the time. Employees say they feel a sense of "personal ownership."
• Comcast NBCUniversal (telecommunications, No. 68) The telecom giant may have a "gigantic family of different brands," but it still makes employees "feel connected to each other." Employees say that there is "a very open culture," and an "amazing" level of diversity.
• Nugget Market (grocery chain, No. 70) Employees are "encouraged to have fun" and are "thanked and celebrated all the time." The company invests in professional development and promotes from within.
• NuStar Energy (pipeline and terminal operator, No. 72) The pipeline operator has a dedicated "no-layoff" policy that fosters a "caring and sharing" workplace. Employees report feeling a sense of "ownership and camaraderie."
• Progressive (insurance, No. 78) Child care subsidies and on-site medical clinics make this 81-year-old insurer a "company with heart." A startup vibe is encouraged with hackathons, code jams and A.I. (artificial intelligence) competition.
• Alston & Bird (law firm, No. 79) This family-friendly firm offers up to 7 weeks of paid time off, on-site daycare and subsidized at-home sitters. It has a "fun" and "supportive" culture.
• T-Mobile US (telecommunications, No. 86) T-Mobile has seen "stellar growth and rising morale to match, in recent years." Employees say the company "truly embraces diversity" and they feel "inspired" to be where "every voice matters."
• Nordstrom (fashion specialty retailer, No. 88) Diversity is a priority for Nordstrom, where people of color make up 45% of the technology staff. The retailer also makes it a point to recognize staff achievements with parties and special rewards.
• The Container Store (specialty retailer, No. 93) Pay well above industry standards, "outstanding" communication and "amazing" benefits, even for part-timers. Employees hold a large portion of shares in the company.
• FedEx (shipping, No. 94) Good benefits are only one of the perks at FedEx. Employees say they are proud of the logistics leader's numerous charitable initiatives. These include "$200 million to 200 communities by 2020."
• Delta Air Lines (airline, No. 98) Employees say, "Delta takes care of its people, and we take care of Delta." The "richest" profit sharing and rewards program, and deluxe worker travel benefits.
• Four Seasons Hotels and Resorts (luxury hotelier, No. 99) Award and milestone celebrations feel like a "family gathering" with "cool prizes." Cash bonuses and exotic trips show that the hotelier goes all out with its recognition programs.
• AT&T (telecommunications, No. 100) AT&T invests in its people, spending $250 million a year on training and $30 million on tuition assistance.