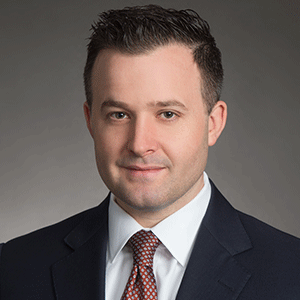 Litigation attorney Kevin McKinley has joined the California Chamber of Commerce as a policy advocate. He specializes in privacy/technology, telecommunications, economic development, and workers' compensation issues, as well as the credits, exclusions, deductions and sales tax aspects of taxation.
Before joining the CalChamber policy team in May, McKinley was a litigation attorney at the Virga Law Firm, representing business and consumer clients in areas such as privacy (medical and financial), cyber crimes and workers' compensation.
He previously was a litigation associate for Downey Brand LLP, representing business clients in civil litigation matters in state and federal court.
"Kevin's experience in the courtroom will serve the business community well as he works to make sure that legislative and regulatory proposals don't add to employers' lawsuit burden," said CalChamber President and CEO Allan Zaremberg. "He is a strong addition to the CalChamber advocacy team."
Since 2008, McKinley has been a member of the Sacramento City Housing Code Advisory and Appeals Board; he is the current chair.
He previously served as a judicial extern to the Honorable Kimberly J. Mueller, U.S. District Court judge for the Eastern District of California. He also has been a licensed real estate and insurance agent.
McKinley holds a B.B.A. from National University and J.D. with great distinction from the McGeorge School of Law, University of the Pacific, and was admitted to the Order of the Coif. At McGeorge he served as a primary comment editor and writer for the McGeorge Law Review.