California's merchandise export trade started 2017 with an exceptionally strong showing in January, posting a nominal 10.9% gain over the same month in 2016, according to a recent Beacon Economics trade report.
According to the Beacon Economics analysis of U.S. trade statistics released March 7 by the U.S. Census Bureau, foreign shipments by California businesses totaled $13.27 billion for the month, a robust increase over the $11.96 billion recorded in January 2016.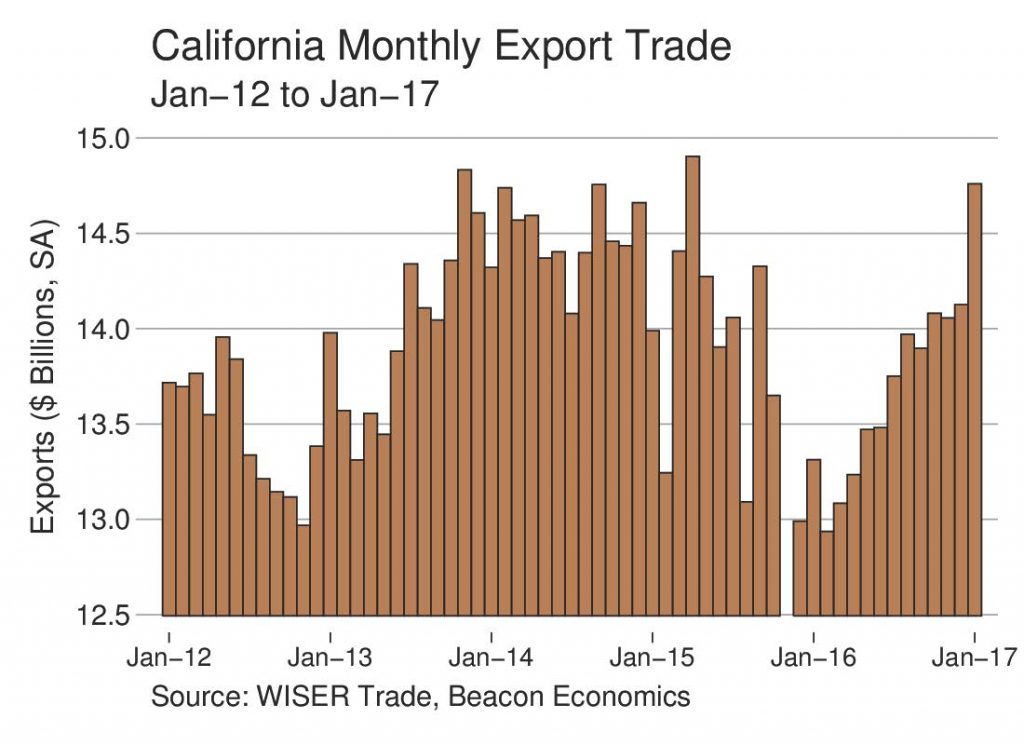 The state's exports of manufactured goods in January rose by 10.4% to $8.64 billion compared to $7.83 billion one year earlier. Exports of nonmanufactured goods (chiefly agricultural products and raw materials) soared by 24.8%, to $1.59 billion from $1.28 billion. Re-exports, meanwhile, moved up 6.4%, to $3.04 billion from $2.86 billion.
To compare, the nominal value of overall U.S. merchandise exports increased 8.5% over last January. California accounted for 11.3% of the nation's overall $117.71 billion merchandise export trade.
Exports to California's major trading partners in the Far East saw a sharp 19.5% year-over-year increase in January, while shipments to European Union countries were 6.3% higher. Exports to Mexico, California's leading export market, were up 8%. while exports to Canada (California's No. 2 export destination) jumped by 22.3%.
The gains were reflected in the increased volume of outbound traffic at the state's principal international trade gateways. Airborne export tonnage from LAX increased 11.4% year-over-year in January, while the number of outbound loaded containers sailing from the Ports of Los Angeles, Long Beach and Oakland rose by 17.9% over January 2016.
The U.S. Department of Commerce has determined that California was the state of destination for 18.8% of all U.S. merchandise imports in January, with a value of $34.89 billion, up 12% from the $31.15 billion in imported goods in January 2016. Manufactured imports totaled $31.39 billion, an increase of 11.6% from $28.14 billion last year. Non-manufactured imports in January were valued at $3.5 billion, 16.3% higher than the $3.01 billion recorded a year earlier.
A Closer Look At The Numbers
As always, Beacon Economics cautions against reading too much into month-to-month fluctuations in state export statistics, especially when focusing on specific commodities or destinations. Significant variations can occur as the result of unusual developments or exceptional one-off trades and may not be indicative of underlying trends.
For that reason, Beacon Economics compares the latest three months for which data are available (that is, November–January) with the corresponding period one year earlier. That analysis shows that California's merchandise exports totaled $43.66 billion, a $3.31 billion (8.2%) increase over the same period last year.
California's merchandise exports during the latest three-month period totaled $41.72 billion, a nominal gain of 10.8% from the $37.65 billion in the same period last year.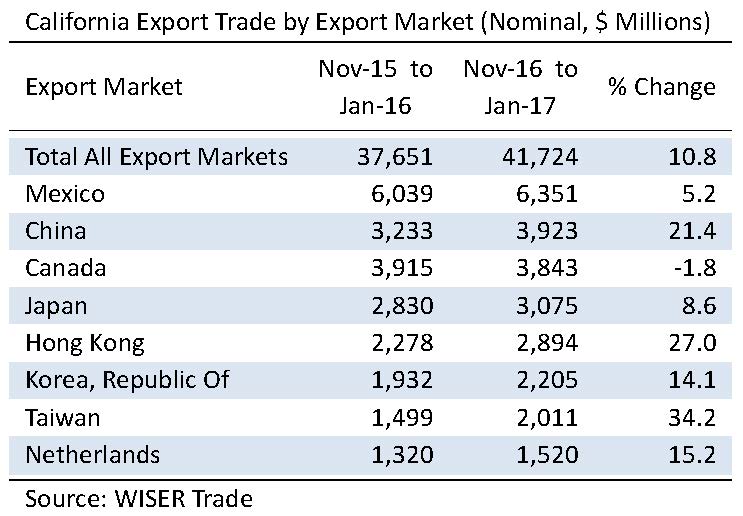 Nine of the 10 leading categories of exports saw increases. On the plus side, the top export category—of Computer & Electronic Products (computers and peripherals; communication, audio, and video equipment; navigational controls; and electro-medical instruments) — grew by 5.0% to $10.74 billion from $10.23 billion.
The state's exports of Transportation Equipment (automobiles, trucks, trains, boats, airplanes, and their parts) leaped by 23.1% to $4.97 billion from $4.04 billion.  Exports of Non-Electrical Machinery (machinery for industrial, agricultural and construction uses as well as ventilation, heating, and air conditioning equipment) likewise soared by 21.9% to $3.96 billion from $3.25 billion.
Exports of Miscellaneous Manufactured Commodities (a catchall category of merchandise ranging from medical equipment to sporting goods) jumped 18.1% to $3.21 billion from $2.72 billion. Agricultural exports were up 8.5% to $3.51 billion from $3.24 billion, while foreign shipments of Food & Kindred goods edged up 5.4% to $2.24 billion from $2.13 billion. Exports of Electrical Equipment and Appliances nudged up 2.7% to $1.74 billion from $1.70 billion, while exports of Primary Metal Manufacturing products were 10.8% higher at $1.16 billion from 1.05 billion.
The one sour note was a 0.2% slip in exports of Chemical products (including pesticides and fertilizers; pharmaceutical products; paints and adhesives; soap and cleaning products; and raw plastics, resins, and rubber) to $3.17 billion from $3.18 billion.
Mexico remained California's most important export destination during the last three months, despite a deterioration in the value of the peso. Shipments south of the border rose 5.2% to $6.35 billion from $6.04 billion. China finally emerged as California's second largest foreign market during the latest three-month period with exports leaping 21.4% to $3.92 billion from $3.23 billion. Exports to Canada remained disappointing, slipping 1.8% to $3.84 billion from $3.91 billion. Rounding out the list of California's top five export markets, exports to Hong Kong were up 27% to $2.89 billion from $2.28 billion, and exports to Japan were up 8.6% to $3.08 billion from $2.83 billion.
The state's export trade with the economies of East Asia increased 18.5% to $15.86 billion from $13.38 billion. By contrast, California exports to the European Union moved up by 4.4% to $7.32 billion from $7.01 billion.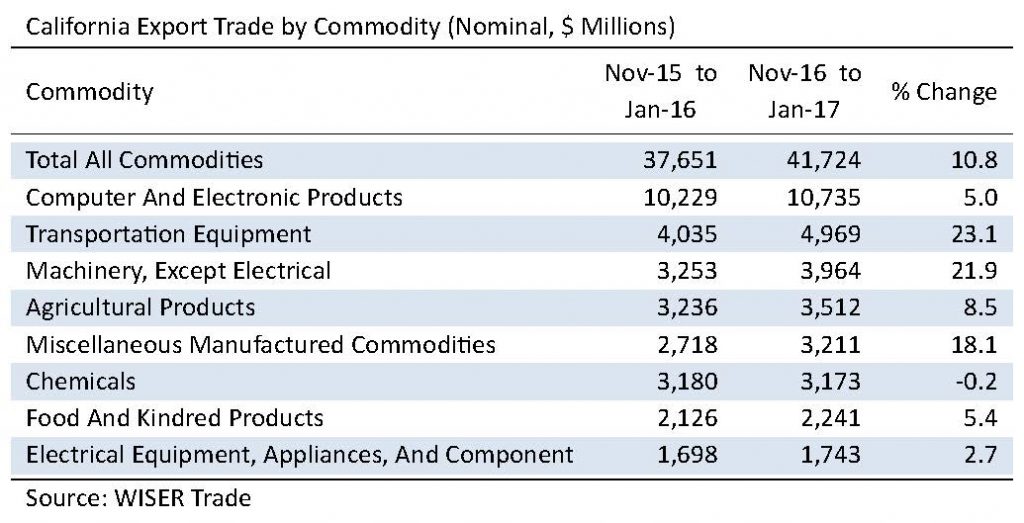 Mexico and Canada, America's partners in the North American Free Trade Area, accounted for 24.4% of California's merchandise export trade in the latest three-month period. Exports to our two neighbors rose a combined 2.4% to $10.19 billion from $9.95 a year earlier. By mode of transport, 47.8% of the state's $41.72 billion merchandise export trade during the most recent three months went by air, while waterborne transport carried 30.5%. The balance travelled overland to Canada and Mexico.
The Outlook
Per Beacon Economics,  a purely economic forecast for California's export trade through 2017 would be optimistic. The Trump administration has postured on trade policy but to date has been thin on specifics. Announcements and comments made by President Donald Trump and his advisers regarding proposed changes in trade policy mainly add uncertainty to the economic outlook and the global trade situation at a time of slow but steady improvement in the economies of the U.S. and its trading partners.
The President's 2017 Trade Policy Agenda, released on March 1, specifically targets China, South Korea, Mexico, and Canada. In other venues, the President has claimed that Japan has taken unfair advantage of U.S. interests. Those countries are all primary export markets for California goods.
According to the Beacon Economics experts, should the Trump administration make good on some of its promises surrounding trade, it will do so on the backs of U.S. (and California) consumers and businesses.
Staff Contact: Susanne T. Stirling