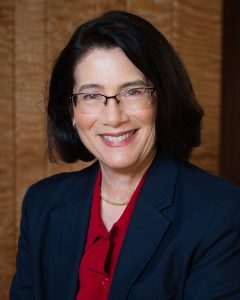 The California Chamber of Commerce yesterday announced the election of its new board officers, including Susan Corrales-Diaz as 2017 chair of the CalChamber Board of Directors. Corrales-Diaz is president and chief executive officer of Systems Integrated.
"These are interesting times for the state, nation and world. I am delighted to step up to chair the board of the California Chamber of Commerce," said Corrales-Diaz. "My fellow board members and the dedicated staff at CalChamber have a wealth of experience in developing practical answers to the many issues facing businesses. That knowledge will be useful as we work with interested parties to find common ground on matters ranging from balancing employer and employee concerns in the workplace to fixing the state's chronic water shortage and making sure California firms stay competitive in global trade and investment."
Serving with Corrales-Diaz as 2017 officers of the CalChamber Board are:
First Vice Chair: Terry MacRae, chief executive officer, president and founder of Hornblower Cruises & Events;
Second Vice Chair: Grace Evans Cherashore, chief executive officer for Evans Hotels.
Third Vice Chair: Mark Jansen, president and chief executive officer of Blue Diamond Growers.
Corrales-Diaz has been president and CEO of Systems Integrated since 1988. Under her guidance, Systems Integrated transitioned from a specialty government contractor to a provider of leading-edge technology solutions to government, municipal entities and private industry.
Systems Integrated also manufactures specialized communications equipment, and display and control software. From providing the largest wireless traffic control infrastructure in California, to controlling the water for most of Southern California, the company has grown to provide solutions worldwide for automating infrastructure.
Systems Integrated has applied technology to solve operation challenges confronting industry and government:  wireless networks for one-person control of subways; distributed control for major water and wastewater systems; and hydroelectric plant automation.  Keeping in step with technology yet ensuring that its designs are built using published standards means that a Systems Integrated solution can evolve with technology.
Corrales-Diaz's company goal is to invest continually in new technology and applications. Her company's newest development is with Dedicated, Short Range, Communications (DSRC) – this technology is at the forefront of inter-car communications and bus prioritization transportation.
Over the years, Corrales-Diaz has served on a variety of public and private boards. She was appointed to the President's Export Council, (1995 – 2000), which provided the President business input about national export policies. In 1996, President Bill Clinton appointed Corrales-Diaz to serve as one of three U.S. business representatives to the Asia-Pacific Economic Cooperation (APEC) Business Advisory Council (ABAC). ABAC members from the then-18 member economies of APEC provided the business sector's input to the leaders of the APEC member economies regarding the objective of finance and trade liberalization in the APEC region. In 1997, she co-chaired ABAC's Cross-Border committee, which addressed issues such as intellectual property, standards and conformance, business mobility, and the sectorial approach to liberalization. She also chaired the Small & Medium Enterprise (SME) committee in 1998.  She has continued her involvement with the U.S. Department of Commerce, through the District Export Council for Southern California.
Corrales-Diaz has served as a board member with the Automobile Club of Southern California; National Small Business Association; Small Business Exporter Association; and Board of Governors of Chapman University. For more than 20 years, she has been an active member of the CalChamber Board, serving as the chair of the CalChamber Council for International Trade and participating on various committees.
Corrales-Diaz received her bachelor's degree from California State University, Long Beach.