California Chamber of Commerce member SearchPros Solutions of Citrus Heights recently was named the 2016 DREAM BIG Small Business of the Year by the U.S. Chamber of Commerce.
The business, which handles workforce management, started in 120 square feet of rental office space. Now it has a corporate-owned headquarters with 30 recruiters placing thousands of employees in 28 states and 8 countries.
SearchPros was announced as the winner among seven regional finalists at a June 14 luncheon that was part of the America's Small Business Summit, held by the U.S. Chamber in Washington, D.C.
The following is excerpted from the U.S. Chamber's account: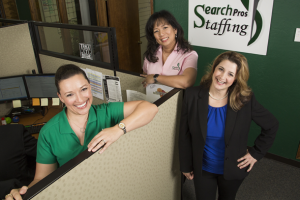 Beginnings
The story of SearchPros started on Christmas Eve 2004, much like a scene from "It's a Wonderful Life." Myla Ramos, Heather Kocina and Rayna Pearson were on the job at a staffing agency with a roomful of contractors waiting for their paychecks. Late in the day, however, they learned that checks would not be delivered. Reality soon set in for many—there would be no Christmas.
That's when the women took out their personal checkbooks and started loaning money to complete strangers. The trio's next step was even bigger: They created a plan to run a business of their own.
Ramos said: "We made a decision that night to follow our big dream—start and run a business of our own, be the role models we never had, provide a better life for our families, and contribute to our community."
SearchPros helps a wide variety of charitable causes and is proactive about giving back to the community. The women's backgrounds have been instrumental in that outreach, as Ramos is a first-generation immigrant and all three are the first to graduate from college in their families.
"This was never just a job; this is our legacy for our family and community," Ramos said. "We didn't get a paycheck for the first couple of years. Every dollar we received was reinvested back to SearchPros."
Support for Community
The business supports the PCDH19 Alliance to help families affected by epilepsy; sponsored the 2015 St. Johns Program that offers shelter and self-sustainability readiness for women and children; provided resume workshops for job seekers through the Sacramento Area Human Resources Association; "adopted" a village to support typhoon relief to the Philippines; and raised money for the Women's Empowerment Shelter.