Lydia Zabrycki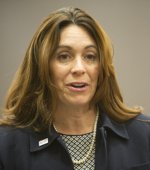 For more than a decade, Zabrycki has been "one of the most active and passionate volunteer advocates for the business community in Fresno," the nomination application states.
Zabrycki, director of operations and client relations at Precision Civil Engineering, Inc., is "a strong business advocate and a fantastic leader for the chamber and the Fresno community," wrote Nathan M. Ahle, president/CEO of the Fresno Chamber of Commerce, in his letter of recommendation.
She is a founding member of the chamber's Government Affairs Committee and serves on the chamber's board of directors. Zabrycki is part of the Fresno County "One Voice" delegation with representatives from the private sector, public sector and elected officials who are talking to congressional representatives about issues affecting the region.
She is active in developing effective coalitions and partnering efforts to advance the interests of the San Joaquin Valley toward an improved business environment as well as serving the interests of local government. Zabrycki oversees the daily operations that take place in Precision Civil Engineering, coordinating between departments to increase efficiency through organizational strategies, policies and practices while providing leadership.
Precision Civil Engineering is a full-service firm based in Fresno that provides civil and traffic engineering, water resources, land surveying, biological and environmental consulting, land use planning and entitlements, and construction management to both public and private clients throughout California.
Zabrycki also serves as a director on the Fresno Regional Workforce Investment Board, chairing the business and industry committee. She is the first woman to serve on the Board of the American Council of Engineering Companies Retirement Trust (ACECRT), and a board member and secretary of the San Joaquin Valley ACEC chapter in California.
"She is a diligent and passionate advocate for our community, its needs, and most importantly its businesses," Ahle concluded.