Lucille Harris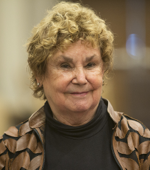 A Manteca native and resident for more than 80 years, Harris has written persuasive letters grabbing the attention of legislators and government agencies to do what she feels will help small businesses in California. She has spearheaded countless grassroots efforts, assisting campaigns and championing for elected offices that have helped represent her communities as well as local businesses.
Tuff Boys is a manufacturing facility specializing in the manufacture and leasing of highway trailers. Harris Ranches is devoted to almond growing.
Harris' political advocacy started in the 1960s. Stockton airport was home to a pilot training program, which meant that jumbo jets were circling Manteca every 20 minutes, disrupting classroom instruction for the local schools. Harris contacted airport officials and worked with the community to change the flight patterns.
In 1980, Lucille and her husband, Bill, along with their companies, were targets of wrongful and malicious lawsuits drawing them into a complex legal battle. During the course of the litigation, the couple uncovered evidence of fraud and judicial misconduct among certain court offices and some of their own attorneys. Lucille Harris composed her own legal pleadings, and served as her own attorney during a civil trial that lasted five months. She wrote hundreds of letters to public agencies and secured critical support from the Internal Revenue Service. The couple prevailed in their case.
In 1988, when business liability premiums skyrocketed by as much as 300%, Lucille Harris joined a grassroots movement for tort reform that demanded an investigation of antitrust violations.
In 2008, public litter on farms and ranches through the rural areas surrounding Manteca was yet another of her causes. Farmers were being fined by the county for blight caused by citizens dumping everything from mattresses to stoves to water heaters, dishwashers, TV sets and a whole range of furniture items on farm lands. Following Harris' letter writing, and well-placed advertisements in the Manteca Bulletin urging the general public to report illegal dumping, the county ceased fining the farmers and agreed to pick up the discarded items under the direction of the board of supervisors.
Harris also has been supportive of numerous education programs in Manteca, Lathrop and Ripon for more than 50 years. The closest to her heart has been the Grass Valley Writing Project (GVWP), which offers a summer training program for teachers serving kindergarten through 8th grade students in the Manteca area. Beginning in 2007, Lucille and her husband hosted summer fundraiser dinners in the backyard of their rural ranch home to benefit the literacy program. The dinners have raised more than $10,000 each year and created more public awareness about the GVWP.
As a member of the Ripon Chamber of Commerce, Lucille Harris "is very proactive and always looking for new ways to empower businesses and drive the local economies," wrote Kristine Griesheimer, VP branch manager of Oak Valley Community Bank in Ripon. Harris is currently working with the Ripon and Manteca chambers on revitalization efforts for both downtown areas.
"I can't think of a more deserving recipient of this prestigious award" than Lucille Harris, wrote Tamra Spade, CEO/president of the Ripon Chamber. "She has spent the vast majority of her life advocating and being the voice of local community businesses and families to make this state have a more business-friendly environment."