Inland Empire Consortium Builds with Help of $15 Million Federal Grant
A new training center has opened on the campus of California Chamber of Commerce member California Steel Industries, Inc. (CSI) near Fontana in San Bernardino County.
The Industrial Technical Learning Center (InTech Center) will train more than 2,000 workers in advanced manufacturing, advanced transportation, logistics, energy and utilities, as well as computers and digital media.
The programs are conducted at no cost to employers and employees due to a competitive federal grant of nearly $15 million awarded to Chaffey College and the Inland Empire Regional Training Consortium by the Trade Adjustment Assistance Community College and Career Training program in 2014.
Chaffey and the consortium were the sole California recipients of 71 grantees across the nation.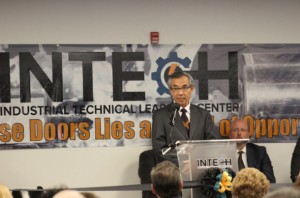 Skilled Employees Needed
"Manufacturers today depend on the skills of employees that go much beyond inserting tab a into slot b," said CSI President and CEO Toshiyuki "Ted" Tamai at the InTech Center official opening and ribbon cutting ceremony on March 23.
"We have found that developing these skills is quite possible with the people who live and work in our communities, with the support and knowledge of organizations such as those who have worked to make InTech a reality.
"In this way, we can offer good, well-paying jobs right here in the Inland Empire. We can all continue to grow our businesses and strengthen the economies of our counties."
InTech Center
The InTech Center states that it focuses on career paths which include lab work and coursework in a hands-on training environment. The programs attract workers with high school diplomas (or GEDs) who have career and educational goals not found in a formal college or university setting.
The new center, including a café and conference center, encompasses 28,000 square feet with a mix of four classrooms and four labs for industrial electrical, mechanical, engineering/mechatronics, and computer/information and communications technology/digital media.
Also available is an on-site career placement center staffed by a "work skills navigator" to help students obtain employment upon completing training.
Advanced Manufacturing Jobs
InTech cites a 2014 report by the Inland Empire Center of Excellence (COE) suggesting growing employment opportunities in advanced manufacturing fields. The COE identified 4,350 advanced manufacturing businesses within San Bernardino and Riverside counties.
In 2012, these businesses generated $24 billion in revenue and provided an estimated 96,519 jobs in the two Inland Empire counties, according to the COE.
The COE identified 45 manufacturing occupations in San Bernardino and Riverside counties that are expected to generate 2,020 annual openings, both new and replacement jobs. The projections don't take into account the aging of the current advanced manufacturing workforce.
Research from Deloitte and the Manufacturing Institute found that 84% of manufacturing executives cite a talent shortage in U.S. manufacturing. The gap is predicted to worsen as more than 2.7 million professionals retire from the manufacturing workforce over the next decade.
New/Updated Skills
Dr. Henry Shannon, president of Chaffey College, noted, "In addition to providing brand-new skills for workers, we are also helping to update existing skill levels for incumbent workers."
Course designers "are watching job and trade demand in the region so that we can better tailor programs to what the industry needs now and in the future," he said.
"As a major employer in the region, we're familiar with the critical need for skilled workers who can seamlessly move into manufacturing jobs," said Brett Guge, CSI executive vice president, finance and administration. "We feel InTech is one of the best solutions to ensure these talented people are available, not just for CSI, but for manufacturers and other employers throughout the region."
Consortium
The consortium includes 10 community colleges, two four-year universities, the Manufacturers' Council of the Inland Empire, and several faith-based and community organizations. All participating colleges received individual funding to provide training across the Inland Empire.
More information is available at intechcenter.org.