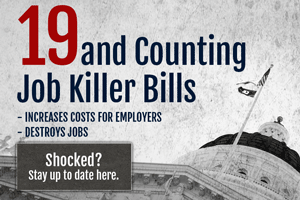 ​Two job killer bills dealing with climate change that defy common sense and ignore economic realities are set to be heard in the Assembly Natural Resources Committee today.
California's effort to address climate change is an important one, especially as we can demonstrate cost-effective strategies that other states and nations can emulate. The California Chamber of Commerce intends to be collaborative in the state's efforts and be supportive of the overall goal of GHG reduction. However, it is important to note that the current program called for in AB 32 runs until 2020.  Policy makers have time for thoughtful consideration of how to cost-effectively address the details of creating a program for the decade beyond that. At this point, only mid-way through AB 32 implementation, it does not make sense to predict what will work well far into the future in terms of technology, global participation and economic impacts.
SB 32
SB 32 is authored by Senator Fran Pavley (D-Agoura Hills). The bill would create a new legal mandate to reduce greenhouse gas (GHG) emissions 80 % below 1990 levels by the year 2050. In addition, the bill would set a 40% GHG emission reduction below 1990 levels by 2030.
When California's landmark climate change law, AB 32, was signed into law in 2006, the GHG reduction mandate was to achieve 1990 levels by 2020, equivalent to a 30% reduction in emissions compared to a "business as usual" trend.  In contrast, SB 32 contemplates far more aggressive goals without providing any oversight from the Legislature for period of 30 years. To meet the goals of SB 32, the California Air Resources Board (CARB) estimates that consumers would need to reduce emissions by 85% of current levels. The bill would vest even greater power in the hands of CARB with no specified guidance or boundaries on how the goals should be met.
SB 32 would create a statutory mandate that would become immediately enforceable and, through the application of the California Environmental Quality Act (CEQA) analysis, would hamper development. This would be devastating for residential, commercial, retail and infrastructure activities and the long-term competitiveness of the state.
California is now in the infancy of the climate change program enacted under AB 32. We have yet to see the full costs associated with its implementation. CalChamber strongly believes that we need much more information in the way of costs, technological feasibility and an assessment of risks before we can take on huge new and likely unachievable mandates. SB 32 simply defies logic, common sense and the economic realities of doing business in California.
SB 350
SB 350 by Senator Kevin de León (D-Los Angeles) also sets unrealistic mandates in the area of climate change legislation. It is unclear why the bill is needed given the proposed carbon reduction mandates of SB 32.
The bill orders a statewide reduction in gasoline and diesel consumption of 50% by 2030. The bill would require that in just 15 years California receive half of its electricity from renewable energy and double the energy efficiency in existing buildings.
This bill would give state regulators nearly unchecked power to create rules to cut motor vehicle fuel consumption by more than 25 million gallons a day in less than 15 years.  here are no limitations on the scope or cost of the regulations placed on drivers by CARB in furtherance of the mandate. There is no protection against increased costs to business or job loss as a result of implementing the proposed law. As a result, CARB could have authority to employ any number of tools to meet the mandate including but not limited to rationing the use of petroleum, limiting driving to certain days of the week of demanding efficiency without the support or technology to make it possible.
In addition to the 50% reduction in petroleum use, SB 350 also seeks to increase the current Renewable Portfolio Standard from 33% to 50% as well as increasing energy efficiency in buildings to 50%. Both of these policies will significantly increase costs to ratepayers. It is also questionable whether this goal is achievable in the required timeframe while still maintaining a reliable source of grid power.
California's energy price per kilowatt hour is among the highest in the nation and our energy efficiency standards are among the strongest. Given the cost of upgrading current energy efficiency standards, while at the same time increasing the cost of energy, SB 350 would harm California's competitiveness and raise the price of goods and services for consumers. Energy intensive industries and consumers and businesses who live away from the coast where high temperatures require more air conditioning will face immense and perhaps insurmountable challenges if this bill were to become law.
The Legislature must balance the needs of the economy and workers who need jobs against giving regulators immense power to effect costly policy changes that defy common sense.