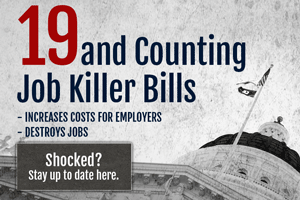 Three California Chamber of Commerce-opposed job killer bills that increase the burden of environmental regulations will be considered in a Senate policy committee today, including a newly identified "job killer" proposal.
The new job killer bill, SB 654 (de León; D- ​Los Angeles), imposes unjustifiable and automatic legal violations on hazardous waste permit applicants for reasons well beyond the applicants' control.
SB 654 discourages investment in upgrading and improving hazardous waste facilities by deeming a hazardous waste permit applicant in violation of the law if the Department of Toxic Substances Control (DTSC) fails to take final action on the permit application within a specified timeframe, even if the permit applicant acted diligently and in good faith throughout the permit application process.
SB 654 will be heard in the Senate Environmental Quality Committee, along with:
 SB 32 (Pavley; D-Agoura Hills) increases costs for California businesses, makes them less competitive and discourages economic growth by adopting further greenhouse gas emission reductions for 2030 and 2050 without regard to the impact on individuals, jobs and the economy.
 SB 350 (de León; D- Los Angeles) potentially increases costs and burdens on all Californians by mandating an arbitrary and unrealistic reduction of petroleum use by 50%, increasing the current Renewable Portfolio Standard to 50% and increasing energy efficiency in buildings by 50%—all by 2030 without regard to the impact on individuals, jobs and the economy.
SB 654: Flawed Policy
SB 654 fails to provide even a rational basis for imposing an automatic legal violation on a project applicant for an outcome that may be well beyond its control.
The bill is an utter departure from standard practice at the local level, where land use permits are deemed automatically granted if not acted upon by the lead agency within specified time frames. The bill also contradicts state law that currently provides legal relief to hazardous waste permit applicants when DTSC fails to act within specified timeframes. Instead, SB 654 actually penalizes the permit applicant without giving the applicant any notice or opportunity to be heard about the violation.
Besides being a blatant violation of due process, SB 654 will make hazardous waste operators think twice before upgrading and improving their facilities once they are informed that they may be deemed in violation of the law merely by participating in a permitting process that exceeds the specified timeframes.
SB 654 does nothing to address existing core deficiencies in DTSC's permitting program. DTSC is addressing these core deficiencies with a Permitting Enhancement Work Plan it released last year and is in the process of implementing. In fact, SB 654 undermines the purpose of the work plan, which is to implement regulatory reforms to improve the efficacy of DTSC's hazardous waste permitting system.
SB 32: Halts Economic Growth
The climate change law passed and signed into law in 2006, AB 32, calls for reducing greenhouse gas emissions to 1990 levels by 2020, the equivalent to a 30% reduction in emissions compared to a "business as usual" trend. Through a combination of command-and-control and market measures, along with a deep persistent economic recession, California is capable of meeting that goal. What is unknown is whether these goals have been met in a cost-effective manner, and what the economic and environmental side effects have been.
The CalChamber appreciates the need to address climate change, but believes before extending the greenhouse gas reduction mandate beyond 2020, the Legislature should independently evaluate the cost and benefit of the state's current climate change programs to better understand what has and has not worked.
SB 350: Increased Fuel/Energy Costs
Most of California's businesses and families rely on petroleum for day-to-day transportation needs. The California Energy Commission reported in its 2014 Integrated Energy Policy Report that 92% of all transportation fuels in California are made up of petroleum.
SB 350 could compromise the availability of transportation fuels, and it is unclear how its arbitrary goal will be met. Will there be a 50% straight reduction in the production of petroleum in the state? Will we have to ration petroleum to achieve the 50% reduction? At what cost?
In addition, SB 350 seeks to increase from 33% to 50% the amount of energy derived from renewable sources, as well as increase energy efficiency in buildings to 50%. Both policies will significantly increase ratepayers' costs. California's energy price per kilowatt hour is among the highest in the nation and the state's energy efficiency standards are among the strongest. Mandating upgrades to meet increased energy efficiency standards while increasing the cost of energy will make California businesses less competitive.
Staff Contacts: Amy Mmagu, Anthony Samson