The importance of trade to the California economy was the focus of an international forum hosted by the California Chamber of Commerce in observance of World Trade Week.
Members of the business community, state and federal governments together with representatives from more than 50 countries attended the May 20 event at the CalChamber offices to listen to a series of speakers addressing three main themes:
U.S. trade issues;
California international trade strategy/interagency cooperation; and
New California International Trade and Investment Advisory Council.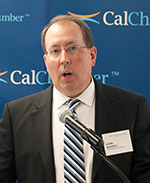 U.S. Trade Issues
John G. Murphy, vice president of international affairs for the U.S. Chamber of Commerce, told the attendees "trade is vital to economic growth and job creation here at home. Trade is vital to our ability to sell American goods and services to the 95% of the worlds' consumers that live somewhere else."
Citing some other promising statistics, Murphy highlighted that U.S. trade already supports 38 million American jobs. In fact, one in three manufacturing jobs depends on exports, and one in three acres on American farms is planted for export. As a result, U.S. services exports top $600 billion, leading the world rankings.
Trade is Vital to Small Business
Dispelling the notion that only large companies benefit from international trade, Murphy told the group that more than 97% of the 300,000 U.S. companies which export their products are small and medium-sized companies. These small firms account for more than one-third of all U.S. merchandise exports.
International Trade, Investment and Regulatory Policy
Outlining the most important U.S trade issues to address, Murphy spoke to the importance of leveling the global playing field for American businesses and workers by lowering barriers to trade and investment. "What's to be done?" Murphy asked, going on to enumerate ways that international trade, investment and regulatory policy can level the playing field for U.S. companies.
Renew Trade Promotion Authority (TPA) to ensure effective executive-legislative collaboration in the negotiation of new trade agreements.
Reach new trade and investment agreements to ignite U.S. economic growth, including the Trans-Pacific Partnership, the Transatlantic Trade and Investment Partnership, the Trade in Services Agreement, and an expansion of product coverage under the World Trade Organization Information Technology Agreement.
Secure reauthorization of the Export-Import Bank of the United States.
Improve U.S. trade promotion programs to help small businesses export.
Fight economic isolationism, including undue restrictions on exports, investment, procurement, sourcing, travel, and foreign exchange.
Redefine the international role, responsibility, and coordination of U.S. regulators.
"It's clear the world is moving forward on trade," Murphy said. "The United States can't afford to sit on the sidelines while other countries move forward and set the terms of trade for the world. To create jobs and growth and prosperity, we need to set the agenda; otherwise our workers and businesses will be left out."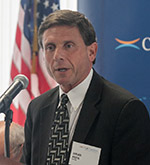 California International Trade Strategy/Interagency Cooperation
Moderated by Brian Peck, deputy director of international affairs and business development for the Governor's Office of Business and Economic Development (Go-Biz), a panel of four speakers representing four state agencies explained the roles of their agencies in expanding business and trade for the state of California and its businesses.
California has the ninth largest economy in the world with a gross state product of more than $1.9 trillion and is the nation's largest exporter, shipping nearly $159.4 billion worth of export merchandise in 2011—a 25% increase over 2009. Thus, export is a major economic engine for California that broadly benefits businesses and jobs creation.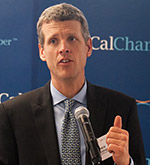 California Energy Commission
Representing the California Energy Commission, chief deputy director Drew Bohan explained that his agency "doesn't interact in international trade per se, but we export a lot of ideas, policy ideas in particular." In fact the agency hosts about one international delegation a week that wants to discuss how California has maintained a robust economy, and yet moved forward with progressive energy and environmental policies. During these visits, the agency highlights its four main policy areas:
Climate change.
Energy efficiency.
Renewable energy.
Transportation.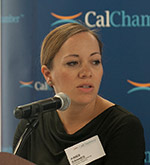 California Environmental Protection Agency
Aimee Barnes, deputy secretary for board and intergovernmental relations for the California Environmental Protection Agency, said that her agency's key take is that "California has become  an example that many look to in how  environmental protection and economic prosperity can go hand in hand and California's regulatory framework in respect to the environment has been an important  foundation for a lot of our international environmental engagement and for the creation of related opportunities in trade and investment."
In fact, Barnes explained that her position was created only four months ago to help meet and coordinate a lot of the international climate related engagements because the demand for California's expertise in this area is in such high demand.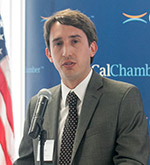 California State Transportation Agency
Benjamin De Alba, assistant secretary for rail and ports with the state Transportation Agency, explained the vital role his agency plays in coordinating the freight traffic for California as it relates to international trade. More than 40% of the containerized cargo entering the United States arrives at California seaports. In fact, port activity in California employs more than half a million people in the state, and generates $7 billion in state and local revenue each year. The state's freight railroad industry operates more than 6,000 miles of track, more than any other state in the nation.
"The prosperity of our diverse economy is tied to the ability of our transportation system to efficiently and effectively move imports and exports through our corridors and gateways, De Alba said.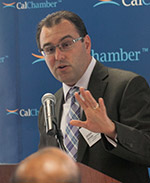 State Board of Food and Agriculture
Josh Eddy, executive director for the state Board of Food and Agriculture, shared that in 2012, California agricultural exports reached $18.18 billion, representing an 8% increase over the previous year.
California's share of total U.S. agricultural exports for 2012 was 12.9%, or slightly more than the 12.3% share reported last year. California's top 10 export destinations—Canada, European Union, China/Hong Kong, Japan, Mexico, South Korea, India, United Arab Emirates, Turkey, and Taiwan—accounted for 69% of the 2012 export value. Export values to China and Taiwan grew 20% or more as compared to 2011.
"In terms of trade and investment, the agency really has redefined itself and has a strong network to help promote California's businesses internationally and really makes strides moving forward," he said.
California produces more than 400 agricultural commodities in the state; those products are shipped to approximately 167 different markets. "The ability for California to really succeed internationally is there," Eddy said.
New California International Trade and Investment Advisory Council
In late February, Governor Edmund G. Brown Jr. established the California International Trade and Investment Advisory Council, bolstering the state's efforts to grow international business opportunities for California companies. He named former U.S. Ambassador to Hungary Eleni Kounalakis to chair the council.
Ambassador Kounalakis explained that her council will advise Go-Biz on strategies to expand international trade and investment for California businesses. Specifically, the council will help GO-Biz identify foreign markets with the greatest potential for export expansion and develop specific export strategies for those markets—including the state's top trading partners (Canada, Mexico and China), and emerging markets such as Brazil and India.
Recently Go-Biz released its International Trade and Investment Strategy report and Ambassador Kounalakis said that the report, "is everything that needs to be done to begin to really flex our power here at home to have a concerted effort to increase exports out of California and to increase the amount of foreign direct investment into California."
More Information
For more information, please see https://advocacy.calchamber.com/international/.
Staff Contact: Susanne Stirling