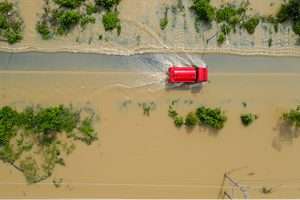 As another powerful storm walloped California, a 5-year-old boy was swept away by floodwaters Monday on the state's central coast and an entire seaside community that is home to Prince Harry, Oprah Winfrey and other celebrities was ordered to evacuate on the fifth anniversary of deadly mudslides there.
Tens of thousands of people remained without power, and some schools closed for the day. Streets and highways transformed into gushing rivers, trees toppled, mud slid and motorists growled as they hit roadblocks caused by fallen debris. The death toll from the relentless string of storms climbed from 12 to 14 on Monday, after two people were killed by falling trees, state officials said.
A roughly seven-hour search for the missing boy turned up only his shoe before officials called it off as water levels were too dangerous for divers, officials said. The boy has not been declared dead, said spokesperson Tony Cipolla of the San Luis Obispo County Sheriff's Office.
To continue reading, visit The Associated Press …