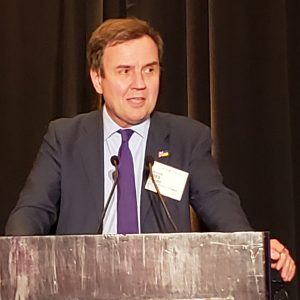 On Thursday, December 8 the California Chamber of Commerce hosted members of the San Francisco Consular Corps, who make up some of California's top trading partners, at the CalChamber Board of Directors dinner. In addition, the CalChamber was honored to host as a special guest United Kingdom Minister for Trade Policy Greg Hands. He was accompanied by British Consul General Joe White.
Minister Hands was on a tour across the United States, fostering trade relationships between the UK and various U.S. states. He spoke briefly at the dinner about his connection to the U.S., being an American dual citizen himself, and the UK's strong ties to California. The United Kingdom is pursuing a state-by-state approach to building closer trade ties with the United States.
Hands was appointed the Minister for Trade Policy in October 2022, having previously held the office twice — from 2016 to 2018 and again from 2020 to 2021. He most recently served as the Minister of State at the Department of Business, Energy & Industrial Strategy from September 2021 to September 2022.
Hands has been a government minister since 2011, and has been a member of Parliament since 2005, representing Chelsea and Fulham. Before getting involved in politics, Hands spent eight years working on trading floors in London and New York.
The U.S.-UK investment relationship is the largest in the world, valued at more than $1.5 trillion in 2021, creating over 2.6 million jobs in total in both countries. In California, the UK is the second largest source of foreign direct investment, providing nearly 100,00 jobs and $9.36 billion in wages in the state in 2021.
CalChamber Position
The CalChamber, in keeping with longstanding policy, enthusiastically supports free trade worldwide, expansion of international trade and investment, fair and equitable market access for California products abroad and elimination of disincentives that impede the international competitiveness of California business.
Strengthening economic ties and enhancing regulatory cooperation through agreements with our top trading partners that include both goods and services, including financial services, is essential to eliminating unnecessary regulatory divergences that may act as a drag on economic growth and job creation.
Free trade agreements can ensure that the United States may continue to gain access to world markets, which will result in an improved economy and additional employment of Americans.