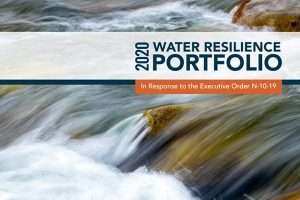 On Wednesday, Governor Gavin Newsom released a framework to help prepare the state's water supply for the anticipated impacts of climate change. The Water Resilience Portfolio, prepared by California's Natural Resources Agency, California Environmental Protection Agency, and California Department of Food and Agriculture, identifies policy priorities to address challenges to California's water supply, like more extreme droughts and floods, overdrafted groundwater basins, and aging infrastructure.
Californians for Water Security (CWS), a broad coalition that includes the California Chamber of Commerce and labor, business, environmental, community and water leaders, applauded the blueprint, calling it a comprehensive vision for preparing the state for future challenges to its water supply.
Portfolio Priorities
The Water Resilience Portfolio outlines 142 state actions that tie directly to the governor's efforts to carry out recent laws regarding safe and affordable drinking water, groundwater sustainability and water-use efficiency.
Of critical importance, the actions also elevate priorities to secure voluntary agreements in key watersheds to improve flows and conditions for fish; protect the long-term functionality of the State Water Project; and modernize California's main water distribution infrastructure by constructing a single-tunnel Delta Conveyance.
Given the recent drastic downturn in the state's budget situation due to the COVID-19 pandemic, the Newsom administration acknowledged that the pace of progress on the actions in the portfolio will depend upon the resources available, but outlined a number of priorities.
These priorities include:
Implementing the Safe and Affordable Drinking Water Act of 2019;
Supporting local communities to successfully implement the Sustainable Groundwater Management Act of 2014;
Achieving voluntary agreements to increase flows and improve conditions for native fish in the Sacramento-San Joaquin Delta and its watersheds;
Modernizing the Delta water conveyance system to protect long-term functionality of the State Water Project;
Updating regulations to expand water recycling;
Accelerating permitting of new smart water storage;
Expanding seasonal floodplains for fish and flood benefits;
Improving conditions at the Salton Sea;
Removing dams from the Klamath River; and
Better leveraging of information and data to improve water management.
State agencies intend to track and share progress on Portfolio implementation with an annual report and stakeholder gathering.
CalChamber Position
The CalChamber supports a comprehensive solution to the state's chronic water shortage to ensure all Californians have access to clean and affordable water. Delta conveyance in conjunction with increased storage, new technologies, and water use efficiency techniques will help provide a reliable and consistent water supply.
To assure a future robust economy, every avenue needs to be explored to further increase business's access to affordable water.
The CalChamber supports the voluntary agreements process as a viable means of meeting environmental objectives of the Bay-Delta Water Quality Control Plan.
Stakeholders are working with regulators and environmentalists to improve conditions for fish and wildlife on the San Joaquin River and its tributaries. They are voluntarily reducing their water draw at certain times of the year, modifying some business practices to use less water, and contributing to conservation habitats in the Delta.
A voluntary process to achieve environmental goals is preferable to mandatory restrictions.
CWS and the CalChamber support a Delta Conveyance project that would:
Protect water security for two-thirds of the state. Without action, water supplies through our main distribution infrastructure will continue to decrease.
Improve the reliability and security of our water system by fixing aging infrastructure using the most innovative technologies and engineering practices.
Protect water supplies from earthquakes, floods and natural disasters by delivering them through a modern water pipeline, rather than solely through today's deteriorating levee system.
Prepare for the impacts of climate change by improving our ability to move and store water to account for extreme swings in drought and flood and to protect against salinity caused by sea-level rise.
Restore habitats and more natural water flows above ground in rivers and streams in order to reduce impacts on endangered fish and other wildlife.
Serve as a critical component of a comprehensive water portfolio.
For more information, visit: http://www.watersecurityca.com.
Staff Contact: Valerie Nera